Captain Sarwar Shaheed Biography in Urdu
Captain Raja Muhammad Sarwar Shaheed was born on November 10, 1910 in Gujar Khan. Captain Raja Muhammad Sarwar started his education from Islamia High School from Faislabad. Captain Raja Muhammad Sarwar was very fond of Football and Kabaddi. He is a National Hero of Pakistan. Captain Raja Muhammad Sarwar had 3 Brothers and 1 Sister, 1 Daughter and 1 Son. Captain Raja Sarwar Shaheed was awarded the Nishan-e-Haider , Pakistan Highest Military. Sarwar Shaheed also received the award of Mahaz-e-Barma from the Government of Bartania. Captain Raja Muhammad Sarwar Shaheed was died on 27 July 1948 , his Grave is situated in Tilpatra Mountain Orhi Kashmi . In this page, you will read Captain Sarwar Shaheed in Roman Urdu.
Captain Sarwar Shaheed In Urdu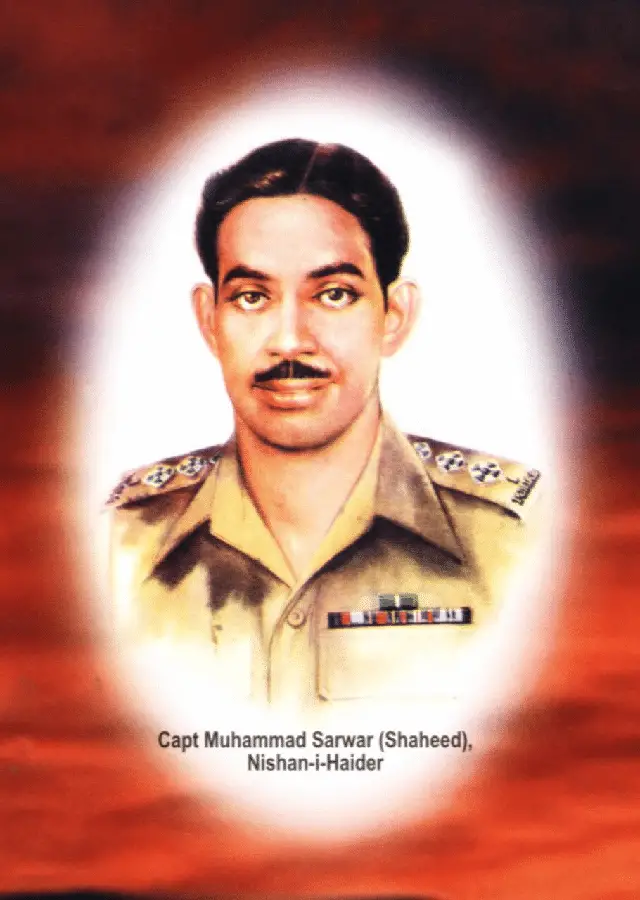 Captain Raja Muhammad Sarwar Shaheed 10 November 1910 ko Mauzaa Singori tehseel Gujar Khan Rawalpindi mein peyda hue. Aap ke walid ka naam Raja muhammad Hayat Khan tha, jo pak fauj mein hawaldaar the. Pehli jang-e-azeem ke dauran Sarwar Shaheed ke walid Raja Muhammad Hayat ko shandaar khidmat ke siley mein hukoomat bartaniya ne tehseel samandari, chak 229 mein teen murabba zameen di thi jo un ka kul sarmaya thi. Raja Hayat Khan apne daur mein Gaaon ke numberdaar kehlate the. In ka inteqaal 23 February 1932 ko hua.
Captain Sarwar Shaheed ke 3 bhai aur 1 Behan thin. Ap in mein se 4rth number par the. Ap ke baqi Bhaiyon ke naam Raja Muhammad Mirza Khan, Raja Muhammad Sardar Khan aur Raja Muhammad Afsar Khan hain. In mein se Raja Mirza ka inteqaal 25 February 1967 ko Faislabad mein hua. 6 saal ki umar mein Sarwar Shaheed ke walid unhe Gaaon le gae. Ap ne apni ibtedaai taleem Islamia High School Faislabad se hasil ki aur middle ka imtehan tandliya Nawala se 1925 mein paas karne ke bad 1927 mein sirf 17 saal ki umar mein Matric kar liya. Sunday 15 March 1936 ko in ki shadi Mauzaa Singori mein mohtarma Karam Jaan se qarar paai. ALLAH PAK ne unhe aik Bete aur aik Beti se nawaza, jin ke naam unho ne biltarteeb Raja Muhammad Safdar aur Gulzar Begum rakha. Yeh baat khali az dilchaspi nahi ke Sarwar Shaheed apni sakhawat ki bina par apne Gaaon mein " Sakhi Sarwar " naam se bhi mashoor the.
Zamana talib-e-eilmi mein Sarwar Shaheed ko football aur Kabaddi se bohat raghbat thi. Aur wo aksar parhai se faraghat ke bad yeh khel bohat shauq se khela karte the. Ap 15 April 1929 ko fauj mein bataur Sipahi shamil hue. Aur inhe bataur Sipahi 11681 Number diya gaya. Ap ne apni ibtedaai fauji taleem Old Baloch Centre Karachi mein hasil ki aur 30 April 1941 tak Baloch regiment mein khidmaat sir anjaam di.15 August 1940 ko ap ne Ahmed Nagar se Driving aur Nazm-o-nasq ka course mukammal kiya. Ap ne 15 october 1933 ko Roman Urdu ka imtehaan darja awwal mein Jhansi se paas kiya. Jab ke angrezi ka imtehaan 15 November 1935 ko shandaar Numbers se paas kiya. 15 September 1945 ko almorha se ap ne Commisioned Officer ka course paas kiya aur phir 1 May 1941 se 20 september 1943 tak Breli School mein Instructor ki hesiyat se khidmaat sir anjaam dete rahe. Unhe Bangali Commision ke liye muntakhib kiya gaya. Jab ke bataur 2nd Lieutenant unho ne apna auhda 1944 mein sambhala. 27 April 1944 ko unhe Indian Military Academy Dehradun se Commision mila aur 30 June 1944 ko unhe Aarzi Captain bana diya gaya. 1945 ke nisf awwal mein unhe I-marz Battalian ke mahaz par bheja gaya. 15 March 1946 ko ap Three Punjab regiment mein muntaqil ho gae aur August 1946 tak isi regiment mein apni khidmaat sir anjaam dete rahe. 1 February 1947 ko unhe full Captain bana diya gaya.
Dosri jang-e-azeem mein ap ne Barma ke mahaz par shandaar khidmaat sir anjaam deen., jis ke natijey mein hukoomat-e-Bartaniya ne inhe " Mahaz-e-Barma " ka tamgha inayat kiya. 1948 mein Pakistan banne ke bad Sarwar Shaheed ko tamgha-e-khidmat Pakistan ke aezaaz se nawaza gaya aur Mahaz-e-Kashmir par khidmaat ada karne par unhe Kashmir Operation Tamgha diya gaya. January 1948 mein Signal Course ke liye aap Rawalpindi chale gae aur 27 July 1948 ko Orhi ke mahaz par Jaam-e-Shahadat nosh kiya. Pakistan ka pehla Nishan-e-Haider aap ko mila. Ap ka Madfan Tilpatra Paharhi par Orhi Kashmir mein hai.