Farooq Ahmed Leghari Biography in Urdu
14 November 1993 – 2 December 1997
The eight President of Pakistan was Farooq Ahmed Leghari was born 29 May 1940 at Dera Ghazi khan. He was studied higher education at Oxford University of London. In 1963, Farooq Ahmed Khan Leghari becomes Deputy Secretary of Pakistan Civil Services. In 1975, he was joining to People's Party. In 1993, he was select for a member of National Assembly and became the Federal Minister. 14 November 1993, arranged election for president of Pakistan, Farooq Ahmed Leghari succeed with 274 votes to became President of Pakistan and he resignation the destination of President of Pakistan in 2 December 1997. He died in 20 October 2010. In this page, you will read about Farooq Ahmed Leghari biography and political life in Urdu and Roman Urdu.
Farooq Ahmed Leghari Biography in Urdu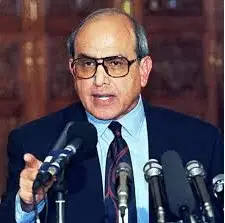 14 November 1993 – 2 December 1997
Pakistan kay 8 wein Sadar Farooq Ahmed Leghari 29 May 1940 ko Dera Ghazi Khan mein peida hoye.Unhon nay ibtadai taleem Lahore mein hasil ki baad mein Aitchison College Lahore mein dakhla liya. Oxford University London say Graduate kia. 1963 mein Pakistan Civil Services mein deputy secretary banay. 1975 mein Pakistan People's Party mein samoliat kiya. Issi kay ticket per Senate kay rukun banay. 1977 mein wafaqi wazir kay huday per fayiz hoye. Zia ul Haq kay Martial Law mein qaid o band ki shobatain bardast kein. 1988 mein Qaumi Assemble ( Nation Assemble) aur Punjab Assemble kay member banay.
1993 ko National Assembly kay rukun chunay gaye aur Wafaqi Wazeer banay. Wazir-e-umoor Kharja aur wazir khazana banay. November 1993 mein Sadar Pakistan ki nashist kay lia alection hoye jis mein Farooq Ahmed Laghari 274 vote lay kar kamyab hoye. Moqablay mein Qayem muqam Sadar Waseem Sajjad nay 168 vote liye. 14 November 1993 ko Sadar Pakistan Farooq Ahmed Leghari nay halaf uthaya. Issi roze Unhoon nay Pakistan People's ko khair bad kay dia. 17 September 1993 ko 8th wein tarmeem ko khatam karnay par zore dia. 16 February 1994 ko civil servant tarmeem ordinance jari kia gaya. 26 Febroary 1994 ko Sarhad Assembly tor di aur Governor raj nafiz kardia. Assembly kay akhtiyar Parliament kay sapurd kar diye. 28 February 1994 ko hokomat Pakistan (Government of Pakistan) ki atomic police ka alan kartay hoye kaha kay mushaviyana bunyad par ghar atomic ki tagweez ka policy khar maqdam karain gay aur tawun bhi karein ghay.
2 May 1994 ko London mein Pakistan ki taraf say do tok alfaz mein keh dia kay atomi Programe per aik tarfa pabandagi qabila qabool na hogi. 27 May ko New your mein Bharat ki pust panahi par America ko khabardar kiya. 1994 ko Mehran Bank Scandal bana aur Sadar Pakistan Farooq Ahmed Khan Leghari par motadid ilzamaat lagaye gaye. 17 June 1994 ko Justice Abdul Qadeer Chaudhry Supreme Court ki nigrani mein aik tehqiqati Commission qayem howa. 2 December 1994 ko Chine ka hafta roza daura kiya. 1st April 1995 ko Sadar Pakistan Farooq Ahmed Khan Leghari nay BBC ko aik interview datay hoye kaha kay " Sadar kay pas Parliament ko tornay ka ikhteyar nahi hona chahiye. 8 wein termim General Zia ul Haq nay Martial Law barqarar rakhnay ki dhamki day kar manzoor karaye thi mager ab hamein iss kay khatemay kay lia ayeni rasta apnana chahiye."

20 March 1996 ko Supreme Court of Pakistan nay Jajon ki taqaruri kay baray mein faisla deya to Benazir Bhutto Qaumi Assembly ( National Assembly) ka ijlas mein iss faislay per nukta chine ki.
20 September 1996 ko Wazeer-e-Azam Benazir Bhutto kay Bhai Murtaza Bhutto ko Karachi mein 7 sathiyon samat police muqablay mein qatal kardiya.
5 November 1996 ko unhon nay Article 58-2B kay tehat apnay ikhtayaraat istamal kartay hoye Qaumi Assembly tor di aur Wazeer-e-Azam Benazir Bhutto aur unkay cabinet ko bartaraf kardia. President Farooq Ahmed Leghari nay Malik Meraj Khalid ko nigran Wazeer-e-Azam muqarar kar kay naye intakhabat kay liye 3 February 1997 ki tarekh muqarar ki. Unhon nay Sadarti alamiye mein kaha kay "guzista 3 saalon kaydauran Karachi aur Pakistan kay dosray hisson kay hazaron Pakistani ko Article 59 ki khalaf warzi kartay hoye in kay bunyadi hoqooq say mehroom rakha gaya. bohot say logoon ko Police mukablon aur Police ki tehweel mein halak kiya gaya.

Un halakaton kay saat saat hokomat arkan jis mein hokomran jamaton kay arkan samil hain ki janib say wafaqi aur sobaye satah par qanoon nafiz karnay walay adaray kay officer aur amla ki taqarar aur transfer kay liye baray paimanay par mudakhlat hoti rahi. Jis ki waja say awam ka qanoon nafiz karnay walay adaron aur jaan o maal aur sehri aazadiyon kay tehafuz kay baray mein atemad khatam howa."
Farooq Ahmed Leghari
Sadar Farooq Ahmed Leghari 2 December 1997 ko apnay uhday say mustafi (resignation) ho gaye aur aiwan-e-sadar mein taqreer kartay hoye kaha kay " meray liye faraiz mansabi ki adaigi mumkin nahi rahi iss liye mein nay fori toor par sadarat say mustafi honay ka faisla kar liya hai.
Mein nay hamasha har momlay mein hokomat ki rehnumaye karnay ki kosish ki hai lakin iss ka ghalat matlab liya gaya hata kay hokomat nay apnay peida karda bohran ka zimadar bhi aiwan-e-sadar ko tehraya hai jiss say ye baat zahir hoti hai kay hokomat mukamal tor par iyeni adaron kay sath jhagray jari rakhnay ka faisla kar chuki hai. In halat mein maray liye zarori hogaya hai kay mein iss uhday say istafa daidon. Supreme Court kay chief Justice Syed Sajjad Ali Shah hain ta hum hokomat nay ghair iyeni iqdamat kartay hoye Justice Ajmal Main ko chief justice muqarrar karnay ka faisla kiya jog hair iyeni aqdam hai. Mein nay iyen ki pasdari ka half utha rakha hai aur kisi ghair iyeni aqdam ki hamayet nahi kar sakta, iss sorat hal kay pesh nazar mein bator e sadar ehtajajan istafa pesh karta hoon.
Sardar Farooq Ahmed Leghari nay sadar Pakistan kay uhday chornay kay khuch arsay apni naye Siasi Party banali. Lahore mein qayem ki janay wali iss naye Parti ka nam Millat Party rakha gaya aur iss mein bohot say People's Party kay naraz siasi rehnomayon aur carkunon nay shamuliyat ikhtayar ki. General Pervez Musharraf kay daur mein apni Millat Party ko us waqt kay hokomran jamat Muslim League Q mein mila dia. Farooq Ahmed Leghari nay 2008 mein honay walay aam intekhbat mein rukun qaumi assembly muntakhib hoye.