Major Aziz Bhatti Shaheed Biography in Urdu
Major Aziz Bhatti Shaheed family belong to District Gujrat, district headquarters nearly 110 miles away was a small village. Major Aziz Bhatti Shaheed was born in Hong Kong in 1928. Major Aziza Bhatti two uncles, Imam-ul-deen and Ahmed Deen was employer of Hong Kong police. In childhood life, Major Aziz Bhatti liked to play football, cricket, hockey and tennis. After returning Pakistan, he started career in pilot job and in 1947, he appointed as a position in Corporal. He was the brave commander of Pakistan. 10 September 1965, he was martyrdom by an enemy tank shell. Major Aziz Bhatti awarded the highest military award of Nishan-e-Haider.
Major Aziz Bhatti Shaheed Biography in Urdu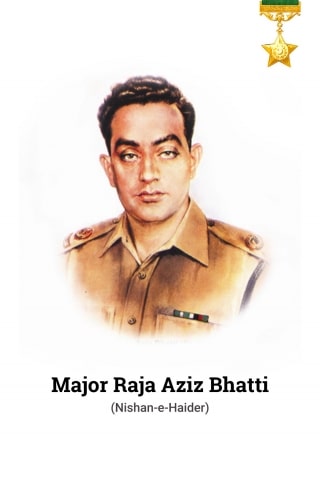 Major Aziz Bhatti Shaheed ka khandan zila Gujrat kay zila Sadar moqam sey taqreban 110 miles door aik chotay sey dehat sey taluq rakhta tha. App kay do cha cha Imamuddin aur Ahmed din Hong Kang Police mein mulazim thay. Lehaza app kay walid Mohammed Abdullah bhi talash rozgar kay silsilay mein Hong rawana huwe aur wahan sey Queen's College sey teen sala tadresi tarbiati course pass ker kay kuch arsa moallim rahay aur phir Reserve police mein bharti hogay. 6 August 1928 ko Hong Kong hi mein Aziz Bhatti peida hoye. Waldain nay in ka naam Aziz Ahmed rakha lakin ghar mein piyar say unhain Raja Raja keh kar pukara jata tha.
Bachpan mein Major Aziz Bahtti ko Football, Cricket, Hockey aur Tennis bohot pasand thay. Major Aziz Bhatti Shaheed ko moshque sey bhi bohot dilchaspi thi aur app Mouth Organ baray shoq sey bajaya kertay thay. Major Aziz Bhatti ko bachpan mein khelon mein "Likan meti" bohot pasand tha. App middle tak ibtedai taleem sira mein Kadoorie School Hong Kong mein hasil ki Metric kernay kay bad Mejor Aziz Bhatti Shaheed Queen College Hong Kong mein dakhla lay liya. College mein app ki zahanat ko dekhtay huye Principal ki safarish per Britannia hokomat ney app ko ala taleem kay liye wazefay ki pesh kash ki. Japan per Hong Kong kay qabzay kay bad app ko taleem ka silsila munqata ker kay Japani Behriya mein Watch and Ward ki hasiat say molazmat kerna pari. Unhein gair mamuli salhiyaton ki waja sey app Head Watch man kay uhday per ja poncay bad azan app nay Japani Behria key Captain key course mein dakhla leya aur bil akhir December 1945 mein apnay khandan key hum rah masaib o alam jhelnay key bad watan wapis lot aye. June 1946 mein app ki shadi Naib Subedar ki sahebzadi Zarina Akhtar sey anjam pai. Yehan yad rahay kay unki ahliya ka asal nam Rashida tha lakin Aziz Bhatti ney azrah mohabbat un ka nam Zarina rakh diya. Qudrat ney app ko char beton aur do betion sey nawaza.
Apnay Watan anay kay bad Major Aziz Bhatti ney 1946 mein batour Airman ka agaz kiya aur 1947 mein karporal kay uhday per faiz huwe. 1948 mein app nay Pak Fouj mein molazmat kay leye darkhast di 21 January 1948 ko Wazir Azam Pakistan Liaquat Ali Khan nay Aziz Bhatti ko Eazazi Talwar aur Norman talai tamgah anayat kiya 1950 mein Major Aziz Bhatti Second Lieutenant ki haisiat sey 4/16 Punjab Regiment sey munsalik rahay. 24 January 1951 sey lay ker 11 January1953 tak Aziz Bhatti Shaheed add joint lieutenant rahay. jab kay February 1953 sey December 1953 tak captain add joint rahay.
January 1956 mein Major Aziz Bhatti Shaheed ko ala tarbiat kay leye Canada bhej diya geya jahan sey wapsi per app nay Kohat aur Jhelum mein GSO second operations ki hasiat sey khidmat anjam dein. June 1961 sey June 1962 tak app 17 Punjab Regiment sey wabistah rahay jab kay June 1962 sey June 1964 tak app nay Infantry School Quetta mein molazmat ki January 1965 sey May 1965 tak app Punjab Regiment mein second in command ki hasiat sey molazmat kertay rahay. 29 August 1965 ko hangami halat kay pesh e nazar Major Aziz Bhatti Shaheed ki rukhsat mansukh ker di gai aur app ko fori tour per hazir honay ka hokum huwa. 6 September 1965 ko Bharat kay hamla awar honay per app ko Barki kay mahaz per bheaj diya gaya. Mahaz per rawanah honay sey pehlay Major Aziz Bhatti Shaheed nay apni ehliya sey kaha " Mein aaj jis qadar khush hun tum atni udas ho rahi ho mojahedin kay leye maidan jang ko rawana honay ki saat unki zindagi ki mobarak taren saat hoti hai. Tumhein maloom hai kay aaj mein watan aziz per napak azaem kay sath hamlah kernay walay zalelo makkar dushman ki sarkobi kay leye maidan mein jar raha hon. Meri khahish hai kay tum mujhay khushi khushi rukhsat karo agar mein iss moqaddas jahad mein shaheed ho jaun to ansu na bahana."
6 September 1965 ko sabhay sat bajay app mahaz per pahonchay aur jeep se utar ker morchon mein gaye aur sipahyon se mokhatib hoker kaha "Bahadro dat ker moqabla karo." Company commander ki hasiat sey Major Aziz Bhatti ki post BRB kay thi lakin unhon nay apnay leye OP ki post ka intekhab kea jo agar chay khatray wali jagah thi lakin dushman kay qareb thi 6 aur 7 September ko Major Aziz Bhatti Shaheed nay khan khanay sey inkar ker deya aur sathyon sey kaha kay "mein abhi aram nahin karun ga mujhay app logon kay aram ki zarurat hai." 8 September 1965 ko jab dushman nay chenk wandi sey bharpur hamlah keya to unhon nay aram keye bagair dushman per zaberdast hamlah kerkay usay pispa ker deya iss moqa per jab commanding officer kernel Quraeshi nay unhain aram ka hokum deya to unhon nay aik azam sey kaha. " Sir Ye bara nazuk mahaz hai mein iss jagha dushman ki naqlo harkat sey puri tarah waqif ho chukka hun naye afsar ko samajhnay mein waqt lagay ga lahza mujhay aram ki zarurat nahin."
10 September ko dushman kay aik golay ki zad mein aker Major Aziz Bhatti shaheed huya aur zindah javed ho gaye unhon nay mulk o millat ki laj rakh li aur apni jaan ka nazrana day ker usay bacha leya.