Nazia Hassan Still Alive in Our Hearts
Nazia Hassan, who opened her eyes in Karachi on April 3, 1965, was an example of beauty, talent, and fame. With an unparalleled talent, she was overwhelmed at an early age.
Nazia Hassan started her artistic career at the age of 15 by singing in the program "Sang Sang Chale" of Pakistan Television. Nazia Hassan, who received her musical training from London, started showcasing her artistic talents at an early age, but gained international fame with the song "Aap Jaisa Koi Meri Zindagi Aaye" from the Indian film "Qurbani". The song made Nazia Hassan a superstar overnight and won her a Filmfare Award. Nazia was the first Pakistani to receive the Filmfare Award.
Nazia and her brother Zohaib Hassan laid the foundation of pop singing in Pakistan and raised the flag of success with their debut album "Disco Deewane". The first album was followed by Nazia's 4 more albums, including "Boom Boom", "Young Tarang", "Hotline" and "Camera Camera". All the al-Mubznaziyah were brought to the forefront. Nazia's songs also topped the music charts in the US, UK, and Russia.
The charismatic singer, who studied law, was also a UN cultural ambassador, but Nazia Hassan, who shared her happiness with others, had a bitter life. The failed marriage with Mirza Ishtiaq Baig and lung cancer infected Nazia, who died at a London hospital on August 13, just days after her divorce at the age of 36, but is still alive in the hearts of fans. In recognition of Nazia's services, the Pakistani government awarded her the highest posthumous civil award, the Pride of Performance. Nazia Hassan's life is full of controversy. And its echo did not end even after his death.
When a storm of objections erupted on Nazia Hassan's TV show
Protests started in the country in 1989 after the participation of Nazia and her brother Zohaib Hassan in the show 'Music 89'. This is January 1989. The first PPP government in the country and the New Year sun was shining brightly. About a week ago, a promo of 'Music 89' started airing on the only TV channel in which pop icon Nazia Hassan and her brother Zohaib Hassan were featured. This was the time when young but talented singers were emerging in Pakistan and innovation was coming in music. After Nazia and Zohaib, Vital Signs had won hearts by singing 'Dil Dil Pakistan'. The new trend has filled pop music with countless colours. In this context, everyone was anxiously awaiting January 23rd when this pop music show would become a TV adornment.
One can imagine how creative and extraordinary Shoaib Mansoor will be as the producer of the program. The wait was getting longer and the curiosity of Nazia and Zohaib fans, in particular, was at its peak. And sir, the day has finally come when 'Music 89' has just been released. It was said that this is the first pop stage show in Pakistan. In the freezing cold of January, young singers warmed their blood with their bursting songs. Nazia Hassan and Zohaib Hassan were the hosts of this stage show.
The special thing about this show of Nazia was that not only pop songs but also songs decorated with regional colors were presented in it. In the middle of the day, Ingal Sargam kept grinning at the guests with his witty and humorous talk. When the then world champion of squash Jahangir Khan entered the show, he was received enthusiastically by the young fans. Through the same show, the 'Jupiter' group also sang their famous song 'Yaro Yehi Dosti Hai' which Ali Azmat hummed in his typical style and left a new current in the guests.
Now, why did this show of Nazia Hassan come under so much controversy? So this story is very interesting. With the advent of Mohtarma Benazir Bhutto's government, wherever there were changes in every field, PTV was freed from the shackles of dupatta and unnecessary restrictions. She would have used it there. Rather, she sat down with anyone in this joint gathering wherever she wished. No one has ever seen an equal man or woman. Not only this, when a song or a singer was meant to get excited, three or four youngsters raised their hands in the air and waved here and there.
The delicate gender contributed more and more. Along with the singers, this guest also had a great time, that is, everyone enjoyed this mixed pop stage show very much and there was a commotion over this. Protests and demonstrations began. Religious parties staged demonstrations in front of television headquarters and sub-offices, chanting "Islam is in danger".
The objectors even gave a message of no acceptance to this mixed party. Declaring it an invasion of Western culture, Benazir also took the government by surprise, which was seen by the PPP ministers. The opposition was a nine-party Islamic Democratic Alliance led by the late Ghulam Mustafa Jatoi. Members of the IGI delivered heated speeches on the program in the upper and lower houses. Not only PPP but also Nazia and Zohaib were targeted. The two were so bombarded and a war of words broke out that for a while Nazia and Zohaib went from background to background. 
Famous singer Nazia Hassan's death remains a mystery, Ishtiaq Baig charged with murder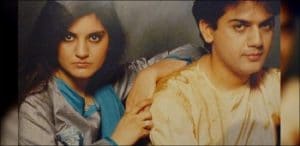 The brother of Nazia Hassan, the founder of the pop music industry in the subcontinent and a famous Pakistani singer, has revealed that his sister was killed by Ishtiaq Baig. Zohaib Hassan, the brother of Nazia Hassan, the owner of millions of heartbeats and magical voices, blamed her husband for her sister's murder, saying that Nazia Hassan was allegedly poisoned in tea or food. Zohaib Hassan also announced legal action against Mirza Ishtiaq Baig.
Mirza Ishtiaq Baig, on the other hand, dismissed the allegations against him as baseless. He also announced to file a claim for Rs 1 billion damages against Nazia Hassan's brother. Ishtiaq Baig said, "I loved Nazia very much. I did not remarry after that. Nazia died of cancer."
Nazia Hassan died of cancer in a London hospital on August 13, 2000. After her death, the government of Pakistan awarded her the country's highest honour, the Pride of Performance in 2002, and in 2003, Nazia Hassan in her memory. The establishment of the Hassan Foundation was also implemented.