Pakistan Squash History and BioGraphy
Squash is a racket sport game. It is played with two or four players in-wall court. Squash play with a hollow rubber ball. It is the healthiest sports game to play. Men and women both can play the squash game. The president of the Province NWFP was made a club for the Officers of British Army in the Village of Peshawar. Abdul Majid Khan was played the Squash professionally in this club. Abdullah Khan worked as a Steward in this club. In this page, you can see Pakistan Squash History In Urdu and Roman Hindi.
Pakistan Squash History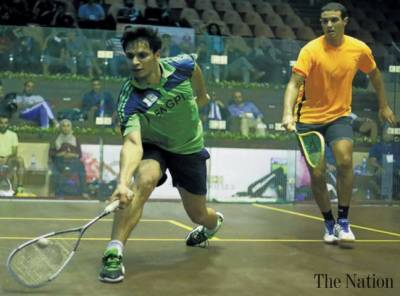 Suba Sarhad ke Sader moqam Peshawar ke nazdeek aik gaon mein British Army ke afsaran ke liye aik club qaim kiya tha Khyber Pass ki hifazat karte karte woh bore ho jaya karte they aur issi boryat ko door kerne ki khatir unhon ne yeh club banaya tha. Sakht garmi ke mosam ke bawajood unhon ne Squash court banaey thay jis ki chat bhi nahein thi sooraj ki tapish etni hoti thi ke insan to insan deegar haiwano ke liye bhi iss club ke Squash court mein dopher guzarna taqreeban na mumkin dekhai deta tha. Abdul Majid Khan iss club mein bahasiyat aik professional khela karte thay jabke Abdullah Khan yehan bator steward kam karte thay. kaha jata hai ke inn dono ke darmean rishtadari un ke aulad ke darmiyan shadyon ke baad hi qaim huye thi.
Abdullah Khan ke bare bete ka naam Hashim Khan tha. Hashim ko bachpan se hi Squash se dewangi ki had tak shouq tha. Pehle Hashim Khan ne British Army officers ko tennis khelte dekha tha magar phir unki nazar uss jaga pari jahan charon taraf dewarein thein aur khula asman tha. Hashim khan ne uss jaga ko daryaft kar liya tha jo unki aur unkey mulk ki waqar aur shohrat ki waja bani. Hashim khan ka name Pakistan Squash History me aj b likha jata hai. Squash se Hashim Khan ne aisa rishta qaim kiya jo lazwal bana unhon ne khud zati tour per aur phir unke khandan ke farzandon ne iss khail se aisa nata jora ke tareekh hi badal dali. Shaid hi kisi khail mein kisi aik khandan ne aik khail per etni hukmarani ki hai. Khan family ne Squash per taweel hukumat ki hai aur yeh kahna baja hoga ke unhon ne Squash ki tareekh ko apne haton se likah hai. Iss lazwal kahani ki ibteda Hashim Khan se hoti hai Hashim ke mutaliq kaha jata hai ke unhon ne Squash ke khail ko hi tabdeel kardia Squash se dilchapsi ka yeh alam tha ke woh garam dopher mein officers ko khelta dekhte rahte they aur jab gaind Court ke bahar jati thi to uss ka taqub kerke usey wapis court mein phenk detey they.
Jab afsaran khail ker lot jate they to yeh Hashim ke court mein dakhil hone ka waqt hua karta tha woh chandni raton mein dair tak akele hi khelte rahte they yahi waja hai ke un ka stemina lajawab tha. Hashim Khan gaind ke peachey bhagte bhagte kabhi nahein thakte they. Thakawat naam ki cheese se to who waqif hi nahein they. Hashim Khan hairat angaiz quwat deikh ker unke sathi pareshan ho jaya kerte they. Hashim naqabil yaqeen salahyaton ke malik they. Hashim khan ka name Pakistan Squash History me aj b likha jata hai Hashim cheete ki tarah phurti se gaind (ball) per lapakte they aur aise qabil e deed strokes khelte they is ka tasawar bhi mumkin nahein tha. Isi liye kaha jata hai ke Hashim ne Squash ke kai strokes ijad keay yeh strokes sirf wahi khail sakte they. Inn strokes ki badaulat Hashim Khan ne shuru se hi shohrat kamai aur apne harifon per dabao qaim kerne mein kamyab rahe.
Hashim ne Squash ki dunia mein qadam rakhte aik toofan barpa keya .All India champion Abdul Bari ,Hashim ka pahla shikar bane yeh 1944 ki bat hai.28 sala Hashim Khan uss waqt tak mashhoor nahein huey they. Abdul Bari uss waqt ke behtareen khelari mane jate they jinhein drop short lagane mein khasi maharet hasil thi lakin Hashim ke samne hetyar dalne pare amm khelari Abdul Bari ke drop short ka jawab dene sey qasir tha lakin Hashim ne apne pehle hi drop short ko flap ker deya. 1944 mein Bombay mein hone wale All India tournament mein shekhst khane ke bad Abdul Bari har bar Hashim Khan ka shikar bante rahe Abdul Barika zor toot chuka tha Hashim Khan ne Abdul Bari ki har martaba shikasht sey do char ker ke apni mokammal bartari ka saboot deya.
Qayam e Pakistan ke bad Hashim Khan ne royal air force club mein bahasiat Squash coach molazmet ikhtiyar ki aur khud ko suba sarhad mein hi mahdood kar leya aisa lagta tha ke woh Pakistan ki had tak hi mahsoor hoker rah jaein gey. Lakin Hashim Khan ko rastah faraham keya gaya aur chandah akhttha ker ke unhein qismat azmai ke leay England rawana ker deya gaya 1951 mein British open ki shirket ke leay Hashim pahonch gaey aur atey hi unhon ne dhamaka ker deya. British open sey chand din pehle Squash opoen ka ineqad hua jis mein champion Miser ke Mahmood Alkareem bhi shirket ker rahe they Mahmood guzashta char salon sey yeh tournament jeettey chale arahe they aur umeed yahi thi ke woh panchween martaba bhi kamyab lotein gein.
:Lakin woh final mein Hashim Khan sey takra gaey Europe ke sarzameen per pehla tournament khelne wale Hashim Khan ne chand minton mein hi Mahmood ka final mein safaya ker deya iss khabar sey Squash ki dunia mein aik tahalka mach gaya yeh aik bahot bara set tasawar keya gaya. Akhbarat hairat zadah they mahreen pareeshan they key eh keya ho gaya. Kuch mahreen ka khayal tha key Hashim ne ittefaqi tor per kamyabi hasil ker li hai aur asal moqablah to British open mein hoga Mahmood Alkareem ki ibratnak shikasht ko log hazam nahein ker pa rahe rhey. Aor pher woh ghari agae is ka sab ko intezar tha London ke Lance down club mein British open ka agaz hua Mahmood Alkareem ne apne title ke dafa mein masroof they magar unki bad qismati ke final mein aik martabah pher Hashim Khan hi un ke samne they.
Hashim ne Mahmood ke sath British open mein bhi wahi salook keya jo unhon ne Squash open final mein keya tha Mahmood ko aik martabah pher ibretnak shikasht ka samna kerna para aur almi title pehli martabah Pakistan ke pass agaya. Ab kisi ko hairat nahein thi ab sab log mutfiq ho chuke they ke Hashim Khan hi asli champion hai yahein sey iss kahani ka agaz hota hai Khan family Squash ki dunia mein aie aur cha gaie. British open per Khan family ki ajarah dari shuru ho gaie Hashim Khan ne sath martabah iss tournament ko jeeta iss dauran un ke chote bhai Azam Khan, kazan Roshan Khan aur bhanje Mohibullah Khan ne bhi apni salahyaton ka loha manwaya.
1951 aur 1963 ke darmeyan hone wale 13 British open final mein rasai hasil karne wale 26 khelaryon mein sey 22 ka taluq Khan family sey tha Hashim 8 martabah British open ke final mein pahonche jabke unke bhai Azam Khan bhi sat martabah final kheley. Azam ko yeh azaz hasil hua ke unhon ne British open ka sab sey kem waqt mein jeeta apne hi kazan Roshan ko bari maharet set zair keya tha yeh bara hairat angaiz moqabla tha jis mein Azam ne Roshan ko koi moqa nahein deya shaiqeen to yeh bhi samajhne lage they ke momkin hai ke Roshan mokammal tor per fit nah on lakin aist koi bat nahein thi Azam khail per mokammal tor per chaey huey they aur Roshan jaise azeem khelari bhi bea bes ho gaey they. Iss aik tarfa final ke bad hi British open ke muntazmeen ne faisla keya tha ke teesre aur chouthe position ke leay bhi final wale din hi moqablah hua kare ga take shaiqeen ko khail ka lutf hasil ho sake. Akhri martabah Hashim Khan 42 saal ki umer mein British open ke final mein pahonche they. Iss ke baad unhon ne America ka rukh kiya aur sirf aik saal mein hi American Squash mein maharet hasil ker li America mein Squash sakht gaind se kheli jati thi aur wahan court ki chaurai mamool ke court sey dhai fit kam thi. Hashim ne jald hi American squash mein apna moqam bana liya. Hashim Khan ne Bartanya se zayada America mein tournament jeete. Barhti umer ke bawajood Hashim America aur Canada mein hone wale moqablon mein sur khuru rahe.
Jab Hashim, Azam aur roushan ne American cricket ko khair baad kaha to un ki nasal ne kamyabi ke safar ko jari rakha Mohibbullah Khan 1969 tek American tournament jeette rahe pher Hashim ke bare sahebzade Sharif Khan agae. Apne walid ke naqshe qadam per chlate hue Sharif bhi Squash ke khail mein dakhil hue unhon ne Bartanya ke aik public school mein taleem hasil kit hi lekin Tourinto ke aik club ne unhein Canada ki taraf ragib keya. North American title 13 sal mein 12 martabah jeet ker Sharif ne apne walid aur apne khandan ka ser mazeed uncha keya American cricket mein gair mamooli kar kerdagi un ki ala salahyaton ka munh bolta saboot thi. 1950 ki dahai mein Khan family keg air mamooli karnamon ki badault Pakistan Squash ki dunia mein sare fahrist raha. 1960 ki dahai ke agaz mein Azam Khan aur Mohibbullah Khan ki kamyabyon ka silsila jari raha lakin almi cricket se unke rukhset hone ke bad gair mulki khailariyon ne British open per qabza jama leya.
Aftab Jawed ne kai tournament jeete magar woh British open ka ejaz hasil kerne sey qasir rahe woh 1965 aur 1966 ke British open ke final mein zaroor pahonche they magar dono martaba unhein shikasht ka samna kerna para tha 1971 ke British open final mein bhi woh pahonche lakin apne akhri rukawat aboor na ker sake. Aftab jawed British Amateur o Champion ship jeetne mein kai martaba kamyab rahe balke unhon ne to yeh title teen sal laga tar jeeta 1964,1965,1966 mein yeh title jeet ker British Amateur Champion ship ki 44 sala tareekh mein woh teesre khelari they jinhein hat trick ka ajaz hasil hua. Air land ke Juna Bair Nigtan aur Australia ke Jaif Hint Pakistan yon ke leay sakht hareef ban ker ubhre aur un ke orooj ke dino mein Pakistan almi ejaz sey kai salon tek mahroom raha.
1964 ke bad jab Mohibbullah Khan ne British open title jeeta Pakistan ko yeh ejaz 1965 mein hasil hua iss martaba dono Pakistani khelari Qamar Zaman aur Gogi Allauddin pahonche they lahza title to Pakistan ana hi tha Qamar ne Gogi ko shikast de ker pahli martaba Open jeetne ka ejaz hasil keya. Almi cricket mein kai umda khelaryon ki maujudgi ke bawajood Jaif Hint 1976 sey 1981 tek British open ka ejaz jeette rahe Hint bahot achcha khelte they aur un ki ala technic ko matt dene ke leay kisi bahot hi azeem khelari ki zaroorat thi . Iss azeem hasti ka nam Jahangir Khan tha jis ne Hint ko Squash ko khair bad kahne per majboor ker deya Jahangir ki kahani iss fateh alam ki kahani hai jo apni na qabil yaqeen salahyaton ki bunyad per bagai ruke jadoo jagata raha unhein Squash ka Sikender E Azam bhi kaha ja sakta hai jis ke samne koi ruk nahein pata tha. Jahangir ne Squash ki dunia mein 1979 mein qadam rakah tha iss sal Australia mein hone wali world champion ship mein unko iss leay moqa deya tha ke woh chand din pahle hi beemar per jane ki waja sey mokammal tour per sehatyab nahein huey they lakin issi sal Jahangir ne 15 sal ki umerw mein World Amateur title jeet ker yeh sabit ker deya ke uski shakal mein aik tareekh saz khelari chupa hua hai aur ane wale salon mein bilkul aisa hi hua.

Jhangir Khan ke bare bhai Tourism Khan bhi aik manjeh hue khelari they Tourism Khan dunia ke 15 bare khelaryon ki fahrist mein they aur Inter National Squash Players association ke sadar bhi they un ke kazan Rahmat Khan dunia ke 12 behtareen khelaryon ki saf mein shamil ho chuke they Rahmat ke walid Nasrullah Khan Air land ke Juna Bair Ligtan ke coach rah chuke they. Rahmat Khan aur Torsam Khan ka irada tha ke woh England mein aik achche Squash club mein malkana haqooq hasil ker lein aur wahan Jahangir Khan ko bola ker training di jae take woh Australia ke Haif Hint ki mosalsal perwaz ko rokne ka bandobast ker sakein. Torsam aur Rahmet apni hikmat amli ko akhri shakal dene mein masroof they ke aik saneha roonuma ho gaya Australia mein khelte hue Torsam Khan kort mein dhear ho gae aur Squash ki dunia ko sogwar chor gae. Jahangir Khan apne barae bhai Torsam ke khail sey bahot motasir they. Torsam ki achanak mout sey Jahangir ko bahot zayada sadma hua aur Pakistan wapis aker unhon ne yeh soch leya ke woh aenda wicket ko shayad kabhi dobarah hat na laga sakein gein .
Iss moqa per Rahmat Khan ne aik qurbani di Rahmet ne Squash khelna tark ker deya halanke woh uss waqt bhi dunia ke behtareen khelaryon ki fahrist mein maujood they. Rahmet ne Jahangir Khan ko dobara Squash kort mein lane mein aham kirdar ada keya Rahmet ko yeh andaza tha ke Jahangir mein khudad salahyatein maujood hain aur umda training aur coatching sey un ke khail mein mazeed nikhar paida ho sakta hai. Rahmet ne apne khandan ke buzurgon aur Pakistan Inter National Air lines ke ohdedaron ko razi ker leya ke England jaker hi Jahangir woh sare ezazat hasil ker sakta hai jis ki sab ko tamanna hai Rahmet Khan ko ejazat to mil gai lakin ajpne mansoobe ko amli jama pehnane ke leay unhein do sal ki mohlet di gai.
Rahmet Khan ne iss challenge ko qabool ker leya aur apne mishan pewr rawana ho gae unhein yeh bata deya gaya tha ke nakami ki surat mein qaum ka unhein ko kerna pare ga Rahmet Khan ko na jane Jahangir mein keya nazar agaya tha ke woh shooru sey hi pur umeed dekhai dete they. Aur theek do sal bad woh khab haqeeqat mein tabdeel ho gaya woh mission kamyab raha jis per Rahmet Khan rawana huey they 28 November 1979 Torsam Khan ka inteqal hua tha aur 28 November 1981 ko Jahangir ne Canada ke shaher Toronto mein Jaif Hint ko hara ker nae Almi Champion banne ka ejaz hasil keya. Simi final mein Jahangir ne Hadayat Jahan ko shikst di thi jabke Hint ne doosre simi final mein Faqmer Zaman ko haraya tha 34 sala Hint World open mein naqabil taskher chale arahe they aur 1975 sey hone wale iss tournament mein har bar fateh lout rahe they. Lakin akhir kar woh ghari agai jis ka har Pakistani ko beachaini sey intezar tha Jahangir apne haref sey umer mein adeh they magar final jeetne ke pur azam they yeh un ka aur un ke kazan Rahmet Khan ka sab sey bara imtehan tha. Hint ne pehla game 7.9 sey jeeta magar 58 minut tek chalne wale iss game sey andaza hone laga tha ke Jahangir hathyar dalne ke mood mein nazar nahein ate 56 minut ke taweel dauranya wale pehle game mein hi 34 sala Hint ko tawaqat sey zayada jaddo jahed karna pari thi. 17 sala Jahangir ne Hint ko itna zayada pehle hi game mein thaka deya tha ke un ki tawanai mein kami nazar ane lagi thi Hint apne harifon ko thaka ker harane mein mashhoor they lakin iss roze woh khud shikar ho rahe they yeh umda mansooba bandi ka nateja tha Jahangir ne pehla game iss andaz mein khela tha ke usey zayada sey zayada lamba keya ja sake.
Jahangir apni shason mein kamyab rahe aur agle teen game sirf 30 minut ke ander jeet leay iss tarah Hint ki kamyabyon ka silsila khatam hua aur un ki jaga aik naujawan Pakistani ne le li. Aur yahan se aik ahad ki shuruat huein aenda panch salon tek Jahangir Khan ko iss dunia ka koi bhi khelari hara na saka iss dauran unhon ne 500 sey zayada matches khele aur har martaba kamyabi hasil ki yeh aisa record hai jis ki misal Squash mein to keya kisi aur khail mein bhi nahein milti. Iss zamane mein Jahangir ke khelaf aik match to keya aik game ya sirf aik point hasil kerna bhi un ke hareef ke leay fakhar ki bat samjhi jati thi. November 1986 mein Newzi Land ke Roos Norman ne woh karnama anjam deya jis mein guzashta panch sal sey bzayada arsa mein har aik nakam raha tha Norman kai martaba Jahangir sey shikast kha rahe they lakin 1986 ke world open final mein Squash ki dunia ka azeem tareen khelari zair ho hi gaya. Jahangir ne chand hi dino bad Norman ko kai moqablon mein hara ker world open ki shikast ka badla le leya aur apni kamyabton ka silsila jari rakha.
London hi mein training hasil karne wale Pakistani naujawan Jansher Khan 1986 mein Squash ki ufaq per ubhre aur Jahangir Khan ke leay aik sakht khan hareef sabit huey Jansher ke bare bhai Mohibbullah Khan junior bhi aik achche khelari they jinhon ne 1976 ka British open final khela tha. Jansher Khan aik zabardast khelari zaroor they magar un mein woh khubyan nazar nahein aein jo Jahangir Khan mein thein yahi waja hai ke Jansher apni ala tareen salahyaton ke bawajood woh moqam na bana sake jo Jahangir ne banaya tha. Jansherbhi bila shuba aik azeem khelari they un ka moqabla Jahangir Khan ke sath 37 martaba hua 1993 ke world open final tak dono baraber yani 18 matches jeete they akhri moqabla Jansher ne jeeta iss tarah un ke darmeyan record 18.19 ho gaya. Jahangir ki retirement ke baad almi satah per Jansher Pakistan ki wahid umeed hua kerte they Jansher ne apne weaqt ke behtareen khelaryon ko mosalsal harate rahe aur khud shazonadir hara kerte they.
1977 mein ghutne ki takaleef Jansherko pareeshan keya goke Scot Land mein ubharte huey khelari Copeter Niksel ko unhon ne British open ke final mein hara deya tha lakin yeh kamyabi itni motasir kun nahein thi aur yeh mahsoos hone laga tha ke Jansher zayada arse tak apni hukmerani qaim nahein rakh paein gein. Apne orooj ke sino mein Jansher inn azam ka izhar kerte rahte they ke 21 ween sedi ke awail tek woh kamyabi ka safar jari rakhein gein lakin woh kamyab na hosake 1997 ke world open mein unhon ne zati wajuhat ki bina per hissa nahein leya tha. 1998 mein nuhein British open ke ijaz se bhi destberdar hona para sal ke world open ke fathe Canadake Joona then power rahe 1999 mein bhi Pakistan ke hath koi bara title na asaka. Jansher Khan ke manzer E aam se het jane ke bad Squash mein Pakistan ki haisyat aik aam mulk jaisi ho gai British open aur world open ke simi final mein bhi Pakistan ke kisi khelari ke leay pahonchna moshkil nazar ata hai aisa mahsoos hota hai ke Squash mein Pakistan ki bertari ka ikhtetam ho chukka hai mustaqbil qareeb mein koi aisa khelari nazar nahein ata hai jo Pakistan ko aik mertaba pher Squash ka super pawer bana sake. Yeh bare dukh ki bat hai ke Squash ka khail Pakistan mein zawal pazeer hai Australia ka bhi yahi hal dekhai deta hai aik taweel arsa tek inn dono momalik ne Squash ki dunia ki hukmerani ki magar abb surathal tabdeel ho chuki hai. Pakistan ke leay yeh amer aur bhi zayada tashweesh nak keonke cricket aur hockey ke alawa Squash woh wahid khail tha jis mein hamari position numayan rahti thi hockey ka khail bhi yehan tabahi ki taraf gamzen hai abb sirf cricket woh khail rah gaya hai jis mein hamari team kamyabi hasil ker rahi hai . Aik zamana tha jaba Squash ka her aham title Pakistan ke pas tha abb bat pahonch chuki hai ke hamare pas sirf do Ashian title hain baqya tamam izazat sey ham mahroom ho chuke hain .