Hashim Khan Biography in Urdu
Squash Player
Hashim Khan was born on 1916 in Nawakille. It is a small village near Peshawar. He was belonging to the Khan Family. Hashim Khan was the son of Abdullah Khan. He was very fond of the Squash since childhood. Hashim Khan was very talented player. He was known as the King of Squash. Hashim Khan selected in Royal Pakistan Air Force for the Coach of Squash after separation of Pakistan. First time at the age of 33 in 1949, Hashim Khan was beat the Roshan Khan, who was 21 years old in the final of Pakistan Professional Squash Championship. He invented the new shorts of Squash. Hashim Khan was the first Player of Pakistan who awarded the British Open Award. In this page, you can see the information about the Hashim Khan Squash Player.
Hashim Khan Squash Player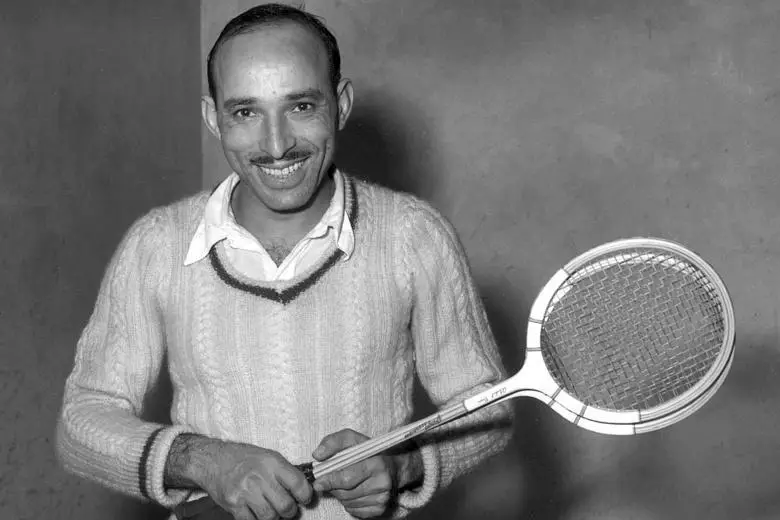 Hashim Khan 1916 mein Pashawer ke qareeb aik gaon mein paida huye. Hashim Khan ke abao ajdad qabaili they jo baad mein Khaiber pas aker rahne lage. Hashim Khan ke walid British Army ki Peshawer Chawni mein molazmat kerte they. Hashim ko bachpen se hi Squash se dilchaspi thi. Khail ka talent un mein shooru se hi maujood tha aur achchey khelaryon mein shoomar keye jate they. Apni aala salahyaton ki bunyad per Hashi Khan Ko British Air Force mein bahasyat Squash coach faiz kiya gaya tha. Qayam e Pakistan ke baad woh royal Pakistan Air Force mein Squash coach tayenat huye. 1949 mein pehli mertaba munaqid hone wali Pakistan professional Squash champion ship ke final mein 33 sala Hashim Khan ne 21 sala Raushan Khan ko shikast di. Hashim Khan ne ball boy ki haisyat se iss khail ki janib bher poor tawajjah di thi chota sa Hashim rozana apne school se farig hoker dopher kai meel paidel chal ker club ata aur yehan ke arkan ke khail sey lutf andaz hota. Jab gaind kort ke baher chali jati to Hshim woh ball talash ker ke late they. Sirf 11 sal ki umer mein Hashim ko aik sadme se dochar hona para tha jeb unke walid sarak ke aik hadse mein helak hue they. Mashi mushkilat ne un ke khandan ko ghere mein le liya tha. Un Mushkil halat mein bhi Hashim Khan ne Squash se apna rishta nahein tora aur sakht jaddo jahad kerte rahe.
Chand hi salon mein Hashim ke khail ka meyar buland ho chukka tha lakin unhein uska ihsas nahein tha. Hashim Khan ko apni salahyaton ka andaza us waqt hua jab unke rishtedar Abdul Bari 1950 ke British open final mein pahonche. Hashim Khan iss baat se bakhubi waqif thay ke un ka khail Abdul Bari se kafi Behter hai. Iss tarah Hashim ne British open khelne ki mansooba bandi ki. 1951 mein Pakistan air force ke officers ne chanda jama ker ke Hashim ki British open champion ship mein shirket ke liye England rawana kiya. Yeh intehai hairer ki baat thi ke woh (players) khelari jise apne watan mein khelne ki tamam sahooltein mayasser nahein thein duniya ke number aik(no one) khelari (player) ko harane mein kamyab ho gaya. Hashim Khan ne Misr ke Mahmood Alkareem ko final mein hara ker aik dahmaka ker diya. Mahmood guzeshta 4 years (char saalon) se British opoen jeet rahe thay Hashim Khan ki umer uss waqt 35 saal ho chuki thi jo amm tour per aik khelari ki Retirement ki umer tasawar ki jati thi.
Lakin Hashim Khan ke khail mein josh tha woh walwala tha aur sub se barh ker woh jazba tha jis se woh apne hum asar khelaryon ko zair kerne ki maharat rakhte thay. 1944 ke All India champion ship ke fathe ab almi Squash mein apna sikka jama baithe thay. Apne ala khail se Hashim Khan ne poori dunia ko hairat mein dal diya tha. 1956 tek woh British open mein na qabil e taskheer rahe yani yeh title woh 6 mertaba lagatar jeete. 1957 ke final mein unhein Roshan Khan ne shikast di lakin 1958 mein Hashim Khan aik mertaba phir sukhuru huye. Iss tarah Hashim Khan satween mertaba(7-time) British open jeetne mein kamyab huye jo aik naya record tha. Hashim Khan ko Squash ka badshah qarar deya jata tha. Woh apne daur ke azeem tareen khelari samjhe jate thay. 50 saal ki umer mein bhi woh aik naujawan khelari ko farig kerne ki salahiyat rakhte thay. Hashim Khan ke khail ke ahem khubi yeh thi ke woh kisi bhi lamha himmat nahein harte thay. kaha jata hai ke unhon ne Squash mein kayi new shorts ijaad kiye. khail ke dauran Hashim Khan ka short jo sab se zaida mashoor huwa aur jo dekhne se taluq rakhta tha woh four hand cross kort drop short tha jis ke zariye Hashim Khan ne na sirf apne hareefon ko bikheir ker rakh diya tha balke uss se Hashim Khan ne motadid points hasil kiye thay.