Jahangir Khan Biography in Urdu
Squash Player
The Squash Crown of King and best player Jahangir Khan ( born in 10 December 1963 in Karachi, Pakistan). You rightly belonged to a family, which called squash family. In Jahangir Khan family member, Hashim Khan first brought laurels for Pakistan in squash Khan Childhood was very sophisticated. Was loved by the world. Jahangir Khan first succeeds September 1979, at age of 16 years.
His success began with a break in World Open in 1986 when New Zealand's Ross consecutive five-year effort to beat them in the finals. To establish its dominance in world squash in North America after Jahangir Khan played hardball in the decide fortune. After 1988, Jahangir Khan was not success. Khan retired from squash in 1994. Many times, he has elected President of the World Squash Federation.
Jahangir Khan Biography In Urdu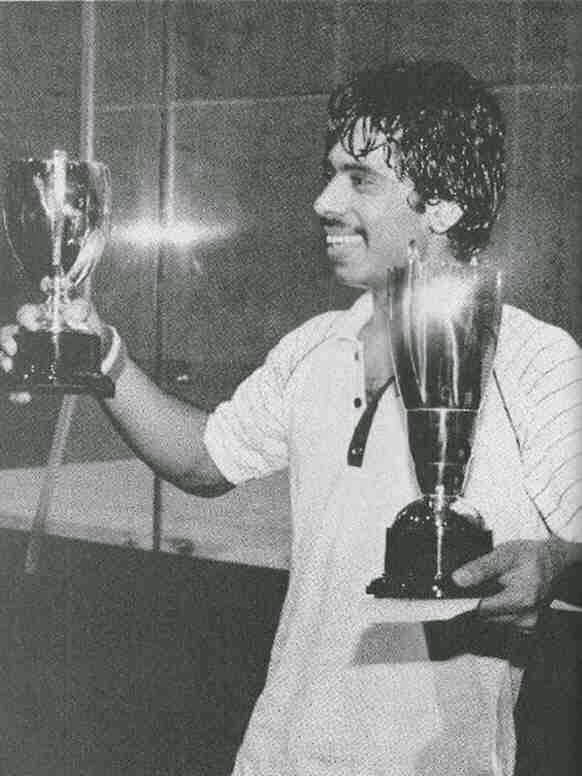 Squash ki Duniya key leyea bea taj Badsha aur tareekh key behtareen khelari Jahangir Khan 10 December 1963 key roze Karachi mein paida huae. App ka taluq aik aisey khandan se tha jisey baja taur par "Squash family" qarar dea ja sakta hai. Iss khandan se Hashim Khan aise pehley fard they. Jahangir Khan na Squash ke maidan mein Pakistan ka nam roshan kei.
Iss ke baad Jhangir Khan ke walid Roshan Khan aur bhai Torsam Khan kamyabian hasil kein te rahe Roshan Khan ne Britsh Open aur World Open ke Title jeetey un key bad Jhangir Khan ney yea dono title apney nam kea to Squash ki tareekh mein inn dono ezazat ko apney nam ker ney waley yea wahid bap beata bun gae.
Jahangir Khan Childhood
In Roman Urdu and Hindi
Jahangir Khan bachpen mein nehaiat naheef o nazar they kam umri mein dunya key shikar ho gae aur Doctron ney Squash key khail ko un key leay shejrea mamnua qarar dae dea 1970 mein jab Toor Sim Khan Squash kheltey huae dil ka doura par janey sey achanek inteqal ker gae to Jhangir Khan ney apney merhoom bap ki khahish puri ker ney key leay dobarah Squash key maidan mein qadam rakha Toor Sim Khan ki khahish thi key woh almi champion ka ezaz hasil kerain.
App ney pehli kamiabi September 1979 mein 16 sal ki umer mein gair peasha wer khelaryon ki almi chapion ship jeet ker hasil ki iss kamiabi key kuch hi arsey bad Toor Sim Khan inteqal ker gae iss waqae ney Jhangir Khan ki nafsiat par ghara aser dala unhon ney shabana roz terbiat aur sakht mehnet ka silsila shuru ker dea aur apney kazen Rehmat Khan ki cotching mein aisey khelari baney key sirf 17 sal ki umer mein unhon ney Australia key Jeef HFunt ko shikasht dea ker world open jeet lea yea amer qabil ziker hay key iss sey pehley mosalsel 6 sal tek yea ezaz Jeef Hunt key qabzey mein chala araha tha.
Yahan sey Jahangir Khan ki kamyabeon key silseley ka agaz hua aur moselsel 5 sal tek who na qabil e shishat rahtey huae kamyabeon par kamyabian hasil ker tey gae unhon ney sarehy panch saw sey zaid moqablon mein mosalsel kamyabi hasil ker key aisa record qaiem kea jisey shaed aenda koi na tor sekey inn ki fit nes aur setemna apni misal app they 1982 mein Jhangir Khan ney aik point bhi beggar Inter national Squash plears asosi ashion ki champion ship jeet ker aik dunya ko warta hairet mein dal dea.
Inn ki kamyabeon key silseley ko break 1986 key world open mein lagi jab Newzi Land key Ras Narmen ney 5 sal ki mosalsel koshish key bad fainal mein unhain shikesht sey dochar ker dea iss par Jahangir Khan ney sirf itna tebsera kea " main koi record bananey key lea matchon par match nahin jeet raha tha main sirf her match mein puri jan lagata tha aur yahi silsila RAs Narman sey shikasht khaney tek jari raha.
Almi Squash mein apni bertari qaiam kerney key bad Jahangir Khan ney Shumali Amreica mein khali janey wali Hard Ball Sotch mein qismet azmaney ka faisla kea yea Squash, Almi paimaney par kheli janey wali Squash sey kisi qader mukhtalif hoti hay yehan bhi Jahangir Khan ney apna loha manwaya aur 13 tournaments mein sey 12 mein kamyabi hasil ki Amrica key saf e aual key khaelari Mark Talboot sey iss dauran inn ka 13 moqabla hua aur inn mein sey 12 mertaba Jahangir Khan ney kabyabi hasil ki.
Jahangir Khan and Jansher Khan
1986 ke akhir mein Pakistan ke aik aur khelari Jansher Khan manzare amm par aea aur Jhangir Khan key Taj ka aik aur dawedar paida ho gea ibtedai moqablon mein Jahangir Khan ko kamyabi hasil hue lakin bad azan Jan Sher Khan ney mosalsel 9 moqablon meinun key khelaf kamyabi hasil ki Jahangir Khan key khelaf kamyabi ka iss sey behter record aur kisi khelari ka nahin.
1988 key bad Jahangir Khan ko world open mein kamyabi hasil na hosaki lakin British open par un ki hukmerani jari rahi Retired honey sey pehley unhon ney mosalsel 10 bar yea ejaz hasil kea jo aik record hay.
Jahangir Khan Retired
Jahangir Khan 1994 mein Squash sey retired huae app ki kamyabeon key eteraf mein app ko sadarti temgha barae husn karkerdagi sey nawaza gea aur Canada key aik adarey ney un ki zindagi par "Fatha" nami aik film bhi taiyar ki iss key elawa almi sitah par unhein bea shumar deegar azazat sey nawaza gea woh kae mertaba almi Squash Fedreation key Sadar bhi muntakhib ho chukey hain.