Dr. Muhammad Tahir-ul-Qadri Biography in Urdu
Dr. Muhammad Tahir-ul-Qadri was born on 19 February 1951 at Jhang. He is a founding leader of Mihaj-ul-Quran. Minhaj-ul-Quran is a broad based Islamic Organisation representing a moderate vision of Islam. He is a pakistani Sufi scholar and former professor of constitutional law. He is a Sunni Scholar. Dr. Tahir-ul-Qadri has consistently presented a model of Islam. In this page you will read Islamic Scholar Dr Tahir ul Qadri biography and history in Urdu and Roman Urdu.
Dr Muhammad Tahir ul Qadri Biography In Urdu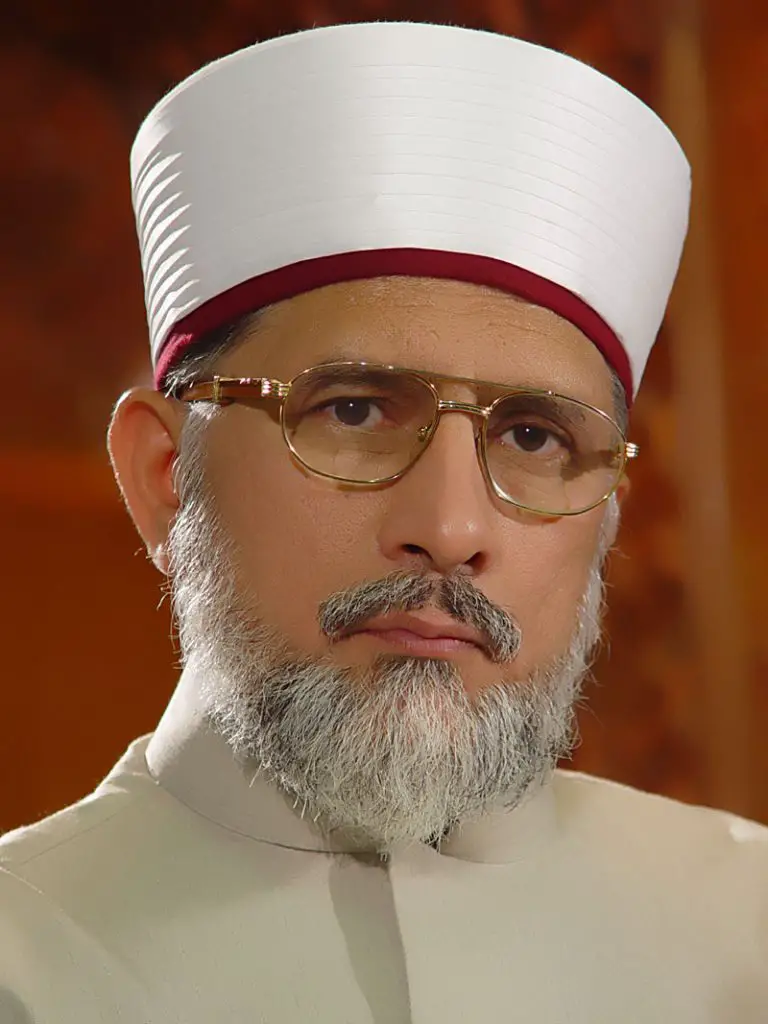 Dr. Muhammad Tahir ul Qadri 19 February 1951 ko Jhang mein paida hue. App tehreek-e-Minhaj ul Quran ke bani rehnuma hai. Jo 1980 se Islam ki riwayati taleemat ko aam kar rahe hain. Dr Tahir ul Qadri Minhaj welfare foundation, awami taleemi mansooba aur Minhaj University ke bhi bani hai. Aur Pakistan awami tehreek naami siyasi jamat ke bhi bani chairman hai, tahum aj kal app siyasat se kinara kash hai.
Dr Tahir ul Qadri Shiekh Syed Tahir Allauddin Al Qadri Al Gillani (R.A) ke mureed hain. Jo silsila nasab mein Sheikh Abdul Qadir Jelani ki 17 aur NABI KAREEM ( S.A.W.W ) ki 28 pusht se hain. Unhe 1994 mein 130 saal umar pane wale Chakwal ke maroof buzurg Syed Rasool Shah Khaki ne pehli bar aur badazan 2004 mein arab ulmah ki taraf se sheikh ul Islam ka khitab diya gaya.
Dr. Muhammad Tahir Jhang ke aik maroof aalim e deen Dr. Farid ud Din Qadri ke bete hain. In ke aabao ajdad Siyal khandan se the, jo tehseel wa zila Jhang ke cheniyot road par waqey gaon Khewa ke nawab the. In mein se do bhaiyon ne apni jaidad teesre bhai ke supurd kar ke khud darweshi ikhteyar ki, Nawab Jumma Khan Dera Ismaiyl Khan ki taraf aur Nawab Ahmed Yaar Khan ( jo Dr. Tahir ul Qadri ke ajdaad mein se the ) Jhang sadar jaa aabad hue. Dr. Fareed Uddin 1918 mein Jhang mein paida hue. Unho ne arbi aur farsi adab, fiqa islami aur tasoof o rohaniyat ke husool ke liye dunya bhar ka safar kiya. Unho ne Lukhnow ( Bharat ) se tib-e-yunani mein takhassus kiya aur unhe 1940 mein Punjab University ki taraf se Gold Medal diya gaya. Unho ne Lukhnow, Hyderabad, Damishq, Dehli, Baghdad aur Madina Munawwara se iktesaab ilm kiya. Wo Dehli aur Hyderabad mein Hakeem Nabina Ansari ke sath bhi shareek kaar rahe. Dr. Fareed Uddin ne 2 November 1974 ko Jhang mein 56 saal ki umar mein inteqal kiya.
Dr. Tahir ne amli zindagi ka aaghaz tadrees se kiya aur Govt.College Essa Khel Mianwali mein Islamic studies ke lecturerar ke tor par 1974 se 1975 tak kaam karte rahe. Qanoon ki degree ke hamil hone ki badaulat app ne bator Advocate Jhang ki district coart mein 1976 se 1978 tak wakalat bhi ki. 25 May 1989 ko app ne Pakistan awami tehreek ke naam se aik siyasi jamat banai. Jis ka bunyadi aejanda Pakistan mein insani huqooq aur adal o insaaf ki farhami, khwateen ke huqooq ka tahaffuz, taleem aur sehat ki bunyadi saholiyat ki farhami, mulki siyasat se corruption aur daulat ke asraat ka khatma tha.
1990 mein Pakistan awami tehreek ne pehli baar aam intekhabat mein hissa liya. 1991 mein mulk mein jaari firqa wariyat aur shiya sunni fasadat ke khtme ke liye Pakistan awami tehreek aur tehreek e nifaz fiqa jafriya ke maben aelamiya wehdat jari kiya gaya.
1992 mein app ne qaumi aur benul aqwami transictions ka ahata karne wala bilasood bankari nizam pesh kiya. 1998 mein app siasi ittehad Pakistan awami ittehad ke sadar bane. Jis mein PPP samet kul 19 jamaatain shamil thi. 2003 mein Mohtarma Benazir Bhutto ne in ke idare ki tahayat rafaqat ikhteyar ki. Isi saal app ne fard e wahid ki aamriyat ke khilaf qaumi assembly ki nashist se istefa de diya, jo Pakistan ki tareekh mein kisi bhi rukun assembly ki taraf se pehla istefa tha.
2006 mein jab Denmark se HAZRAT MOHAMMAD ( S.A.W.W ) ke tauheen aamez khakey banae gae to aap ne Aqwam e Muttahida ko aik aehtejaji marasla bheja, jis par 15 kilo meter taweel kaprhe ka banner bhi tha, jis par 10 lakh se zaiyd logon ke dastakhat thay.
2009 mein Israel ke hathon hone wali Gaza ki tabahi ke bad Falasteeni musalman bhaiyon se izhaar e yakjehti ke liye Gaza confrence ka ineqaad hua, bad azan mutasireen Gaza ke liye imdadi saman rawana kiya gaya. App ke zer e aehtemam Lahore mein har saal Ramzan ul Mubarak mein ijtemaai aetekaaf hota hai. Jise harmain shareefain ke bad Dunya ka sab se barha ijtemaai aetakaaf kaha jata hai. Ap ke zer e aehtemam Lahore mein Minar e Pakistan ke tareekhi maqam par har saal Milad conference munaqid hoti hai. Kaha jata hai ke ye Dunya ki sab se barhi Milad conference hai. Ap ke qaiym karda gosha e durood mein log sara saal din raat NABI KAREEM ( S.A.W.W ) par durood bhejte hain. Kaha jata hai ke rooe zameen par ye aesi wahid jagah hai, jise tareekh mein pehli baar Dr. Tahir ul Qadri ne qaiyam kiya.
Dr. Tahir ul Qadri hazar ha deeni muzooat par Urdu, angrezi aur Arbi mein khitabaat kar chuke hai. Mukhtalif TV channels par bhi in ke program nashar hote rehte hai. Dr. Muhammad Tahir ul Qadri aik sunni scholar hai. Magar wo khud ko barelvi aur deobandi firqon ki bandishon se azaad aik aam musalman qarar dete hai. In ke mutabiq apna aqeeda choro mat aur dosron ka aqeeda cheron mat ki policy ittehad e Ummat ke liye nagarez hai. Dr Tahir ul Qadri ke mutabiq Islam qeyam e aman ka sab se barha daaiy hai aur jehad ke naam par dehshat gardi ka bazar garam karne wale guroh Musalman to kya insaan bhi kehlane ke laiq nahi. Dr Tahir ul Qadri ke mutabiq dehshat gardi ka koi mazhab nahi.