Quaid-e-Azam Muhammad Ali Jinnah
Quaid-e-Azam Muhammad Ali Jinnah was Born in 25 December 1876 on The founder of Pakistan Quaid-e-Azam. His father name was Jinnah Poonja. His early education from Sindh Madaressat-ul-Islam. He was the famous lawyer of his time. He founded a new country knows as Pakistan on ideology of teaching of Islam. Quaid-e-Azam Muhammad Ali Jinnah died on 11 September 1948. His tomb is in the Karachi. This is Patiot place for all the Pakistan. In this page you will read Quaid-e-Azam Muhammad Ali Jinnah biography in Urdu and Roman Urdu.
Quaid-e-Azam Muhammad Ali Jinnah In Urdu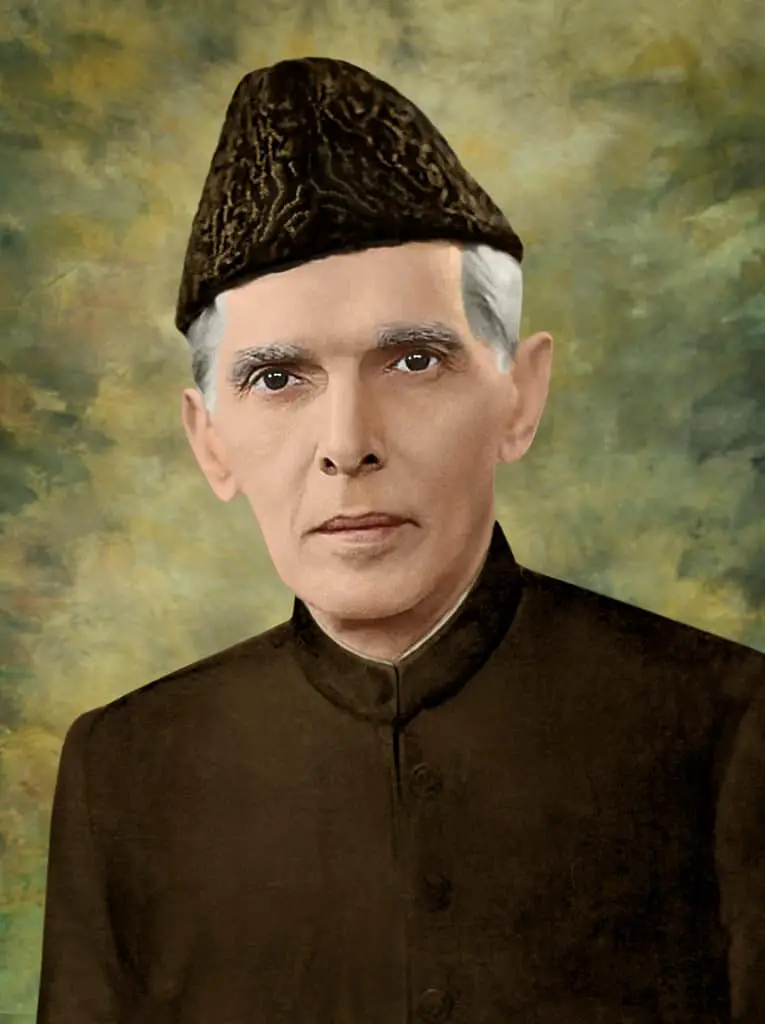 Pakistan kay bani Baba-e-Qaum aur Quaid-e-Azam pakistan ki tareekh kay wahid ghair motanaza quaid jin ki wal wala anghaiz qayadat nay Bare Saghir ki siasat ka dhara badal diya aur tareekh mein pehli bar nazariya ki bunyad par aik naie riyasat ko janam diya, 25 December 1876 mein Karachi kay aik Muslim Rajput gharane mein paida huye. Quaid-e-Muhammad Ali Jinnah kay walid garami ka naam Jinnah Poonja tha aur woh aik mumtaz tajir thay. App kay ajdad Gujrat kathiwar say hijrat kar kay Karachi aye tha.
Quaid-e-Azam ki taleem ki ibteda1882 Karachi kay School say hoi. Jahan app nay Gujrati ki 4 class tak taleem hasil ki. Iss kay bad app Sindh Madressatul Islam Karachi mein dakhil huye lakin yehan chand mah hi guzarne kay bad app Bombay (Mojoda Mumbai) chalay gaye jaha Anjuman Islam High School mein dakhil huye magar yehan bhi app zaida arsa na rahay aur Karachi wapas a kar phir say Madressatul Islam mein dakhil huwe yaha primary ki taleem mukamal karnay kay baad app church Mission School Karachi dhakil huye. January 1893 mein app Englistan gaye. Quaid Azam jab yehan aye to walid kay karobar ko taraqi dene ki garz say thay lakin zati dilchapi nay app ko Law ki taleem ki taraf ragib hone par amada kiya aur app yeaha kay mashor taleemi adarae link zane mein dakhil huwe aur 1896 mein barrister ki degree hasil karnay mein kamiyab rahay.
Iss asna mein Karachi mein app kay walid ka karobar tabahi ka shikar tha. Quaid-e-Azam kay walid nay doran-e-taleem hi app say wapas ane kay liye kah diya tha lakin app nay in ko tasali di aur yaqeen dilaya kay taleem mukammal karnay kay baad app in kay sare bojh uthalan gay. App nay apna ye wada such kar dekhaya. 1897 mein Muhammad Ali Jinnah nay Bombay (Mojoda Mumbai) say ba hasiyat barrister wakalat ka aghaz kiya aur jald hi app ka shumar mulk kay saf-e-awal kay wakla mein honay laga. 1900 mein Mumbai High Court mein app ka taqrrar ba hasiyat advocate huya. 1905 mein Congrees mein shamoliat akhtayar ki. 1909 mein Bombay Precedence kay Muslim halka intekhab say app bila muqabla supreme counsel kay rukun muntakhib huye aur 1910 mein qanon saz konsil kay rukun banay.
1912 mein Kolcata mein Muslim League kay salana iglas mein sirkat. 1913 mein Muslim Leauge mein sirkat akhtayar karli. Quaid-e-Azam nay sub say pehlay wakeel (Advocate) kay tour par shurat hasil ki practice kay agaz mein jab har wakeel dalelon ka sahara leta hai. Muhammad Ali Jinnah nay iss say ijtenab kiya. Sarkari muqadmaat kay liye sarkari afsaron ki khushamad say bhi app nay inkar kardiya residency magistrate muqarar kiye gaye to app nay police ki najaiz hamayat say inkar kardiya aur apnay uhday say mustafi ho kar practice shuro kar di. justice hazrat iss noukhaiz barrister ki qadar kartay. Inn ko na dabaya ja sakta tha aur na khareda ja sakta tha precise kay liye in kay apnay usool thay 500 rupees yomia fees late thay. Aik muqil nay puray muqadma kay liye 5000 rupe fees tay karna chahi lakin app nay apne usool ko tark karnay say inkar kardiya. Moukil ki tawaqat o khadsaat kay bar akas app nay sirf 3 tareekhon mein muqadma jeet liya aur iss say sirf 1500 rupees fees liye. Aik dusray moukil nay inhein undaze kay mutabiq 10 hazar rupe ada kar dia tha lakin app nay apna haq 3500 ropay wasool kar kay baqi 6500 rupees wapas lota diye. Gareeb logon kay muqadmat app bila mavza bhi lartay thay bal kay bazz mustehaq logon ki darkhuwast par court fees aur degar akhrajat bhi apnay jaib say ada kartay thay.
Muhammad Ali Jinnah nay jab Siasat mein dilchaspi ka agaaz app kay qiyam Englistan say hi ho chuka tha. Hindustan wapsi kay bad mulki halat nay app ki dilchaspi ko barhaya aur app nay sirgarmi say siasat mein hissa lena shuro kardiya. Agaz app nay Muttahida Hindustan kay azeem rehnuma Gokhale ki ham raqabi mein kia aur Al India konress mein samil hogaye. Ye woh dour tha jab ao yaqeen rakhtay thay kay Hindoun aur Musalmano ko mil kar Hindustan ki azadi kay liye jado jehad karni chahiye aur isi souch kay tehat app nay dono aqwam mein paye jane wali ghalat fehmiyon ko door karnay aur in mein itehad hum ahindagi ko frog dene ki koshish ki app ki koshison ki badolat app ko "Hindu Muslim itehad ka safeer" ka khatab mila. 1913 mein app nay Muslim League mein bhi shamoliyat akhtayar karli aur mulki siasat mein hissa letay rahay. App ki pehli shadi Englistan janay say pehlay 1892 mein hoye thi lakin app kay qiyame Eglistan kay doran hi inn ka intiqal hogaya. Quaid Azam Muhammad Ali Jinnah ki dosri shadi 1918 Bombay ki aik mashor parsi shakhsiyat Sir Dinesha Patriot ki beti Rutan bai Patriot say hoi jo nikah say qabal halka bagosh Islam ho chuki thi. App ka Islami nam Marium rakha gaya. App kay batan say 15 August 1919 ko aik beti paida hoi jis ka nam Dina Jinnah rakha gaya Marium Begum ka inteqal 1929 mein huwa.
Quaid-e-Azam ki siasi, samaji zindagi kay nasheb-o-faraz ki dastan bohot taweel hai. Jinna in chand safat ziyadti mein simatna hogi mein bohot zada behtar samjhta ho kay app ki siasi zindagi ka ahtat karnay kay bajaye mukhtasir alfaz mein is ki roh ko app ko app kay samne bayan kardo. Quaid-e-azam tareekh ki aik mumtaz shaksiyat hain jin say dost dushman sabhi mutasir huwe. Talib ilm ki hasiyat say woh in gine chune talib ilm mein say thay jo mamoli tour par zeheen hone kays sath sath farz shanas aur mehnati bhi hote hain. Siasi tour par is had tak ba shaour thay kay jab app kay Qayam-e-Englistan kay doran lord Salsibri nay "kaloon" kay khelaf zehar ugla to app nay Dadabhai Noroje kay intekhab mein shab o roz kam kiya. Muhammad Ali Jinnah nay qanon ki taleem kay liye Enlistan mein iss liye dakhla liya kay is kay bahir duniya kay maroof qanon Hindustan mein Hazrat Muhammad ka nam bhi darj tha app nay mahsoos kiya kay yeaha ki fiza u dusre adarao ki nasbat behtar hogi woh kisi mazhabi gharanay mein paida nahi huwe the lakin Islam kay asalo ko khalos dil say mante thay in ki akolti beti nay jab ghair Muslim say shadi karli to app nay umar bhar is say mulaqat na k.
Siasatdan ki hasiyat say Quaid-e-Azam ka kirdar be dag hai woh apni raye kay mutabiq iqdamat kartay huwe iss ki kitni bhi mukhalfat kiun na ho woh Congress kay rukan the aur Muslim itehad kay kawaha thay. Chunacha app nay misaq Luckhnow kay zariye dono ko mutahad kar kay chora lakin jab Hindo ki asal zehniyat app par muntashaf hogai to app Hindo kay daow mein phir kabhi nahi aye. App angrezo say haqoq hasil karnay aur gair mulki samraj say nijat pane mein hamesha sanjeda rahay. Muhammad Ali Jinnah ka Congress kay is wafad mein shamil thay. Jis kay mutalbat par 1919 ki islahat nafiz ki gai Rolette Act kay khilaf ahtejaj kartay huwe markazi counselor say istefa app ki jurat o khulus ka ayena dar hain. Quaid-e-Azam ghair dastori tareeqa kar ko pasand karte thay. App nay satiya garahi siasat ki hamesha mukhalfat ki. App nay tehreek khilafat kay haq mein zurdar bayan diya lakin soul na farmani mein shirkat say inkear kardiya aur iss maslah par congress say istefa day diya baye huma khud inhone nay is waqt tak qanon saz counsal ki ruknaiyat qabool nahi ki jab tak congress nay bay cout ki polivey turk nahi ki is qanon pasandi kay ba wajod jab inhein nay muslim qoum kay haquq kay tahafuz kay liye riyasat aqdamat say graiz na kiya gandhi jee apni ayadat nay siyasat say achot leder Dr. Ubaid kar ko dhoka dene mein kamiyab hogaye lakin Quaid -e-Azam par guf-o-shandahi kay liye war karnay kay bawajud is mein kamiyab na ho sake.
Siasat mein Quaid-e-Azam "fair play" kay qayil thay woh siasat ko shatar anj say tashba dete the lakin woh is khel ko chand asolo kay tehat hi khelte the inhone nazuk tareen surat hall mein bhi votes ki khared o furukht nay mana kardiya inhone subai ledaro ko wuzrat ki khatir batne say mana kiya aur qoum kay asal mufadat kay tahafuz par zor diya batour qoumi ledeer app ka kamal ye hai kay app nay aise sathiuo ki miyatain mein hasul pakistan ki jang jiti jin kay bare mein in ki raye kuch zada buland na thi aur jinhone Quaid ki wafat kay bad apne kirdar ki kahmiuo ka bharpur muzahera kiya. Quaid-e-Azam kay baray mein in kay dost dushamn is bat par mutafiq hain kay inhe khareda nahi ja sakta tha. surojee night nay in ko aisa leder qarar day diya tha. Jasay na baddiyanat kaha jasake na khareda ja sake iss ki wazahat kay liye sirf ye waqaya kafi hai kay Goal Maize Confranance kay bad remaiz maikedland Wazeer-e-Azam Britannia jis ki khusnudi hasil karnay kay liye congress leader is ka tawaf kartay thay app say kaha hum bohot jald Hindustan ko khud mukhtar karna chahtay hain. aur mujhe chand aise hidnsutan ki talsh hai jo subai governor banaye ja sake is par app nay foran jawab diya kay app mujhe rishwat dena chahtay hain mahatma ghandi nay bhi ateraf kiya tha kay woh serat-o- kirdar ki in bulandiuon par hai kay koi lalach koi khouf aur koi tana inhe apni rah say hata nahi sakta.
Angraiz quaideen ki bhi app kay bare mein bohot alla raye thi. 1919 ki Islahat say qabal jab app nay wazeer-e-Amour Hindu lard Mount ge say mulaqat ki aur Congress ki taraf say islahat ka mutalba peish kiya to is bat par bohot afsos ka izhar kiya kay aisa qabil admi apne mulk ka intezam chalane say mehroom rakhe gaye hai. Charchal nay app ko behtreen siasatdan aur zehan-o- fateen leader qarar diya. Quaid-e-Azam kay buland kirdar ki gawahi in tamam logon nay bhi di hai jin kay khilaf lar kar unhein apna maqsad hasil karna para. Mir jinnah apne irado aur apni raye mein be had sakht hai un kay rawiye mein koi loch nahi pai jati woh muslim qoum kay mukhlis rehnuma hi nahi bal kay suche wakeel bhi hain. Raj Gopal Acharya jis nay 1944 ki gufto o shaned mein app ko chakar dene kay tamam hurbey istemal kiye the lakin na kam raha tha, app kay bare mein likha hai "Quaid-e-Azam buland paya shaksiyat kay hamil isnan hai. Unki mulk mein zabardast maqboliyat haseel hai. Un ki andhi pairvi ki ja rahi hai aur ye hi suchi hamdardi bhi hai" Nehro nay bhi ateraf kiya kay "Quaid-e-Azam ki ala serat o kirdar woh mousar harba thi jis kay zariye unhone nay apni zindagi bhar kay muarkay sar kiye."
Abul Kalam Azad nay mana kay woh har maslah thanday dil say jaiza latay thay. Aur ye hi un ki kamiyabi ka sub say bara raz tha. Allama Mashriqi nay likha kay woh "Aik jarri aur bay bak sipahi tha. Mukhalfaon say takrane mein koi bak mehsos nahi karta tha."App ki wafat par Jorge Marshal Americi wazeer-e-kharja nay apne paigham mein app ko munfarid rehnuma qarar diya, Americi Sadar nay likha kay app mein "Lagan aur dhun aisi pai jati thi kay kam hi insano ko apne maqsad kay liye hasil hoti hai." Sir Agha khan Soum jinhonay nifs sadi say zaida Bar e Saghir kay mamlat mein qaum ki rehnumai ki aur azadi ki puri tehrek aik wase ul zarf aur farakh dil rehnuma ki hasiyat say dekhi aur yurop aur America kay bohot say rehnumao ko bhi bohot qareeb say dekha, Muhammad Ali Jinnah kay bare mein likhtay hain mein nay apni zindagi mein jatnay insan say mila hon woh in sub say azeem tareen thay. "Dr.Ashiq Hussian Batalvi nay likha hai woh itni buland shaksiyat thay. Jatnay Imam bin Tamia RH thay. Iss liye kay Ibmay Tamia nay musalmano ko Tatariyon say bachaya. Jab kay Quaid-e-Azam nay Musalmanon ko hindoyon ki chehra dastiuo say mehfoz kiya." Maroof sahafi Bero Lay Nakolas nay 1945 mein unhein Asia ka azeem tareen insan qarar diya tha. Maroof Congress rehnuma aur pandit nehro ki hameshira waje lakshami pandit nay thek kaha tha kay agar Muslim league kay pass aik100 Gandhi aur 200 Abul Kalam Azad hotay aur congress kay pass sirf aik Muhammad Ali Jinnah hotay to Hindustan kabhi taqseem na hota.
Death of Quaid-e-Azam
Qayam-e-Pakistan kay bad app Pakistan kay pehle Governor General bane lakin bad qismat say app ka saya arsa saro par qaim na reh saka. 11 September 1948 ko app ka inteqal hogaya aur umat mulema iss azeem hasti say mehrom hogai meri nigha mein app ki shakhsiyat par sub say jama o pur moayne tabsara app kay sanah nigar satelne walpourt nay kiya is nay kaha bohot kum log asia hotay hain jo tareekh mein dhara badal datay hain aur aisay log to aur bhi kum hotay hain jo duniya ka naksha badal kar rakhdetay hain aur aisa to koi koi hota hai jo aik naie mumlikat qaim karday Muhammad Ali Jinnah aik aisi shakhsiyat hain Jinhon nay aik waqt teno karname kar dekhaye.
Quaid-e-Azam Muhammad Ali Jinnah Lamha ba Lamha
1876 25, December ko Karachi mein paida hoye.
1882 un ki ibtadaye taleem ka aghaz.
1892 sola 16 sal ki umar mein Matriculation aur Barrister ki taleem kay lia Englistan gaye, London ki mashoor qanoni darsga Linkan in mein dakhla, Mrs. Dada Bhai Noroje kay election ka hangama aur iss mein Mrs. Jinnnah ki amli sargarmiyaan. 21 sal ki umar mein Barristeri ka imtehan pass kar kay Karachi wapsi.
1897 kuch arsa Karachi aur phir Bombay mein practice ka aghaz.
1900 Precedence Magistrate Bombay.
1905 Mrs. Dada Bhai Noroje "Congress, Ijlas Kolkata" kay private secratory ki hasiyat say Congress mein sirkat.
1909 Supreme council kay lia bila mokabla intakhab.
1910 Ijlas Congress ( Allahabad) mein shirkat.
1913 Muslim League mein shirkat.
1913 India Council ki hayat tarkibi per sakht nuqta cheeni.
1914 Congress ki wafad mein shirkat aur London larangi.
1915 mein Congress League kay ittehad kay lia masaye.
1916 All India Muslim League kay Iglas Lukhnow mein shirkat, Misaq-e-lukhnow.
1917 Home Roll League kay sadar ki hasiyat kay Bombay mein hangama parwar taqree.
1918 Congress mein har dil aziz Sir Dinesha Patriot ki sahabzadi Mrs.Rutan Bai Patriot ko musharraf ba Islam kar kay nikah.
1919 Rowlatt Acts kay khalaf batore ahtajaj Imperial Council say istafa.
1920 Congress say alehdgi.
1921 Bombay mein taqrir, Mr.Gandhi ki siyasi hiqmat amali say sakth ikhtalaf.
1926 Hindo Muslim itehad kay lia aik naya formula pesh kiya. Congress ka inkar.
1927 Kolkata mein Muslim League ka iglas ki Sadarat, Zabardast jado jehad ka aaghaz.
1928 Congress say sakht ikhtalaf.
December 1928 All Party Confrence mein Nehro Report ki sakht mukhalfat.
March 1929 markazi Assembly mein Motilal Nehro say report par jharap Roshan Thator Dehli mein Muslim Leage ka iglas, 14 nukat ka alaan.
1930 mein pehli Goal Maize Conference ke lia London rawangi.
1930 say 1934 Hindustan ki siasat say aarzi kinara kashi.
1935 Jinnah, Rajandra Prasad formula baraye tasfia huqoq aqliat.
1941: National defense council mein shirkat se inkar aur viceroy ko jawab.
1942: Craps ki tajawiz par izhar e mayosi. (ijlas) Muslim league Allahabad.
1943: Qatilana hamla.
1944 Apirl: Mr. Raj Gopal Acharya taqseem e hind ka aik formula Quaid e Azam ko
bhejte hain.
September: Gandhi Ji se tawil gufto shanid.
1945: Shimla conference.
1946: Markazi aur sobai intekhabat ke leye jid o jehad. Muslim league ki zabardsat kamyabi.
April 1946 : Kabina wafad ka dora e hind aur iss se muzakrat.
May 1946: Kabina wafd ki tajawiz ki manzori.
August 1946 : "Rast iqdam" Muslim league ka naya fasla.
December 1946: Quaid e Azam Muhammad Ali Jinnah ka Sarf e London.
1947 January: kabina tajawiz.
April 1947: Lord Mountbatten ki jado jehad aur Muslim league ka rad e amal.
June 1947: Taqseem e hind ki scheme ka elan.
June 1947 : All India radio nai Delhi se pheli aur akhiri taqrir.
7 August 1947 : Bahesiyat e awal Governor General Mumlikat e Pakistan, safar barae Karachi.
11 August 1947 : Pakistan mein majlis e dastor saz mein khutba e Sadarat.
13 August 1947 : Lord Mountbatten ke ezaz mein Governor General house karachi mein ziyafat. Quaid e Azam ki taqrir.
14 August 1947: Qayam e Pakistan ka elan.
14 August 1947 : Majlis e dastor saz Pakistan ke iftetah par taqrir.
18 August 1947: Qaum ke naam Eid ka paigham.
25 August 1947 : Karachi corporation ke sheri sipah naame ka jawab.
26 September 1947 : Karachi mein Walika Carkhana parch bani ka iftetah.
11 October 1947 : Civil, Behri aur foji afsaron (Officers) se khidmat e watan ke leye appeal.
24 October 1947: Eid ul Azah ka paigham.
30 October 1947: Punjab university ke medan mein kai lakh admiyon ke majme se khitab aur fasadat se mutasir musalmaon ko sabr o zabt ki talqeen.
27 November 1947 : Kul Pakistan talimi conference ke iftetah par pegham.
22 December 1947 : Pakistan boys scouts ki tanzeem o tashkil par quomke nonehalon ko pur josh pegham e amal.
25 December 1947 : Quaid e Azam ki akhiri salgirah.
1948: 21 January Burma ke safir ki taraf se asnad e sifarat pesh karne ki rasam.
23 January 1948 : Behri idara dilawar ki rasme iftetah, foji afsaron se belos khidmat karne ki appeal.
14 February 1948 : Sibi darbar ka iftetah.
24 February 1948 : Oil Mills Karachi ka iftetah. Mulk ko sanati taraqi ki taraf gamzan hone ki talqeen.
1 March 1948 : Dhaka mein 3 lakh admiyon ke majme se khitab.
26 March 1948 : Chatgam mein shehri istaqbal.
1st June 1948 : Pakistan ke phele Olympic games (khelon ) ki rasme iftetah aur pegham.
14 June 1948: Staff College Quetta Pakistan ke afsaron( Officers) se khitab.
1st July 1948 : Bank Dolat Pakistan ki rasme iftetah.
2nd July 1948 : Cinema Karachi mein "hamare darmiyan" naami dastawezi dekhne ke liye
tashrif aawari.
4 July 1948 : Ziyarat (Balochistan) ke liye bagharz e dabdeli e aab o hawa rawangi.
14 August, 1948 : Pakistan ke phele jashan e istaqlala ke muqe par quom ke naam Ziyarat se pegham.
17 August, 1948 : Eid ka paigham.
11 September, 1948: Bahalat e elalat karachi wapsi (6 baje sham).
11 September, 1948: Innalilahi Wa Inna Ilaihe Rajioon (Shab 10 baj kar 25 Minutes par).
12 September 1948: Quaid e Azam Muhammad Ali Jinnah Ki Tadfeen.