Nusrat Fateh Ali Khan Biography in Urdu
Nusrat Fateh Ali Khan was born 13, October 1948 in Faisalabad city. He was a great singer in Pakistan and also in all over the whole World. Nusrat Fateh Ali Khan is a renowned musician. Nusrat Fateh Ali Khan song great Qawwali and Sufi Songs. Nusrat Fateh Ali Khan was also known as " Shehansha of Qawwali ". Nusrat Fateh had his first performance at the age of 16. His song the patriotic songs also. Nusrat Fateh Ali Khan is one of the best singer. Nusrat Fateh Ali Khan died on 16th August 1997 in Hospital of Birmingham ( London ). In this page you will find the information about the renowned Nusrat Fateh Ali Khan biography and Life history In Urdu and Roman Hindi.
Nusrat Fateh Ali Khan Biography in Urdu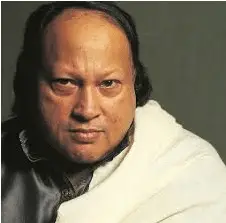 Azeem Pakistani qawwal, mauseeqar aur Singer Nusrat Fateh Ali Khan 13 October 1948 ke roz Faisalabad mein peyda hue. Ap ke walid Fateh Ali Khan aur Chacha Mubarak Ali Khan apne waqt ke mashoor qawwal the. In ke khandan ne qiyam Pakistan ke waqt Mashraqi Punjab ke zila Jhalandar se hijrat kar ke Faislabad mein sakonat ikhteyar kit hi. Ustaad Nusrat Fateh Ali Khan ne apni tamam umar qawali ke fun ko seekhne aur use mashriq-o-maghrib mein maqbool aam banana mein sarf kar di. Inho ne Soofiya-e-karam ke peyghamat ko duniya ke kone kone tak pohnchaya aur un ke faiz se khud unhe bepanah shohrat nasib hui.
Pakistan mein Nusrat Fateh Ali Khan ka pehla tarruf apne khandan ki riwayati rang mein gaai hui in ki ibtedai qawaliyon se hua. In ki mashoor qawali " Ali Maula Ali " inhe dinon ki yadgaar hai. Bad mein unho ne lok Shaiyri aur apne hum asar shora ka kalam apne makhsoos andaaz mein ga kar mulk ke andar kamiyabi ke jhandey garhe aur us daur mein " Sun Charkhe Mithi Mithi Mithi Kok Mahi Meyno Yaad Awanda " aur " Sanson ki Mala Pe Simron Mein Pee ka Naam " ne aam taur par qawwali se lagao na rakhne wale tabqey ko apni taraf raghib kiya aur yun Nusrat Fateh Ali Khan ka halqa asar-o-wasee tar ho gaya.
Nusrat Fateh Ali Khan sahi maeyno mein shohrat ki bulandiyon par us waqt pohnche, jab Peter Gabriel ki mauseeqi mein gaai gai. In ki qawwali " Dam Mast Qalandar Mast Mast " release hui. Is mashoor qawwali ke manzar-e-aam mein aane se pehle wo America mein Brooklyn Academy of Music ke Next View Festival mein apne fun ke johar dikha chuke the. Lekin " Dam Mast Qalandar Mast Mast " ki release ke bad unhe University of Washington mein mauseeqi ki tadrees ki dawat di gai. Maghrib ke ilawa Nusrat Fateh Ali Khan ne Bharat mein bhi kae filmon ki mauseeqi di. Kae filmon mein un ke gane istemaal kiye gae aur aaj tak kiye ja rahe hain. Genius Book of World Records ke mutabiq duniya bhar mein qawwali ke sab se ziyada album Nusrat Fateh Ali Khan ne ( 125 ) release kiye gae.
Nusrat Fateh Ali Khan ko in ke walid qawwal nahi banana chahte the. Lekin kehte hai Nusrat Fateh Ali Khan ne apne walid ki wafat ke 10 din bad he unhe khuwab mein dekha jis mein unho ne Nusrat ko gaeyki ki takeed ki. Us waqt Nusrat Fateh Ali Khan ki umar 16 baras thi aur yun bator qawwal wo dunya-e-mauseeqi mein mutarif hue.
In ki shuru ke salon ki gaeyki tasawwuf ke peyghamat se bharpor rahi. Shaiyri se le kar mauseeqi tak in ki qawwali ka har juz samaa ki mukhtalif mehfilon mein ja kar is rohani kefiyat se faiziyab hui.
Yeh wo waqt tha ke Pakistan mein ziyada log in ke naam se aashna nahi the. Tahum 90 ki dehai mein aik qawwali " Dam Mast Qalandar " pore Pakistan mein in ki pehchan ban gai. Us waqt tak maghrib ke mauseeqar Nusrat Fateh Ali Khan ke kaam se aashna ho chuke the aur in mein kae bohat mutassir the. Is barey mein Bharat ke mashoor filmsaaz aur mauseeqar Muzaffar Ali kehte hain ke " Nusrat ki Awaz Dilon mein Ghar kar Jati thi, Mashriq ho ya Maghrib, Hindustan ho ya Pakistan in ki awaaz ne tamam Sarhaden torh di thi ".
Nusrat Fateh Ali Khan ne qawwali mein jiddat la kar Maghrib mein barhe peymane par is sanaf ko mutarif karwaya aur is ke sath sath maghrib ke naamwar mauseeqaron ke sath mil kar apne fun ka muzahira kiya. Jis ke bad maghrib mein bhi wo kisi tarruf ke mohtaj nahi rahe, lekin maghrib mein mauseeqaron ne qawali mein jiddat mutarif karwane ke liye nae saaz shamil kiye. Kya is se in ki asal sanaf par koi asar parha ??? Muzaffar Ali ka kehna tha ke " Qawwali mein bajne wale tamam saaz aik rang ya mizaj mein dhale hote hain, un par izafi saaz dalna zabardasti dosra libas pehnane ke mutaradif hai ".
In ke aik maghrabi maddah ne aik dafa kaha tha ke " Nusrat ki gaeyki ap ko dawat deti hai, chupke se kaan laga kar is guftugo ko sunne ki jo aik bandey air us ke RAB ke darmiyan hoti hai. Wo gaeyki kea mal ko bandage bana dete hain. Apne RAB ke huzoor nazrana pesh karne kea mal , lekin Nusrat ko sunte hue hum mehaz aik bande aur us ke RAB ki guftugo anhi sunte bal ke un ki gaeyki ka asal jado he yeh hai ke hamare dil in ki gaeyki ke utar charao ke sath dharakne kagte hain. In ke gaeyki mein zam ho jate hain aur hum RAB ke huzoor us nazrane ke hissa ban jate hain, wo gaeyki mein RAB se guftugo karte hain aur humen bhi apne RAB se hum kalam kar dete hain ". Bandey ko RAB se hum kalam kar dene wala azeem fankar 16 August 1997 ke roz Birmingham ke aik hospital se jan-e-afreen ke supurd kar ke apne RAB ke huzoor hazir ho gaya.