Zulfiqar Ali Bhutto Biography in Urdu
Zulfiqar Ali Bhutto was the first Pakistan elected Prime Minister. He was born 5th January 1927 at Larkana, Sindh. Zulfiqar Ali Bhutto was Pakistan's leading politicians and the movement was one of the main guidance and in subcontinent Pak and Hind. he was considered as a central of politics. Zulfiqar Ali Bhutto early education at Cathedral High School from Bombay and pass out his Cambridge examination on 1946 December. Zulifiqar Ali Bhutto was the great leader of Pakistan. In this page you will read Shaheed Zufiqar Ali Bhutto biography in Urdu and Roman Urdu.
Shaheed Zulfiqar Ali Bhutto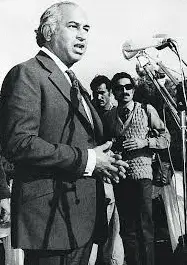 Biography In Urdu
Zulfiqar Ali Bhutto Pakistan kay pehlay muntakhab Wazir-e-Azam aur siasat ko drawing room say nikal kar awam mein lanay walay pehlay Pakistani rahnuma 5 January 1927 ko Sir Shahnawaz Bhutto kay han Al Murtaza Larkana Sindh mein paida huye. Sir Shahnawaz Bhutto namwar siasatdan aur tehreek-e-Pakistan kay markazi rehnumaon mein say aik thay aur Bar-e-Saghir Pak o Hind mein Sindh aur Bombay ki saisat kay markazi satoon manay jatay thay.
Bhutto khandan Sindh anay say qabal zila Hisar kay aham qasba Sarsa kay aik gaon Mozu Bhutto mein abad tha aur isi monasbat say usey Bhutto kaha jata hai. Yeh gaon ab bhi sarsawati kay kinaray abad hai. Sarsa aik aham railway station bhi tha. Sikhon kay zamanay mein jab dariya saraswati khushk ho gia aur iss ilaqay ki faslain tabah o barbad ho gain, Log qahat ka shikar ho gaye to iss khandan kay afrad Sindh ki taraaf hijrat kerkay Larkana mein moqeem ho gaye.
Zulfiqar Ali Bhutto ki shakhsiyat atni bhar pur aur hangama khaiz hai aur Pakistani tareekh per app nay itnay gehray asrat morattab keyeh kay inka ahatah karna kai jildon ka matqazi hay. Iss mokhtasar say mazmoon mein mahaz cheda cheda batain hi baian ki gasakti hain hain. App kay walid Sir Shahnawaz Bhutto nay app ki taleem-o-tarbiat per khususi tawajah di. Zulfiqar Ali Bhutto nay Bishop High School Karachi sa ibtadai taleem hasil ki aur Cathedral High School Bombay say December 1946 mein Senior Cambridge ka imtahan pass kia September 1947 mein unhain America mein Los Angles ki junubi California University mein dakil karwadia gaya 1950 mein unho nay siasiat mein BA owners kiya. Iss kay bad unhon nay Christ Church College Oxford University mein dakhla lia jahan say 1952 mein unhon ney MA owners ki dirge hasil ki.
Zulfiqar Ali Bhutto bohot achchay moqarir thay cricket bhi khaltay thay aur tulba ki siasat mein bhi hissa latay thay. Garz har laihaz say aik mumtaz talib ilm thay. Taleem say farig hokar woh 1953 mein Pakistan lautay aur amli zindagi ka aaghaz kia. Woh Sindh Muslim Law College mein juz waqti professor rahay aur wakalat bhi ki lakin unhain na wakalat pasand thi na profferi . Zulfiqar Ali Bhutto dar asal amli siasat mein hissah lanay kay khahan thay. 8 October 1958 ko mulk mein Martial Law laga to General Ayub Khan ko apni Martial Law Cabnate kay leye qabil-e-atemad aur ahal kar wazra darkar thay Jo puranay siasat danon mein say na hon. Chunanchay unhon nay Iskander Mirza ki shafarish per Zulfiqar Ali Bhutu ko apni cabina mein shamil kar lia aur Commerce Ministry un kay hissay mein aie agarchay bunyadi taur per woh kharja amoor mein dilchaspi rakhtay thay October 1959 mein unhain U.N.O mein Pakistani wafad ka quaid bana ker bhaja gai to Zulfiqar Ali Bhutto nay Russia aur America ki taraf say takhfife aslaha ki tajaweez kay silsilay mein Pakistani moqif bohot khubsurti say pesh kiya.
Jnauary 1960 mein un kay mehakamy badal deye gaie aur woh itlaat aur qoumi tameer nou kay wazir bana deye gai. Baad azan indhan qudrati wasail aur bijli kay mehakamay bhi unhain hi sonp deye gai. Iss daur mein woh Ayub Khan kay motamid tarin sathi samjhay jatay thay. 1962 kay dastoor ko akhri shakal denay mein woh manzoor qadir kay dast rast thay. 1963 mein Sadar General Ayub Khan nay unhain Hilal Pakistan ka tamga dia jo Pakistan ka sab say bara civil award hay.
Zulfiqar Ali Bhutto ki khahis thi kay unhain wazir kharja moqarrar kiya jaye chunanchay January 1963 mein unhain wizarat kharja daydi gai. Wazir-e- kharja ki hasiat say unhon nay Communist block kay sath khus gawar taluq kay qaim aur Chine kay sath dosti qaim kernay ki taraf peshraft ki.1965 ki jang kay bad jab January 1966 mein Ayub Khan nay Allan-e-Tasqand per dastakhat ker deye to Bhutto nay apnay uhday say istafa day dea aur larkana chalay gaye lakin Ayug Khan kay lia Allan-e-Tasqand kay baray mein akalay jawab dahi bohot mushkil thi. Iss leye waqti tour per Bhutto ko mana lea gia aur qoumi assembly mein unsay Allan-e-Tasqand ki hamayat bhi kerwai gai tahum June 1966 mein achanak unka istafa manzoor ker kay unhain farig ker dia gai. Bila shuba iss waqt Bhuto kay istafay say pori qaum ko sadma hua aur na sirf Ayub Khan ki amriyat bai naqab hui balkay awam kay jazbat Ayub Khan kay sakht khelaf aur Bhutto ko mazloom qarar day ker un kay haq mein ho gaye chunanchay jab Bhutto Larkana jatay huye Lahore Railway Station say guzray to un kay maddahon naray ki aik kasir tadad station per moujood thi. Halat ka baghor jaiza lanay kay bad 30 November 1967 ko Lahore mein unhon nay Pakistan People's party kay qiyam ka allan ker deya.
Mr. Bhutto socialist na thay. Woh aik jagirdar kay ghar mein paida huye thay magar unki walda ka taluq jagirdar khandan say na tha jis ki wajah say un kay susral walay un say achcha salook na kertay thay. Jagirdarana pas manzar kay bawjood apni maa kay sath honay walay bartao kay natijay mein woh garibon aur pisay hua awam kay sath husn-e-salok ka jazba rakh tay thay. Iss tarah Bhutto kay mijaz ki tashkil mein unkay jagidana mijaz kay sath sath garib perwari ka jazba bhi tha. Aala taleem nay unhain "liberal" bana dia tha. Magrabi mofkain kay motala nay unhain magrabi andaz siasat sikhaya. Woh awam ki nafsiat say agah thay aur un kay jazbat ko ubharna khub jantay tahy. Iss kay sath sath unhon nay Socialism ka bagor motala kia tha iss tarah woh ikhtaiarat ko markazi shakhsiyat ya markazi adaron kay pass jama kernay ka rojhan bhi rakhtay thay. un tamaam awamil nay Zulfiqar Ali Bhutto kay siasi sonch kay khadokhal tashkil deye tha. Bhutto kay zehan mein apni siasi jaddo jahad kay khatoot bilkul wazah tha.
People's party nay sah ranga jhanda apnaia jis mein sabz rang (Green clour) Islam ki numaindagi kerta tha. Sia (Black Clour) rang zulum kay khalaf ihtajaj ki alamat tha aur surkh rang (Red colour) inqalabi rujhanat ki. Party ki tanzem China ki Communist party ki tarz per ki gayi thi. Chairman Janab Zulfiqar Ali Bhutto ko wasi ikhtaiarat hasil tha. Party mein har tarah kay log shamil thay jin kay darmiyan qadare mushtarik ye thi kay awam kay mashi masail ko hal kia jaye. Bhutto ki tehreek noujawanon mein maqbool thi, zor dar thi aur kuch bahot zaidah "pur aman" na thi. Iss leye jald hi iska wazan mehsoos kia gaya aur Ayub Khan ney 13 November 1968 ko Bhutto ko geraftaar ker kay jail bhejwa dia tahum PDM kay zair qiadat tehreek zore pakarti gayi aur bila aakhir Ayub Khan ko jhukna para. Ayub Khan nay hangami halat kay khatmay ka ilan ker dia. Siasi qaidiyon ko jin mein Bhutto Sahib bhi shamil thay reha ker dia gaya aur mulk mein azser nou Martial Law laga dia gia.