Patras Bukhari Biography in Urdu
Ahmed Shah Bukhari Patras was bron on 1st October 1898 in Peshawar. He was an Urdu humorist, educator and broadcaster. Patras received his early Education from Peshawar, then he passed in MA with honorable marks from Government College Lahore. He was also the Editor of Ravi Magazine. After MA Bukhari received the degree of English Literature from Cambridge University. Ahmed Shah Bukhari Patras died on 5, December 1958 in Newyork. In this page, you will read the Biography of Ahmed Shah Bokhari Patras in Urdu and Roman Urdu.
Patras Bokhari Biography In Urdu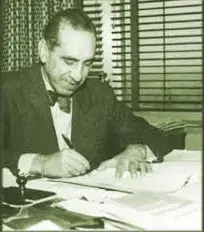 Ahmed Shah Bukhari Patras 1 October 1898 mein Peshawar mein peyda hue. Aap ke walid Syed Asad Ullah Shah Peshawar mein aik Lawyer ke munshi the. Ibtedai taleem Peshawar mein hasil ki aur us ke bad Government College Lahore mein dakhil hue aur aezazi Numbers ke sath MA paas kiya. Talib-e-Ilmi ke zamane mein unhe sheyr-o-adab se gehri dilchaspi thi. Government College Lahore ke Magazine ( Ravi ) ke editor bhi rahe. MA karne ke bad aap Englistan chale gaey aur Cambridge University se Angrezi Adab mein degree hasil ki. Wahan ke Teachers ki raey thi ke Bukhari ka ilm is qadar farakh aur wasee-o-baseet hai ke aik Angrez ke liye bhi itna ilm is umar mein rakhna kam-o-besh na mumkin hai.
Pakistan wapis aane par Central training College aur phir Government Collge mein angrezi adbiyat ke professor rahe. 1937 mein All India ka department qaiym hua to Bukhari ki khidmat Mustaar li gae. Aur wo 7 baras tak bataur director munsalik rahe.Qeyam-e-pakistan ke bad aap Lahore aa gae aur Government College Lahore ke principal muqarrar hue. 1950 mein aap ko Aqwam-e-Mutehda mein Pakistan ka mustaqil numaiynda bana kar bheja gaya. Is auhdey par 1954 tak faiyz rahe. 1955 mein Aqwam-e-Mutehda ke shoaba ittelaat mein Deputy Secretary General muntakhib hue. Aap December 1957 mein retire hone wale the aur Columbia University mein Professor qabol kar chuke the. Magar maut ne mohlat na di aur 5 December 1958 ko subha Newyork mein harkat-e-qalb band ho gai. Maut ke 45 baras bad marhoom ko hukoomat Pakistan ne hilal imtiyaz ke aezaaz se nawaza.
Der ayad durust ayad ke misdaq agarcha is aezaaz ko ilmi-o-adbi halqon mein khush aamdeed kaha gaya, lekin haqeeqat yeh hai ke Patras ki shakhsiyat aise aezazaat se mawraa thi. Yeh fakhar to khud hilal-e-imtiaz ko hona chahiye ke use Patras jaisi azeem shakhsiyat ke seeney par sajne ka mauqa mila. Patras Bokhari sahi maeyno mein aik hama geer shakhsiyat the. Who beyk waqt aik mazah nigar, aik ba-zameer sahafi, aala mahir-e-taleem, umdah mutarajjim, zeerak naqad, qabil broadcaster aur aik manjhe hue safaratkaar the. In ki peydaish Peshawar ke aik ilmi gharane mein hui. Urdu, Persian aur English par unhe school he ke zamane mein khasi dastaras hasil ho gai thi. English itne durust tallafuz ke sath bolte the ke school ki aik taqreeb mein soba-e-sarhad ke angrez Chief Commissioner Sir George Compel be ikhteyar keh uthe : " Kash main bhi is rawani aur maharat se Pashtu bol sakta. "
Ahmed Shah Bukhari ne Govt.College Lahore mein maroof usatza ki sarparasti mein taleem hasil ki aur College ke maroof muhalley " Ravi " ki adrat sambhali. Yehi se likhne likhane ka baqaiyda aaghaz hua. Bad mein civil aur military ke mazameen ki ashaat shuru hui. Aala taleem ke liye Cambridge gae to angrezi sheyr-o-adab ko is ke asal mahaul mein janchne, parakhne ka mauqa mila. Yehin unhe yeh khayal aya ke angrezi ke cheda cheda adab paron ko Urdu ke qalib mein dhalna chahiye. Hindustan wapis aa kar unho ne kae qarebi doston ko tarjumey aur taleef ke kaam ki taraf raghib kiya. Unhe is baat ka shadeed aehsaas rehta tha ke " Gesoey Urdu abhi Mannat Pazeer-e-Shana hai. "
1947 mein Bukhari is danta kil kil se yun azaad ho gaey ke unhe Govt.College Lahore ke Principal ka auhda pesh kiya gaya. Jo unho ne bakhushi qabool kar liya. In ka khayal tha ke Govt.College ke ilmi-o-adbi mahaul mein unhe Gesoey Urdu sanwarne ki derena khuwahish pori karne ka mauqa muyassar aaega. Lekin unhe dinon Liaquat Ali Khan ki nigah jo har shinas Bukhari par parh gai aur wo apne awwaleen daura America mein aik Pakistani tarjuman ke taur par Bukhari ko sath le gae.
Aur aakhir mein zikar hai is mazmoon ka jo mukhtalif kitabon ke nisab mein shamil rehne ke sabab in ka maroof tareen mazmoon hai. Naam to hai is ka " Marhoom ki yad mein " lekin is ki aik mukhtasir shakal " Mirza ki Bicycle " ke unwaan se High School ke Urdu nisab mein arsaa daraz tak shamil rahi hai. Is mazmoon mein aik purani aur phatichar cycle ka naqsha is khobi se khencha gaya hai ke parhne wala khud ko amlan is cycle par sawari karta hua mehsoos karta hai.
Mukhtasir zakhamat ke is majmooey ki badaulat Patras ka naam Urdu adab mein hamesha zinda rahega.