Pervez Musharraf Biography in Urdu
Pakistan Army (R) General and former Presiedent of Pakistan Pervez Musharraf was born on 11 August 1943 at Delhi British India. He got an early education Saint Patrice High School Karachi and graduation from Forman Christian College Lahore. He belongs to Syed family. His mother Zarin Musharraf is a graduate from Aligarh University. Pervez Musharraf father Syed Musharraf uddin was section officer in foreign ministry. He worked for Pakistan embassy at Ankara. In 1961 Commission in Pakistan Army, he join Pakistan military Academy Kakul . In this page you will read Pervez Musharraf in Urdu and Roman Urdu.
Pervez Musharraf Biography In Urdu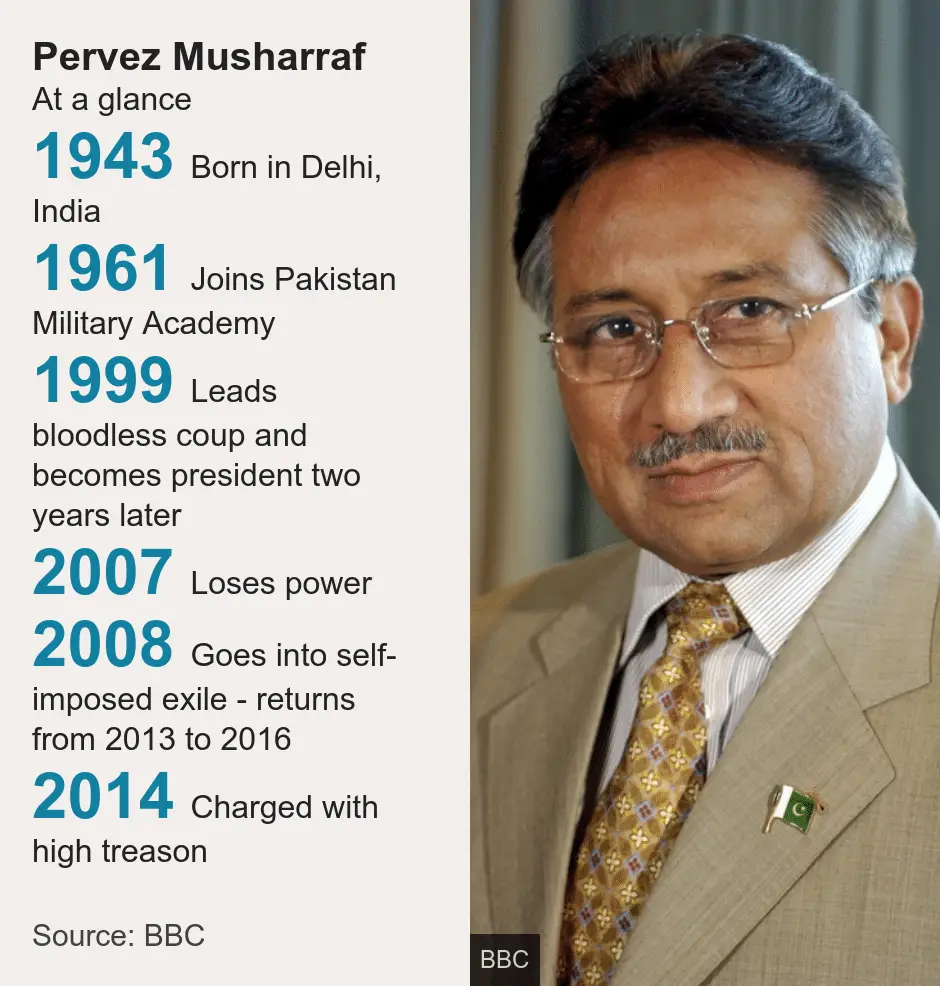 Afwaj-e-Pakistan aur mumlikat ke sabaq sarbara Pervez Mushrraf 11 August 1943 ko Dehli mein paida huye. Woh aik syed khandan say taluq rakhte hain. In ki walda Zarin Musharraf english mein graduate hain.Inhon nay aik bain ul aqwami tanzeem "International labor organization" kay liye kam kiya.Pervez Mushararf kay walid Syed Musharraf uddin foreign ministry mein section officer thay. Unhone kayi saal Ankara Turkey mein Pakistani sefarat khanay kay liye kam kiya. 1977 mein jab Pervez Musharraf kay walid Jakarta mein tayenat thay to inhein us waqt kay Wazeer-e-Azan Zulfiqar Ali Bhutto nay badunwani ka ilzam laga kar muatil kardia tha. Pervez Musharaf nay apna larak pan aur jawani ka kuch hissa Turkey mein guzara hai aur woh bari rawani say Turkish language bol saktay hain iqtadar mein anay kay phoran bad hone wale aik interview mein inhon nay kaha tha kay Mustafa Kamal Ataturk in kay ideal hain. General Pevez Musharraf nay ibtedai taleem Saint Patrick High School Karachi say hasil ki aur phir Forman Christen College (FC College) Lahore say 1958 mein graduation ki. 1961 mein Pakistan Army mein commission hasil karnay kay baad Pakistan Military Academy kakul mein shamil huye aur wahan fougi tarbiyat haseil ki. Ye staff college Quetta aur National Defense College Rawalpaindi mein bhi zeray tarbiyat rahe. (R) General Pervez Musharraf nay Bharat kay sath hone wali dono jango yani September 1965 aur 1971 mein bhar pur hissa liya aur kayi fouji azazat hasill kiye.
Jab 12 October 1999 kay roze Nawaz Sharif nay (R) General Pervez Musharraf ko hata kar dosray General ko naya Army chief muqarar karna chaha to iss waqt (R) General Pervez Musharraf mulk say bahar aik sarkari dore per gaye huwe thay. aur mulk wapas ane kay liye aik commercial tayaray per sawar thay tab fouj ka ala afsaran nay in bartarfi ko mustarad kardiya aur (R) General Pervez Musharraf nay Nawaz Sharif ki muntakhab hukumat ka takhta ulat kar in ko mazol kardiya. Nawaz sharif kay khalaf tayara sazish case tayyar kar kay inhein jail mein dal diya gaya aur bad azan Saudi Arab aur degar mumalik ki mudakhlat per aik mohaiday kay tehat inhain jila watan kardiya gaya.
Pervez Musharraf nay mulk mein emergency nafiz kardi aur 3 salon mein election karwane ka wada kiya. Baz zaraye kay mutabiq ye plane pehle hi say bana huwa tha aur yehi waja thi kay Musharraf ko moutil kiya ja raha tha. (R) General Pervez Musharraf ki hukumat ibtedai dino mein magrabi tanqed aur sard mehri ki shikar bani rahi aur undaroni mulk bhi isi qabilay zikar pazerai hasil na hoi. In kay iqtedar sambhalne kay kuch arse bad jab kay Sadar America Bill Clinton Bharat kay dore per aye to unhonay bazabta tour per Pakistan ka doura karne kay bajaye sirf chand ghante yeahan guzare aur is doran Pervez Musharraf ki hukumat ko tanqeed ka nishana banaya. Almi tanqeed aur iqtesadi bandisho kay natejey mein ye umeed ki ja sakti thi kay mulki tareekh ki ye 4thi fouji hukumat ziada din nahi chal paye gi lakin 11 September 2001 ko New York kay world Trade Center per hone wale hamlon kay bad surat-e-hall yaqsar tabdeel hogai.

Iss say pehlay 20 May 2000 mein Supreme Court of Pakistan nay (R) General Pervez Musharraf ko hukum diya kay woh October 2002 tak general election karwaye. App nay 30 April 2002 mein aik Sadarati referendum kar waya jiss kay motabiq 98% awam nay inhain ayenda 5 salon kay lia sadar muntakhab karlia albatta iss referendum ko siasi jamaton ki aksariyat nay mustarad kardiya aur is ka bye court kiya October 2002 mein hone wale aam intekhabat mein Pervez Musharraf ki sarparasati yafta Pakistan Muslim League (Q) nay qaumi assemble ki aksariyat seatain jeet li albatat NWFP aur Balochistan mein mazhabi jamaton kay itehad Muttahida Majlis-e-Amal ko aksariyat hasel hoi aur in sobon mein Muttahida Majlis-e-Amal ki hukumat qayam hogaye.
December 2003 mein General Pervaiz Musharraf nay Muttahida Majlis-e-Amal kay sath mohada kiya kay woh 2004 December tak foji uhda chor dein gey. lakin woh puri qaum kay samne agaye apne is wade say phir gaye iss kay bad gournal Pervez Musharraf nay apni hami aksiriyat say qoumi assembly mein satarvi tarmim manzoor krali jssi ki roh say inhein Pakistan kay bawajoud sadar hone ka qanonni jawaz mil gaya
3 November 2007 ko Pervez Musharraf ne emergency kay nafaz ka alan kartey huwe ain moutaikl kardiya ye alan rahess askari ki janeb say abori aini hukum kay ain say jari kiya gaya na kay Sadar Pakistan kay dafatar say. Iss wajah say mubasereen nay is mehgai halat ko dar asal marshal law qarar diya. Agar che Pervez Musharraf nay is lafz ko istemal karne say greaz kiya. khayal na rahe kay is waqt Pevez Musharraf sadar kay uhde per bhi thay aur wafaqi aur subai wazeer phele hi Musharraf kay tabay aur hamiyati thay albatha October 2007 mein Pervez Musharraf kay sadarati intekhab per adalat uzma chand roz mein faisla sunaney wali thin.
Pervez Musharraf ka dour apni siyasi shorsho ki badolat hamesha yad rakh ajayega agar che in ke daur iqtedar mein iqtesadi lehaz se kisi qadar behtree dekhne mein ai lakin woh mulk mein siyasi istehkam paida karne mein na kam rahe na sirf ye bal kay khud ise paida karne ka aik bara mehrak bane rahe ajj kal woh Pakistan say baher zindagi guzar rahey hain.