Mohammad Yousuf Biography in Urdu
Snooker Player
Pakistan in four games until has achieved the honor of being world champion. There are two games in the World Cup winning teams and work where there are two games to bring international recognition task was undertaken by individual. Is it just a game in which a cross World Championships in Pakistan. This is snooker game and Mohammad Yousuf is feat to perform.
Mohammad Yousuf was born on 1952 at Mumbai. However, his fathers belong to Pakistan Campbell Pur district. After separation, he settled in Mumbai. Mohammad Pakistan's history is the most successful snooker player. Mohammad Yousuf won IBSF World Snooker Championship in 1994. He is Pakistan's National Championship, winning seven times consecutively from 1987 to 1993 made National Record. Mohammad Yousuf got married in 1988. He is the father of one daughter and one son. In this page, you will read the world champion Mohammad Yousuf snooker player biography in Roman Urdu.
Mohammad Yousuf Biography In Urdu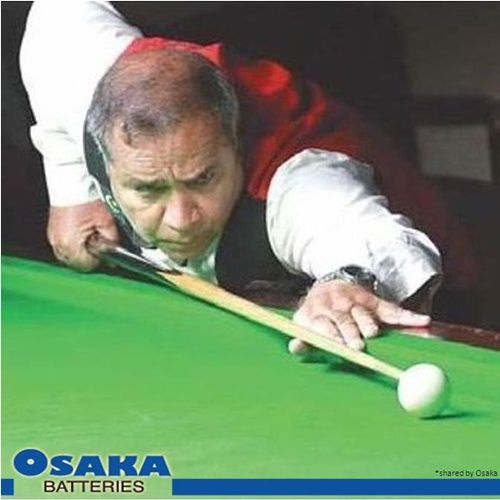 Pakistan ki tareekh ( History ) mein aaj tak 4 khelon mein Almi Champion honey ka Ajaz hasil kea hai. Inn mein sey do khail aisey haien jahan world cup jetney ka kam teamon ney kea aur do khail aisey hain jahan aalmi ejaz laney ka fareza fard wahid ney anjam deya. Cricket mein ham do aalmi cup (one day aur twenty twenty) jeet chukey hain jabkey Hockey aur Squash mein yeh karnama motadid mertaba anjam dea ja chuka hai. Sirf aik khail aisa hai jis mein world championship aik bar hamarey mulk mein aie yeh khail snooker hai aur yeh karnama deney waley Mohammed yousuf hain.
Mohammad Yousuf 1952 mein Bharat ke shaher Bombai (Maujuda Mumbai) mein paida huay taham Mohammad Yousuf ke wallid ka taluq Pakistan ke zila Campbell Pur sey tha aur Taqseem-e-Hind ke waqt woh rozgar ke silsilay mein Bombai mein moqeem they. Unhoon na Pakistan hijrat kerney ka faisla aik taweel arsey ke bad kea aur 1965 ki jang ke bad Mohammed Yousuf apney ahle khana ke hamrah Pakistan pahonchey.
Mohammed Yousuf nay aik TV Interview mein Mohammed Yousuf ne bataya ke 1965 ki jang ke bad Bharti hukumat ney Mohammad Yousuf ke khandan ko "Pakistani" qarar dey ker wahan sey chaley janey ko kah deya tha. Apni ibtedai zindagi ke barey mein baat kertey huay woh batatey hain, Main bilkul nakhanda hoon. Pehli jamat mein hi school se bhag geya tha. Ham Bombai mein raha kertey thay aur mujhey filmon aur gano ka behad shoq tha. Iss waqt huner mand logon ko taleem yafta logon sey behter khayal kea jata tha.
Snooker khailney ka khial Mohammed Yousuf ko apney bhai ko dekh ker aya jo iss dour mein Snookr khela kertey thay jab shaher bhar mein Snooker ki tablo kahein kahein nazar ati thien. Mohammed Yousuf batatey hain ke uss waqt unki umer bahot kam thi, iss leyeh unhein Snooker khelney ki ijazat nahien mili jab ke ass pass koi moujud na hota to moqey sey faida utha ker woh practics shuru ker dea kertey thay pandra sola baras ki umer mein hi unhon ne khail mein iss qadar maharat hasil kerli keunka shumar shaher ke behtareen Snooker khalaryon mein honey laga.
World Cup Snooker Championship 1994
Mohammed Yousuf Pakistan ki tareekh ke kamyab tareen Snooker player hain. 1994 mein unhon ne IBSF World Cup Snooker Championship jeti iss tournament ke fainal mein unhon ne Iceland's Johannes R Johannesson ko 11-9 ka farq sey shikasht dia aur Almi Champion banney ka Ajaz hasil keya. Bain ul Aqwami kamyabyon ka silsila yahein khatam nahien hua. Iss ke bad 2006 mein Mohammed Yousuf ne Australia ke Glen Wilkinson (Snooker player) ko Aman mein 5-4 ke farq se hara ker IBSF world master Championship bhi jeti.
Mohammad Yousuf ney Pakistan Qaumi Championship 1987 sey 1993 tak mosalsal 7 martaba jeet ker aik Qaumi record bhi banaya aur 1987 ke bad munaqad honey waley taqreban tamam mulki tournaments mein kamyabi hasil ker tey rahey. Iss ke elawa Mohammad Yousuf ney 1998 mein Asian Championship bhi jeti aur do mertaba Asia ke number 3 (teen) khelari honey ka ejaz hasil keya. Mohammed Yousuf ki ki shadi 1988 mein hue. woh aik bate aur aik beti ke walid hain.
Mohammed Yousuf jaisey khelari kisi bhi qaum ka ser fakhar hotey hain lakin hamari bad qismate yeh hai ke ham apney Heroes ko pahchnney mein bohot dair laga detey hain, yahi waja hai ke Mohammad Yousuf ka nam abhi tak woh tawajaho aur ihteram Amatunnas mein hasil nahien ker saka jis ke Mohammed Yousuf mustahiq hain.