Rashid Minhas Shaheed Biography in Urdu
Rashid Minhas was born on 17 February 1951 in Karachi at Air Force Hospital 9:40 PM. He was a Pilot Officer in Pakistan Air Force. Rashid Minhas passed the examination of Senior Cambridge from Saint Patrick College in Karachi. In 31 August 1968, he admitted in the School of Air Force in Risalpur. He received the degree of BsC in February 1971 from Peshawar University. Rashid Minhas died on 20 August 1971 in Sindh. In this page, you will read the Biography of Shaheed Rashid Minhas.
Rashid Minhas Shaheed In Urdu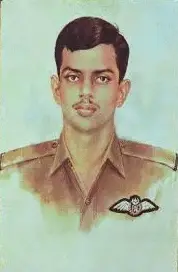 Pakistan ke azeem sapoot Rashid Minhas 17 February 1951 ko Karachi ke Air Force hospital mein raat 9:40 pm per peyda hue. Aap ke walid ka naam Majeed Minhas tha jo thekeydar the. Rashid Minhas ka khandan riyasat Jammu Kashmir se hijrat kar ke Hindustan mein Girdaspur ke maqam par muqeem hua. Aik arsey tak Rashid Minhas ke buzurg Girdaspur mein rahe aur phir inho ne qilaa Sobha Singh ( Sialkot ) ke nawah mein rehaiysh ikhteyar ki. Rashid Minhas ka bachpan ziyada tar Lahore mein guzra. Un he dinon in ke walid apni mulazmat ke silsile mein Rawalpindi shift ho gae aur Rashid Minhas ko bhi un ke hamrah jana parha. Rawalpindi mein Rashid Minhas ne Saint Marry Academy mein dakhla liya. Senior Cambridge ka Imtehan inho ne Saint Patrick College Karachi se paas kiya. 31 August 1968 mein inhe Air Force ke school waqeya Risalpur main dakhla mila. Yahan se April 1971 mein farigh tehseel hone ke bad aap ko mazeed tarbiyat ke liye Risalpur se masroor Karachi bhej diya gaya. Jahan inho ne 15 August 1971 ko apni tarbiyat mukammal ki.
Rashid Minhas ki salahiyaton ko jila bakhshne mein in ke taya Abdur Rasheed ka bohat barha hath hai. Jinho ne 1965 se 1958 tak unhe ghar par Urdu aur Islamiyat ki taleem di. BsC ki degree Rashid Minhas ne Peshawar University se February 1971 mein hasil ki. 20 August 1971 baroze Friday ko T – 33 Trainer Jet Tayyarey mein bethe hue control tower se unhe pehli clearance mili. Yeh un ki 3rd tanha parwaz thi. 11:27 par achanak un ka instructor garhi mein sawar ho kar run way par aa gaya aur Rashid Minhas ke hamrah tayyarey mein beth gaya. Mutee-Ur-Rehman name is bangali officer ne tayyarey ka control sambhal liya aur Karachi mein apne 2 sathiyon ko peygham dete hue kaha.
" Main jodhpur jar aha hon, tumhe mere aehl-o-ayaal ko sath le kar forum Hindustan highway Commision chale aao aur wahan panah le lo. " Yeh sunte he Rashid Minhas samajh gaey ke unhe aur un ke tayyarey ko kidnap kiya jar aha hai. Unho ne forum Maripur ke control tower ko 11:29:29 par peygham diyake mujhe kidnap kiya ja raha hai. Nez ghadara instructor ke sathiyon ko Hindustani high Commision mein panah lene se roko. Rashid Minhas ki yeh harkat dekhte he Mutee-Ur-Rehman ne chloroform mein bheega hua romaal un ki naak par rakh kar unhe beyhosh karne ki koshish ki. Usi dauran 11:30:20 par control tower se peygham mila ke " Tayyarey ko kidnap hone se bachaya jae. " lekin us dauran Rashid Minhas beyhosh ho chuke the aur ghaddar Mutee-Ur-rehman 120 degree ke zawiye par tayyarey ko Bharat ki taraf urhae chala jar aha tha.
11:33:20 par Rashid Minhas ko zara sa hosh aya to unho ne control tower ko aik bar phir peygham diya ke " Mujhe kidnap kiya jar aha hai aur Mutee-Ur-Rehman se kashmakash jari hai. " Rashid Minhas ke tayyarey ka code no. " T Bird " tha. Thatta ke qarib unho ne hatmi faisla kiya aur Hindustani border se 32 meel door Shaheed Dero ke maqam par tayyarey ka rukh zameen ki taraf kar ke takra diya, lekin unho ne dushman ki hudood mein dakhil na hone diya. Ajeeb ittefaq hai ke Rashid Minhas ke Grandfather Abdullah Minhas bhi 20 August 1934 ko baroz Jumma-tul-Mubarak 11:45 par inteqal kar gaey tha. Bilkul isi tarha Rashid Minhas ne bhi 20 August 1971 baroz Jumma-tul-Mubarak 11:40 par wafat paai. Pakistan Air Force ki tareekh mein aap ka naam hamesha darakhsha rahega.