Shahbaz Sharif Biography in Urdu
Mian Muhammad Shahbaz Sharif is the president of Pakistan Muslim League (N). He is the brother of Mian Muhammad Nawaz Sharif. Shahbaz Sharif was born in 1950 at Lahore. He completed graduation from Government College Lahore.. He also elected as a president of Lahore chamber of commerce and industry. Now a days, he is the chief Minister of Punjab. In this page you will read Shahbaz Sharif biography in Urdu and Roman Urdu.
Mian Muhammad Shahbaz Sharif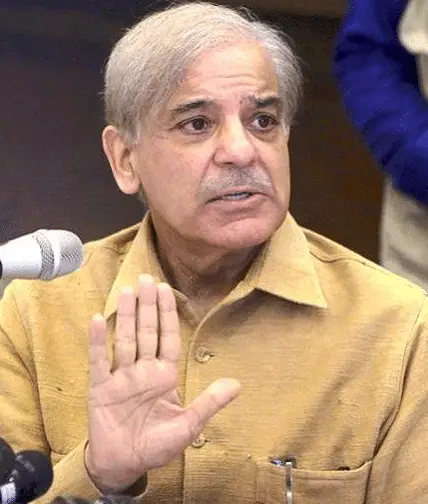 Biography in Urdu
Mian muhammad Shahbaz sharif Pakistan Muslim league (Nawaz) group kay sadar hain. App sabiq wazeer-e- azam aur Muslim league (N) kay Quaid Mian Muhammad Nawaz Sharif kay bhai hain. App 1950 mein Lahore mein paida huye app nay Lahore say graduation tak taaleem mukamal ki. 1985 mein app Lahore chamber of commerce and industry kay sadar munthakeb huye. Aik manjhe huye business man ki hasiyat say inhone Ittefaq group company ki kamyabi mein nehayat aham kirdar ada kiya.
Saisat mein app nay zamana talib ilmi say hi hissa layna shuro kardiya tha. 1988 kay intekhabat mein app nay subai assembly kay intekhabat (election) mein kamyabi hasil ki aur is kay bad 1990 kay intekhabat mein qaumi assembly kay rukun is halkay say muntakhab huye jahan iss say pehlay PPP ko kamiyabi hasil hoi thi. 1993 kay intekhabat mein app punjab assembly kay rukan bane aur punjab assembly mein hizb-e- ikhtelaf (Opposition leader) ki zimaydariyan nibhatay rahay.
Election 3 Feb 1997
3 February 1997 kay intekhabat (election) mein kamyabi kay baad app Punjab ki wazarat-e-aala kay uhday par 20 February 1997 ko faiz huye aur 12 October 1999 ko Pervaiz Musharraf ki take over say pehlay tak ye zimedariya nibhatey rahay. Shabaz Shareef ka dour nihayat administration kay liye mashorr hai. Jis mein inhonay Lahore ki shakal badalne ki koshish ki khasosan najaiz tajawizat mein say bay shumar ko khatam kiya. Mian Shahbaz Sharif nay punjab kay aisey school kay khilaf bhi iqdamat uthaye jo hurf e aam mein bhoot school kehlatay thay yani wasail istamal kartay rahay magar wahan asataza (teachers) nahi hote ya sarey say school hi nahi hota.
Chief Minister of Punjab
Shahbaz Sharif nay dhai saal kay doran aqraba perwari aur sifarish kay khilaf bhi numaya karkardagi dekhaya. Apne dour kay akhrajat apni jaib say ada kiye aur iss doran pure punjab mein koi nai gari nahi kharedi gai. police mein pheli dafa pharhe likhe jawan larkon ki bharti merrit ki bunyad par ki gai. in dauran app nay aqwam e muttahida jese bain ul aqwami forum mein Pakistan ki numandagi ki aur apni khatabat aur balagat ki badolat dad o tehseen kay mustehaq tharay. Jenewa mein hone wali labour conference mein in ki taqreer ko duniya bhar kay mazdoor halqon aur tanzeemo ki taraf say sarhaya gaya. Shahbaz sharif ko Pakistani saisat ki aik mazbot nehayat munazam aur discipline yafta shksiyat samjha jata hai in kay douran hukumat ki misaal in kay jane kay baad bhi di jati hein. Shahbaz Sharif bureaucrats ko bandh kar rakha aur surkh fattay jesi lanat ka khatma kardiya.
Saudi Arab mein in ki jalawatani kay douran 3 August 2002 kay roz inhe Pakistan Muslim league ka sadar muntakhib karliya gaya. markazi majlis amala kay ijlas mein woh bela muqabla muntakhib huye. Shahbaz sharif ko party ki qayadat sounphney ka faisla say pata chalta hai muslim leage ko Sharif naam ki kashish par kitna yaqeen tha kay is be basi kay alam mein bhi inhein apni qayadat kay liye koi aur naam mouzo malom na huwa.
11 May 2004 ko Shahbaz Sharif nay Pakistan wapas aney ki koshish ki magar Lahore kay alama Iqbal bain ul aqwami hawai adde (alama Iqbal international airport) say unhein wapas bhej diya gaya.Watan wapsi kay liye London kay Heathrow airport say rawana hone say phele inhone nay BBC ko aik interview diya jis say in kay mustaqbil kay azam ka izhar huwa aur in ki shaksiyat kay baz goshay par bhi roshni pari. 2 August 2006 ko Mian Shahbaz Sharif ko dobara agli muddat kay liye chuna gaya Nawaz Shrif kay mutabiq Pakistani hukumat nay inhein apne bhai Nawaz Shahrif say mutanafir karne ki koshish bhi ki magar na kami hoi Shahbaz sharif kay mutabiq woh Nawaz Sharif ko apne walid ki jaga samjhte hain.
Election 18 February 2008
Election 18 February 2008 mein kamyabi hasil kar kay Shahbaz Sharif aik bar phir wazeer alla bane is martaba bhi app nay apne guzishta daure hukumat ki yad taza kardi. March 2009 na ahali kay case mein faisla in kay khalaf aney par Shahbaz Sharif ko kuch arsa kay liye iqtedar say alag bhi hona para lakin bad aza ye faisla khatam kardiya gaya aur woh aik bar phir suba punjab ki halat sudharne kay mission mein jet gaye in kay halqa-e-ahbab mein shamil afrad ka kehna hai kay Shahbaz sharif is kam kay liye itni mehnat kar rahay hain kay in ki apni sahat kharab ho rahi hai.
Shahbaz Sharif Faimily
App ki pheli shadi 1973 mein begum Nusrat Shahbaz say hoi jin say in kay 2 betay Hamza Shahbaz aur Salman Shahbaz aur 3 betiyan hain. Dekha jaye to Shahbaz sharif nay mulki saisat mein is hud tak kirdar ada nahi kiya jis hud tak woh kar saktay hain. Dusro ko kehnay par Shahbaz Sharif nay apne app ko manwane ki koshish karne kay bajaye nay apne baray bhai Nawaz Sharif ki parvi karne ko hi tarji di hai.