Asif Ali Zardari Biography In Urdu
Asif Ali Zardari Mojoda Sadar Pakistan hain. Is say hut kar inki dosri pehchan ye hai kay woh mulk ki sab say bari siasi jamat Pakistan People's Party kay sareek chairman aur iss hawalay say Benazir Bhutto shaheed ki warasat kay nigahban hain. App aik Baloch Sindhi siasatdan aur Zulfiqar Ali Bhutto kay ibtadai siasi sathiyon mein shamil Hakim Ali Zardari kay batay hain. Asif Ali Zardari 26 July 1955 mein paida hoye. In kay walid androon Sindh zamindari kay sath Karachi mein bhi karobar aur cinema ghar tha.
Asif Ali Zardari Ka Ibtadai Daur
Asif Ali Zardari ki ibtadai taleem bhi Muhammad Khan Junejo, Pervez Musharraf, L.K Advani, Shaukat Aziz ki terah Saint Patrick School Karachi mein hoye. Jis kay bad unhoon nay Dadu mein qaim Cadet College Pataro say 1974 mein intermediate kia. kaha jata hai kay baad mein unhoon nay London School of Economics and Biasness mein kisi adaray mein bhi dakhla lia tha. Asif Ali Zardari bachpan hi say yaro kay yar hain. karachi kay halqay ahbab mein janay jatay thay. 1968 ko kamsin Asif Ali nay urdu film " Manzil door nahi " mein chield star kay toor par bhi adakari ki. Film kay hero Haneef aur heroin Sofia thein. 1980 kay dahaye kay wast Asif Ali Zardari ka siasat say door door ka wasta nahi tha. Bus aik suragh ye milta hai 1985 kay ghair jamati intekhabat mein Asif Zardari nay bhi Nawab Shah mein sobai assembly ki aik nasist say kaghzat namzadgi jama karaye thay mager ye kaghzat wapas lay liye gaya. Issi zamany mein Asif Ali Zardari nay Wazir-e-Alla Syed Ghous Ali Shah kay aik wazeer Syed Koral Shah kay mashwaray say construction kay karobar mein bhi haat dala lakin iss shobay mein Asif Ali Zardari sirf do dhai baras hi mutahariq rahay.
Zardari Ki Benazir Se Shadi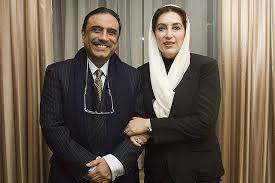 1987 Asif Ali Zardari kay lia sab say faisla kun sal tha jab inki walida aur Begum Nusrat Bhutto nay Benazir Bhutto kay sath Asi Zardari ka rishta tai kiya. Yeh mangni London mein hui aur France mein rishta tay hua watan wapis akar Asif Ali Zardari nay Nawabshah mein khatab kartay huay kaha kay Bhutto khandan kay aagay meri haisiyat aik faqeer ki si hai. 18 December 1987 ko Benazir Bhutto kay naseeb Asif Ali Zardari say bandh gaye unki aulad mein aik bayta Bilawal Zardari do batiyan Bakhtawar Zardari aur Asifa Zardari hain. 1990 mein Asif Ali Zardari pehlil bar 1993 mein dosri bar rukun qaumi assembly banay aur 1996 tak mahaulyat aur sarmaya kari kay wazir rahay. 1997 say 1999 Senator rahay. Unhain 4 November 1996 ki rat giraftar kar key geya aur Sadar-e-Pakistan Farooq Laghari nay wazeer-e-Azam Benazir Bhutto ki hukumat bartarf kardi. 1997 kay intakhabat mein Mohammad Nawaz Shrif dosri bar Wazrat-e-Uzma ka uhday par fayz huye iss daur mein bhi Asif Ali Zardari musalsal jail mein qaid rahay.
Asif Ali Zardari Politics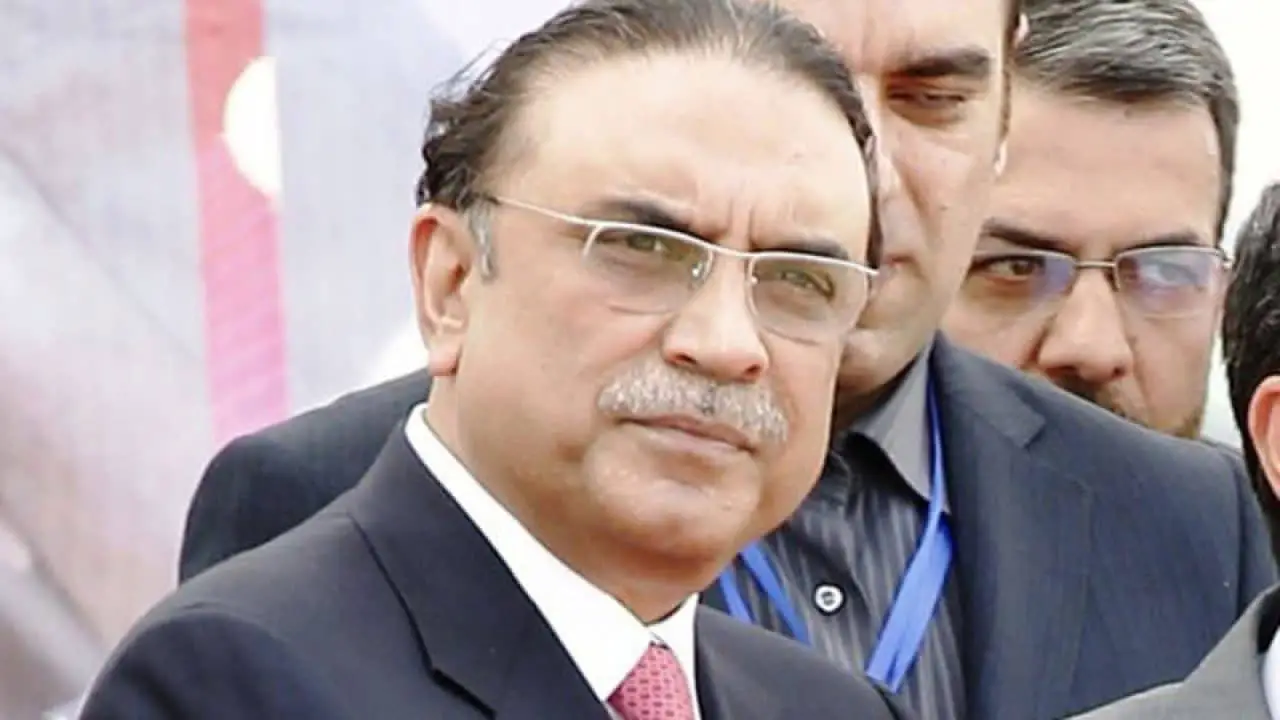 Asif Ali Zardari aur Benazir Bhutto ka azdawaji tayluq 18 December 1987 say 27 December 2007 yani 20 sal raha in 20 saloon mein unhain yeh azaz hasil raha kay woh motanaza shakhsiyat banay rahay aur inhein 20 barson mein 14 baras jail ki salakhon kay pechay guzara. In 14 barsoon zindagi (Life) mein unhain "Mard Hur" ka khaytaab dalwa deya. Woh koun say moharikat thay jin ki wajah say atna arsah qaid-o-band ki saubatain bardas karna parein. Inn wajuhat mein sar-e-fahrist corruption hai aur France, Poland , Britannia aur Swaziland mein gair qanuni asasay aur bank accounts, wagara hain. Asif Ali Zardari nay kaha kay "Benazir Bhutto kay qatil mujhay bhi marna chatay hain."
Asif Ali Zardari nay kahi kay General Pervez Musharraf nay muntakhab hukumat ko sabutaz karnay ki koshish ki jis par mawakhzay karnay par majbur huye. Parliament tahlel ki to yeh unka mulk kay khalaf akhri faisla hoga "Bibi"hamaisha meray sath hain main un kay sath rehta hon. Aath (8) sala jila watni kay bad 18 October 2007 ko Benazir Bhutto Pakistan wapas ayein Karachi Airport say un ka qafla Mazar-e-Quaid ki taraf jaraha tha kay rastay main Barah bajay kay qareb karsaz kay alaqay mein do khud kash bomb dhamakay huya. jis kay natejay main taqreban 200 afrad halak huye aur 400 say zayed zakhmi hoye. Iss dhamakay mein Benazir Bhutto mehfoze rahein lakin bil akhir 27 December 2007 ko unkay qatil apnay maqsad mein kamyab hogaye aur Liaquat bhag Rawalpindi kay main gate say unki gari bahar arahi thi to khud kash hamla hua aur sath hi firing hoagie innko aik goli lagi aur woh duniya say rukhsat hogayein aur apnay khaliq-e-haqiqi say jamili.
Ab masla paida hua Pakistan people's party ka chairman kon banay ga. Asif Ali Zardari nay apni faham-o-frasat kay zor par hal kar leya. Aik wasiyat munjanib Benazir Bhutto peshe ki gaye jis kay motabiq Bilawal Bhutto Zardari ko chairman aur Asif Ali Zardari khud shareek chairman ban gaye February 2008 kay intekhabat mein Pakistan people's party nay hissa liya magar Asif Ali Zardari nay election nahi lara. 19 April 2008 ko unhon nay alan kar diya kay 3 June 2008 kay zamni intekhbat mein woh aur unki behan Dr. Faryal Talpur larain gain magar election na laray Asif Ali Zardari ki nazar wizarat-e-uzma par thi magar qawaid-o-zabtay rah mein hayal ho gaye.
President Election 2008
18 August 2008 ko Pervez Musharraf kay istafay(Resign) kay bad. Pakistan mein sadar ka intekhab karna tha. Muttahida Qaumi Movement kay quaid Altaf Hussain nay sab say pehlay Sadar Pakistan kay uhday kay liye Asif Ali Zardari ka nam tajweez kiya. 6 September 2008 ko mulk main sadarti intakhabat huye jis main Asif Ali Zardari Pakistan People's party Saeeduz Zama Siddiqi Pakistan Muslim leag N aur Moshahid Hussain nay Muslim league (Q) ki taraf say election main hissa leya. Pakistan People's party kay shareek chairman Asif Ali Zardari 481 wote lay kar do tehae aksariyat say Sadr-e-Pakistan ban gaye. Un kay mad-e- moqabil Pakistan Muslim League (N) kay justice (R) Saeed uz Zaman Siddiqui ko 153 aur Muslim league (Q) kay umedwar Mushahid Hussain Syed ko sirf 44 vote milay. Asif Ali Zardari ko qaumi assembly mein 281, Punjab assembly mein 123 Sarhad mein 107 Balochistan mein 59 aur Sindh Asambli say 162 vote milay.