Faiz Ahmed Faiz Biography in Urdu
Faiz Ahmed Faiz was born on 13th February in 1911 at Sialkot. He was a great revolutionary Poet. He received early Islamic Education from Maulvi Muhammed Ibrahim Mir Sialkoti. Faiz Ahmed Faiz began his career as a Lecturer from M.A.O College Amritsar in 1951. He is one of the most famous Poet. Faiz Ahmed Faiz died on November 20, 1984 in Lahore. In this page you will read the Biography of Faiz Ahmed Faiz in Roman Urdu.
Faiz Ahmed Faiz Biography In Urdu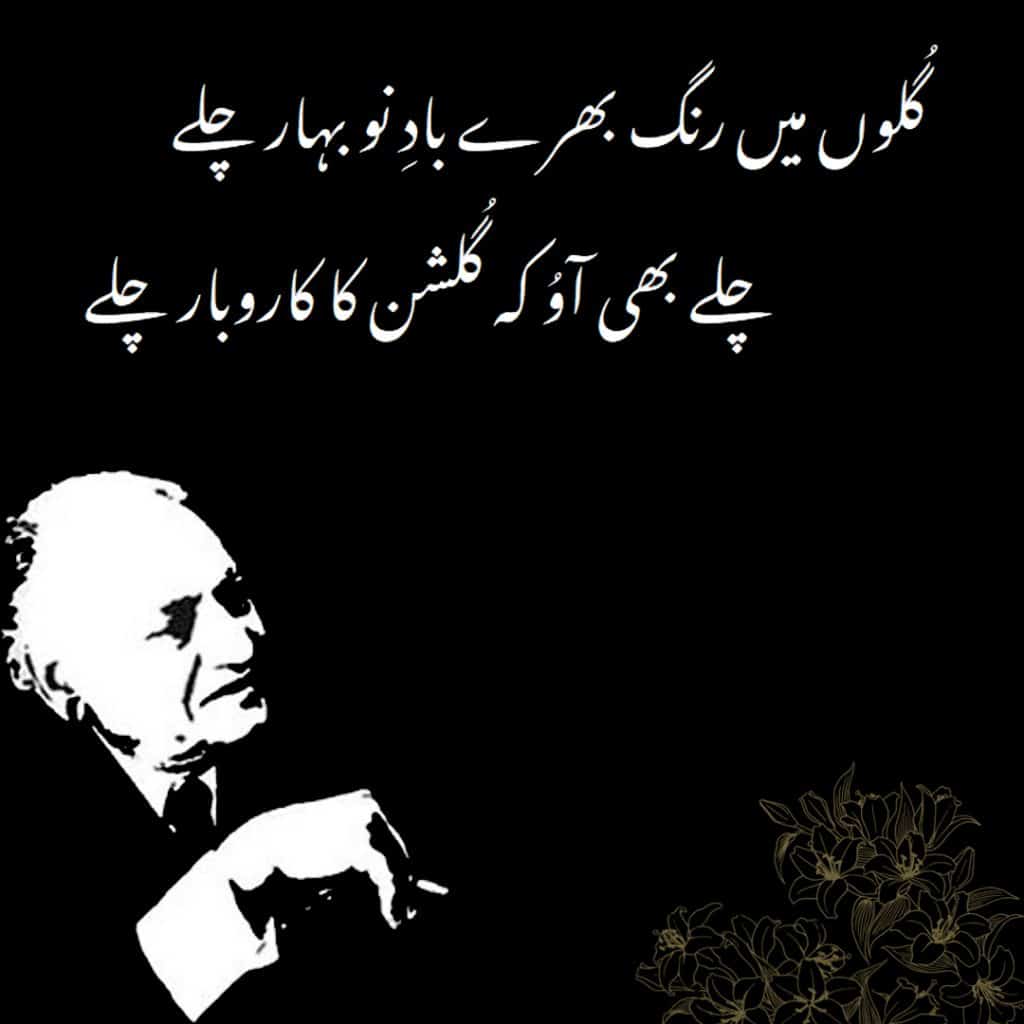 Urdu adab ke bohat se naqadeen ke nazdeek Faiz Ahmed faiz, Ghalib aur Iqbal ke bad Urdu ke sab se azeem Shaiyr hain. Aap anjuman taraqqi pasand tehreek ke fa'al rukun aur aik mumtaz communist the. Faiz Ahmed Faiz 13 February 1911 ko Sialkot ke aik muazziz gharaney mein peyda hue. Ap ke walid aik ilm pasand aadmi the. Aap ki waldah ka naam Sultan Fatima tha.
Aap ne ibtedai taleem Maulvi Muhammed Ibrahim Mir Sialkoti se hasil ki. 1921 mein aap ne Scotch Mission School mein dakhla liya. Aap ne Matric ka imtehan Mary School Sialkot se paas kiya aur phir F.A. ka imtehan bhi wahin se paas kiya. Aap ke usatzaa mein Mir Maulvi Shams ul Haq ( jo Allama Iqbal ke bhi Ustaad the ) bhi shamil the. Aap ne School mein Persian aur Arabic Zuban seekhi. B.A. aap ne Govt. College Lahore se kiya air phir wahin se 1932 mein English mein M.A. kiya. Bad mein aap ne Oriental College Lahore se Arabic mein bhi M.A. kiya.
Aap ne 1930 mein Alys Faiz se shadi ki. 1951 mein aap ne M.A.O. College Amritsar mein Lecturer ki hesiat se mulazmat ki aur phir Hely College Lahore mein. 1942 mein aap Fauj mein Captian ki hesiat se shamil ho gaey aur Mehakmae Talluqaat aama mein kaam kiya. 1943 mein aap Major aur phir 1944 mein Leuitenant Colonel ke auhdey par taraqqi pa gaey. 1947 mein aap Fauj se mustafi ho kar wapis Lahore aa gaey aur 1959 mein Pakistan Arts Council mein Secratery taiynaat hue aur 1962 tak wahin par kaam kiya. 1964 mein London se wapsi par aap Abdullah Haroon College Karachi mein Principal ki hesiat se mulazim ho gaey. 1947 se 1958 ke darmiyan aap mukhtalif adbi rasaiyl o jaraiyd ke mudeer rahe, jin mein Adb-e-Lateef aur Lotus qabil-e-zikar hain.
9 March 1951 mein aap ko Rawalpindi sazish case mein muaawnat ke ilzaam mein hukoomat waqt ne giraftar kar liya. Ap ne 4 saal Sargodha, Sahiwal, Hyderabad aur Karachi ki Jail mein guzare. Ap ko 2 April 1955 ko riha kar diya gaya. Zindaa Nama ki beshtar Nazmein isi Arsey mein likhi gaen. Bad ki zindagi aap ne likhne likhane ke shughal mein guzari aur waqt guzari ke liye mukhtalif shoubon mein kaam bhi karte rahe. Aap ki yadgaar wo kitaben hain jo aap ne piche chori hain. Aap ke majmoey Hae Kalam mein Naqsh Faryadi, Dast-e-Saba, Zindaa Nama, Dast e tah e Sang, Sarwadiy-e-Seena, Sham-e-Sheharyaran, Mere Dil Mere Musafir aur Nuskha-e-Hae Wafa ( Kulyaat ) shamil hain.
Faiz Ahmed Faiz ka inteqal 20 November 1984 ko Lahore mein hua.
" Chand dekha teri aankhon mein na honton pe shafaq,
Milti julti hai shab-e-gham se teri deed ab ke,
Phir se bujh jaengi shamey jo hawa tez chali,
La ke rakho sir-e-mehfil koi khurshid ab ke… "