Liaquat Ali Khan Biography In Urdu
Liaquat Ali Khan was the First Prime Minister of Pakistan. He was born in 1st October 1896. The completed his Graduation in 1918 from MAO College Aligarh and he also took the Degree of Law from Oxford University. He joined All India Muslim League and became the Secretary Genernal in 1936. His second wife Rana Liaquat Ali also took an active part in politics. In this page you will read Liaquat Ali Khan biography in Urdu and Roman Urdu.
Liaquat Ali Khan Biography
Liaquat Ali Khan Pakistan ka pehlay wazeer-e-Azam thay. App Hindustan kay alaqay karnal mein 1 Octuber 1896 kay roz paida huye. Nawab zada Liaquat Ali Khan, Nawab Rustam Ali khan kay dosre betay thay. App ki walda Mehmoda Begum nay ghar per app kay liye Quran Pak aur Ahadees ki taleem ka intazam karwaya. 1918 mein app nay MAO College Aligarh say graduation kiya. 1918 mein hi app nay Jahangir Begum say shadi ki. Shadi kay baad app Britannia chale gaye jahan say app nay oxford university say qanon ki degree hasil ki aur 1922 mein England bar mein shamoliyat ikhteyar ki.
Political Career
Liaquat Ali Khan 1923 mein Britannia say wapas anay kay bad app nay apne mulk ko ghair mulki tasalut say azad karwane kay liye siasat mein anay ka faisla kiya. App nay Muslim League mein shamoliyat akhtayar ki. 1924 mein Quaid-e-Azam Muhammad Ali Jinnah ki Zair-e-qayadat muslim league ka ijlas Lahore mein huwa. Iss ijlas ka maqsad Muslim League ko dobara munazam karna tha. Iss ijlas mein Liaquat Ali Khan nay bhi shirkat ki. Tezi say siasi manzilain tay kartay huwe app 1936 mein Muslim league kay secretary journal bane aur iss say bhar kar ye kara kay Quaid-e-Aaza kay dast rasat ki hasiyat hasil ki.
Liaquat Ali Khan 1926 mein Uttar Pardesh say qanoon saz assembly kay rukan munkhateb huwe aur 1940 mein markazi qanon saz assemble kay rukan muntakhab hoye tak app UP assembly kay rukun rahay. 1932 mein app nay dosri shadi ki. App ki dosri Begum Rana Liaquat Ali Khan aik mahir-e- taleem aur maishatdan thin. App Liaquat Ali Khan ki siasi zindagi ki aik behter mayaun sabit hoyein aur app kay shahadat kay bad bhi mulk o qaum kay liye khidmat anjam deti rahien. 1940 mein app markazi assembly kay rukan muntakhab huye jis mein app nay Quaid-e-Azam ki Muslim League kay dipti Parlimani leader ki hasiyat say bara kam kiya. Quaid-e-Azam say bard kar app kay zati joharon say koi shakh waqif na tha. Liaquat Ali Khan bari khamoshi aur sakon say tameeri kam karne kay adi thay. Qauid-e-Azam nay inhi khobiyun ki bina per app ko fakhariya apna dost rast qarar dete huwe kaha tha.

"Qaumi jad o jehad app Nawabzada Liaquat Ali Khan meray dost rast rahay hain unhonay qaum ki khidmat app din rat aik kardiya hai aur koi shaks asani say is baat ka andaza nahi laga sakta kay unho nay apne kandho per kis qadar bojh utha rakha hai. Tamam Musalman in ki qadro manzilat kartay hain woh Nawabzada honay kay bawajud aik awami insan hain aur mujhay yaqen hai kay dosray Nawab un ki talqeed karein gay."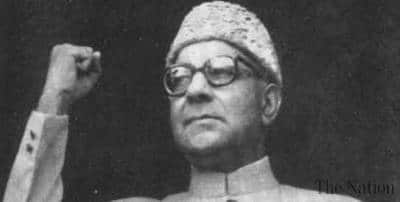 Liaqat Ali Khan 1943 mein dobara All India Muslim league kay ownery secretary muntakhab huwe. Liaquat Ali Khan ki anthak kohish say Muslim League aik munazam, mustehkam aur fal jamat ban gaye lakin app kay asli johar is waqt manzar-e-Amm per aye jab Liaquat Ali Khan 1946 mein Hidustan ki abori hukumat mein Wazir-e-Khazana muqarar huye. baqaul Moulana Abul Kalam Azad, Rafi Ahmad Qudwai ki tajweez thi kay hum Muslim league kay umeedwar ko wazir-e-khazana qabool karlain. Un ka khayal tha kay league ye peishkash qabool nahi karegi. Iss liye congress iss mouqay say faida uthaye aur agar League nay ye peishkash qabool karli to isay jald apni himaqat ka pata chal jaye ga. Sardar Patel ye tajweez sunkar khushi say uchalnay lagey aur iss ki pur zur taid ki. Saray congress rehnuma umeed lagaye bethay thay kay Liaquat Ali Khan iss wazarat ki zimedariyan nibhane mein buri tarah na kaam rahein gay. Magar Liaquat Ali Khan feham o farasat na Congress ka mard ahan Sardar Patel ki jan muskil mein kardi Patel ko is hukumat mein wazarat-e- dakhla ki kursi mili thi magar masla ye tha kay is ki koi tajwez bhi Wazeer-e-Khazana ki taid kay bagair manzoor na ho sakti thi. Maulana Abul kalam Azad likhtay hain kay Patel ki har tajweez ko Liaquat Ali Khan na manzor kardetay. Issi mein app tarmem kardetay. Iss haisiyat mein app nay aisa bajat peish kardiya kay dost to kiya dushman bhi assh assh karne per majbor hogaye. Kisi ko umeed na thi kay app aik khandan Nawabzada aik gareebi nawaz bajat paish karega.
14 August 1947
14 August 1947 ko Pakistan wajud mein agaya. Iss nowzayed mumlikat ki Wazarat-e-Uzma ka baray girha bhi app kay kandhon per dala gaya. Jab Karachi mein Lord Mount Batten ki moujodgi mein Quaid-e-Azam nay Pakistan kay pehlay Governor General ki haisiyat say taqreer ki to in kay saro per Liaquat Ali Khan ka tajweez karda parcham sitara-e-hilal puri shan kay sath lehra raha tha. Wazarat-e-Uzma kay elawa wazarat-e-kharja aur defa ki zimedariyan bhi app nay hi uthayein. Pakistan kay qiyam kay baad muhajireen ki bahali ka masla bara pechida tha. Idhar kashmir kay halat degergon ho rahay thay. Bharat mein khon Muslim ki arzarani Musalmano ko khon kay anso rula rahi thi. Inn sub masail ko hal karne mein app nay koi daqeqa utha na rakha.
Quaid-e-Azam ki wafat kay bad app ki zimedriyon mein so guna izafa hogaya iss khala ko pur karna asan na tha jo Quaid-e-Aazam ki wafat say paida huwa tha, iss liye mumlikat Pakistan kay zamen boos hone ki paish goiyan ki janay lagein lakin Liaquat Ali Khan nay unthak mehnat aur azam ki badaulat in sub peshgoyun ko ghalat sabit kar dakhaya. App ki baz police say ikhtelaf mumkin hai lakin ye amar waqiya hai kay Quaid-e-Azam ki tarha Liaquat Ali Khan bhi pakistan hi ko apna sarmaya, apna khandan apna sub kuch samjhtay thay. Liaquat Ali Khan nay na koi bank balance jama kiya na hi khandan walon kay liye koi munafa hasil karne ki koshish ki.
Liaquat Ali Khan 1949 mein yourap aur Islami mumalik ka dorah kiya .1951 mein Daulat-e-mushtaraka kay Wazra-e-Azam ki conference mein shirkat kay liye londan tashref lay gaye aur Masla-e-Kashmir per baat cheet kar kay wapas aye. 1951 mein Bharat apni muslah afwaj aur baktar band devotion Pakistan ki sarhad kay qareeb lay aye. Ahliyan Karachi aik zabardast jalos ki shakal mein app ki qiyam gha per pouchay app balai manzil per namodar huye aur apna muka hawa mein lehra kar pur josh lehjay mein kaha.
Assassination of Liaqat Ali Khan
"Dekho, pancho ungliyan jab tak alag alag hon to in ki quwat kam hoti hai lakin jab ye mil kar muka ban jaye to ye muka dushman ka moun tor sakta hai. Pakistan jang nahi chahta lakin agar is hamla huwa to Pakistan ka ye muka hazir hai." Liaquat Ali Khan ka ye muka Pakistaniyun kay azam aur in ki qowat o itehad ki alamat ban kar ane wale zamano per muheet hoga. 16 October 1951 kay roz app Rawalpindi kay Liaquat Bagh sabqa company bagh mein aik jalse say khitab karnay kay liye stag per aye hi thay kay syed Akbar nami aik shaks nay app per goli chala di. App hospital lay jatay huye rah mein shaheed hogaye. wafat kay bad jab app ki sharwani utari gai to maloom huwa kay iss kay niche app nay pewand zada banyan pehan rakhi thi.
Liaquat Ali Khan kay qatil ka muma ajj tak hal nahi ho saka. Iss shaam company bagh mein app per goli chalne kay bad jo kuch huwa, Iss per un ginat sawalat uthaye ja saktay hain. Bohot say aisay afrad ki taraf ishara kiya ja sakta hai jo app ki policiyon ki bina per app kay dushman thay aur app ko rah say hathane kay khuwaishmand thay magar in sub bato mein sirf aik hi bat shakook o shubhat ki dhunlahaton say bala tar ho kar numaya nazar ati hai aur woh ye kay app kay inteqal kay bad Pakistan mein siasi adam istehkam ka aisa daur shuro huwa jo ta hall khatam hone mein naahein aya. Pakistan ki siasi tareekh, mein app bare rehnuma thay jo gair tabbi mout kay shikar huwe aur app kay bad is unjam tak pouchnche wale degar siasi quaideen ki tarha app ki shahadat kay zimedar bhi ajj tak qanon ki nigha say ojhal hain.