Ghulam Ishaq Khan Biography in URDU
Ghulam Ishaq Khan was born on 20 January 1915 in Ismail Khel (Bannu). He was died on 27 October 2006 in Peshawar. In this page, you can read Former President of Pakistan Ghulam Ishaq Khan Biography, Ghulam Ishaq Khan History In Urdu.
Ghulam Ishaq Khan Biography
Pakistan ke 7th sadar Ghulam Ishaq Khan 20 January 1915 ko Ismail Khel (Bannu) mein paida hoye. B.S.C Punjab University se kiya. 1940 mein Civil Service Soba Sarhad se wabasta hoye. 1947 mein Pakistan ke marooz e wajud mein ane ke baad Wazir e Aala ke Sectary khurak aur Civil o Supplies Soba Sarhad ke director rahe. 1st January 1961 ta April 1966 Wapda ke Chairman rahe. April 1966 mein Wifaqi Wazir e Maliyat ke Sectaryrahe. 1st December 1970 mein Sadar Secretariat mein Sadar Division ke sectary rahe. 18 Dcecmber 1971 ko State Bank of Pakistan ke Governor bane. May 1974 mein wo mashi kameti Islami mumalik ke ijlas mein Pakistan ke wafd ke Quaid bane jo ke Jidah mein munaqid kiya gaya tha. 24 January 1975 ko Sectary General Defance bane. 24 November 1975 ko Wazir e Difa ke Sectary General muqarar hoye. 7 July 1977 ko sectary General Incheif bane. 23 August 1978 ko khazana aur massob bandi ke Wifaqi Wazir bane.
March 1985 ko pheli bar aur 1988 mein dosri bar senit ke chairman chune gaye. 17 August 1988 ko Sadar e Pakistan General Zia ul Haq ke tayare ke hadse mein jan bahaq hoye to is raoz Ghulam Ishaq Khan ko Qayam Muqam Sadar bana deya gaya. Isi roz unhon ne Islamabad mein Wifaqi kabina ka hangami ijlas talab kiya aur mulik ko chalane ke leye fori tor par aik council qayam ki. 13 December 1988 ko Ghulam Ishaq Khan baqaidah aur ba Ikhteyar Sadar e Mumlikat ban gaye.
16 August 1990 ko aain ke article 58 2-B ka ikhtayaraat ka istemal karte hoye Sadar e Pakistan Ghulam Ishaq Khan ne Wazir e Azam Pakistan Benazir Bhotto ko bar taraf kar deya. Quomi assembly tor di jis ki wajha se Benazir ki pori kabina bartaaf ho gayi.14 October 1990 ko Lahore High Court mein Quomi assembly bartaraf karne ke Sadarti hokum ko durust qarar de diya. 24 October 1990 ko Pakistan mein Quomi assembly ke intakhabat meinIslami jahoriitehad ki waze fatah hoi. 27 October 1990 ko Subai assembliyon ke intakhabt hoy. 30 October 1990 ko Wifaqi Shari Adalat ne toheen e Risalat ke Jurm ko saza e muat dene ka fasla kiya.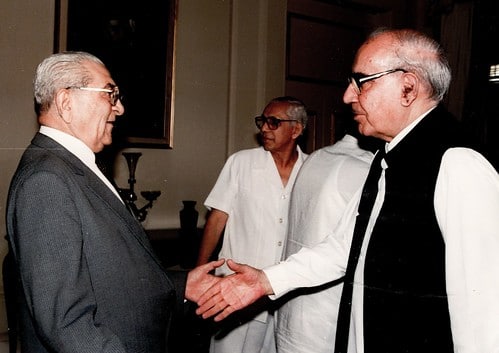 3 November 1990 ko nai Assembly ka iftetahi ijlas howa. Is ijlas mein irkan ne halaf uthaya. 18 April 1993 ko aik bar phir Sadar Ghulam Ishaq Khan ne apne ikhteyarat ko istemal karte hoye Quomi assembly tro di. Us waqat Muhammad Nawaz Sharif Wazir e Azam the. Sadar ke is amar ke khilaf Quomi assembly ke spaker Ghohar Ayoub ne Supreme Court mein rit kar di. 26 May 1993 ko Supreme Court ne Sadar e Pakistan ke is iqdam ko aain ki difa 58 2-B mein deye gaye ikhteyarat kemanafi qarar dete hoye Muhammad Nawaz Sharif hukumat ko ghair mashrotr tor par bahal kar deya.
Adalat e Aliya ne Punjab assembly ko bahal kiya aur phir chand minute ke baad dobara assembly tor di. 16 July 1993 ko E.P.C ne mid term intakhabat karwane ka mutalba manwane ke leye long march ka elan kiya. Mulk mein aainni aur siyasi bhoan shidad ikhteyar kar chukka tha lehaza Sadar e Pakistan Ghulam Ishaq Khan ne 18 July 1993 ko Quomi assembly ke Speaker Ghohar Ayoub ko apna istifa peash kar deya jo unhon ne fori tor par mazor kar leya aur senit ke Chairman Waseem Sajad ne raat 12 baje ke baad qayam muqam Sardar ka halaf uthaya. Ghulam Ishaq Khan jabri retirement ke bad Peshawar mein gosh nashen ho gaye ow do saal musalsal bemar rahe. Marne se 3 mah qabal bemari shidad ikhteyar kar gayi aur wo koma mein chale gaye.27 October 2006 baroz juma ko subha sawa 11 baje Peshawar mein inteqal kar gaye marhom ki umar 91 baras thi. Unhen Peshawar ke University Town ke Qabrustan mein supurde khak kiya gaya.