Roshan Khan (Squash Player) Biography in Urdu
Roshan Khan was born on 26 November 1929 in Peshawar. He was also belonging to Khan Family. Roshan Khan was the father of the great player Jahangir Khan. Roshan Khan was the cousin of Hashim Khan. In early days of Pakistan, the Roshan Khan and Hashim Khan were the two superstars. Roshan Khan was beaten the Mehmood ul Karim of the final of Dunlop open in 1954. Roshan was the second squash player of Pakistan, who awarded the British Open Award in 1957. He received the title of US Open in 1958, 1960 and 1961. Roshan Khan died on 6 January 2006 in Karachi. In this page, you can see the information about the Squash Player Roshan Khan in Urdu.
Roshan Khan Squash Player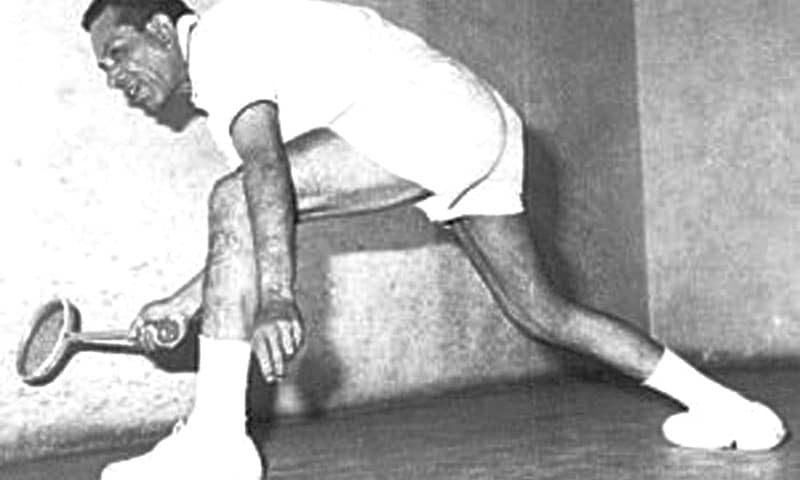 Roshan Khan ka taluq bhi iss azeem khan family se hai jis ne Squash ki dunia mein tahalka macha. Roshan khan iss azeem tareen khelari ke walid hain jis ne iss khelon ko naya andaz diya. Roshan Khan ke sahebzade Jahangir Khan ka nam Squash ki tareekh mein sunahre hooroof se likha jata hai. Roushan ke bare sahebzade Torsam Khan bhi aik bahot achche khelari thay magar woh apne career ke orooj per hi iss jahan fani se kooch ker gaye jo un ke kahndan ke liye balke poore mulk ke liye aik na gehani hadsa tha. Roshan Khan khud bhi apne daur ke aik behtareen khelari thay. Hashim Khan un ke cousine thay. Roshan aur Hashim Pakistan ke ibtedai dino ke do super star thay.
Misr ke Mahmood Alkareem ko 1954 ke dunlop open ke final mein hara ker Roshan Khan ne apne Roshan mustaqbil ki naweed sunayi thi. Mahmood 4 (char) martaba British open title jeet chuke thay aur apne waqt ke ala tareen khelari (player) mane jate thay. Unko shikst de ker Roshan ne ye sabit ker diya tha ke Squash hi Misr ki bartari ikhtetam ki taraf gamzen hai. 1954 mein hi Roshan Canada ke shaher Montreal mein hone weale (bainul aqwami ) International tournament ke final mein pahonche. Simi final mein Roshan ne Azam Khan ko hara diya tha jaab ke doosre simi final mein Hashim Khan ne Mahmood ul kareem ki chutti ki thi. Final mein Hashim Khan apne cousine per bazi le gae.
Roshan aur Hashim ke dermiyan kayi aur jharpein dekhne mein ayein. Dono ka moqabla akser final mein hi huwa. Kante ke moqable huwa kerte thay Roshan Khan Bari jawan merdi se Hashim Khan ka moqabla kerte thay. Kayi tournament ke final mein Hashim ke haton shikst khane ke baad Roshan Khan ne akhir kar 1957 ke British open final mein Hashim Khan ko zair ker hi deya. Iss tarah Roshan Khan British open ka izaz hasil kerne wale doosre Pakistani khelari ban gaye.1957 mein Hashim Khan aur Roshan ne Australia and New zealand ka daura kiya un dono ko wahan aik series khelne ke liya madu kiya gaya tha ta ke unka khail dekh ker maqami khelari apne khail mein nikhar paida karein teen matchon ki series Roshan Khan ne 2-1 se jeet li thi. Mahreen ne iss series ko world champion ship series qarar diya tha. Iss tarah ye Roshan ke liye aik bahot bari kamyabi thai. Roshan ne 1958, 1960,aur 1961 mein Us open title hasil kiya. Roshan 1956 ke British opoen ke final mein pahonche zaroor thay magar Azam Khan ke haton shikst kha gaye thay.