Mehdi Hassan Biography in Urdu
Mehdi Hassan was born on 18 July 1927 in Rajasthan district Jaipur in the Village of Jhunjhuro. He migrated to Pakistan after partition. Mehdi Hassn was a Pakistan's legendary classical singer and playback singer in Lollywood. Mehdi Hassan known as the Shehansha of the Ghazal. Mehdi hassan was given the opportunity to sing on Radio Pakistan. He received many awards and recognitions. Mehdi Hassan was awarded the Hilal-e-Imtiaz and the Pride of Performance. He received the Saigal Award in India and the Gorkha Dakshina Bahu Award in Nepal. He died on 13th June 2012. Indian singing legend Lata Mangeshkar told that his death was a big loss.
Mehdi Hassan Bigoraphy In Urdu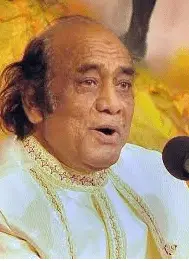 Apne aehad ke munfarid gulokaar, ghazal singer aur mauseeqi ki duniya par nisf sadi tak raaj karne wale shehansha ghazal Mehndi Hassan taweel alalat ke bad 13 June 2012 baroz Wednesday ko 85 saal ki umar mein Raza-e-Ilahi se inteqaal kar gae. Aap falij, saans samet deegar bemariyon mein mubtila the. Aap ke inteqaal par na sirf Pakistan bal ke beyron-e-mumalik mein bhi soog ki fiza peyda ho gait hi.
Aap ke lakhon paristaron aur aqeedat mandon aur chahne walon ne apne jazbat aur khayalat ka izhaar news paper, radio, TV, Phone aur SMS ke zariye kiya tha. Mehndi Hassan ke inteqal se mayseeqi ki duniya azeem gulokaar se mehroom ho gai. Wo Pakistan ki pehnchan the. In jaise fankaar sadiyon mein peyda hote hain. Shehansha ghazal ke munfarid andaaz ne unhe aalmi shohrat se humkinar kiya. In ki judai sur sangeet ki duniya ko udaas aur lakhon madahon ko aabdeedah kar gai. Ap ke inteqal se duniya aik aala pa eke fankaar se mehroom ho gai.
Baqol Lata Mangeshkar ke Mehndi Hassan ki awaaz mein bhagwan bolta hai.
Mehndi Hassan bharti riyasat Rajasthan ke ziley Jaipur ke village Jhunjhuro mein peyda hue the. In ka talluq " Kalawant " gharane se tha. Jis ka matlab Gana hai. In ke walid, Dada aur Par Dada sab Gaiyk the. Walid Azeem Khan aur Chacha Ismaiyl Khan ka shumar mauseeqi ke usatza mein hota tha. Mehndi Hassan ne ibtedai Classic taleem inhe se hasil ki. Qiyam-e-Pakistan ke bad Mehndi Hassan ne apne aehl-e-Khana ke sath pehle Punjab ke shehar Sargodha mein abad hue.
Mehndi Hassan ne apni cousin Shakila Begum se shadi ki. Us ke bad wo Karachi aa gae. Yahan aa kar radio mein mauseeqi ke programon mein hissa lena shuru kiya. Mehndi Hassan ko radio par mutarif karwane ke sehra Saleem geelani ke sar hai. Mali mushkilat ke baiys wo aik motor garage mein bhi kaam karne lage. In ka shumar mahir mechanics mein hota tha. Lekin taqdeer inhe mauseeqi ke meydan mein le aai aur mauseeqi ki duniya mein jo maqam aur shohrat inhe mili, wo bohat kam logn ko naseeb hui.
Filmon mein Mehndi Hassan ko sab se pehle mauseeqar Asghar Ali Muhammed Hussain ne film " Shikar " mein songs record karwa kar mutarif karwaya. Tahum Mehndi Hassan ki filmi shohrat 1963 mein release hone wali film " Humen Bhi Jeene Do " ki is mashoor ghazal " Ilahi Aansoo Bhari Zindagi Kisi Ko Na De "se shuru hui. Yeh ghazal Mehndi Hassan ke filmi career mein aik inqalabi morh sabit hua. 1966 mein film " Farangi " ki ghazal " Gulon mein rang bhar ke " ki bazaghist mulk ke kone kone mein gonjne lagi aur un ki kamiyabi ka na rukne wala safar shuru hua. Jis ne unhe shehansha ghazal ke maqam tak pohncha diya.
Mehndi Hassan ka filmi career 1962 se 1985 tak urooj par raha aur isi daur ko Pakistan ki filmi sanat ka sunehra daur bhi kaha jata hai. Mehndi Hassan ke gae hue filmi naghme is daur ke tamam mashoor heroes par picturize hue, magar in ki awaaz sab se ziyada Muhammed Ali par saji. Mehdi Hassan ne 12 hazar se zaiyd ghazlen aur geet gae. Is ke ilawa ap ke gae hue qaumi naghmey jo sada bahar ki hesiyat rakhte hain. In naghmon mein Mehndi Hassan ne fun gaeyki ki inteha ko chua aur yeh naghme Pakistan ki mili gaeyki mein sangmel ki hesiyat rakhte hain.
1- Sohni Dharti ALLAH rakhe qadam qadam abad tujhe.
2-Yeh watan tumhara hai tum ho pasban is ke.
Ap ke gae hue mili naghmat ne pori qaum aur qaum ke janisaron ka laho garma diya hai.
3-Khitta-e-Lahore tere janisaron ko salam.
4-Apni jaan nazar karon apni wafaa pesh karon, qaum ke mard-e-mujahid tujhe kya pesh karon.
Mehndi Hassan ki bohat si mashoor ghazlen hain jo superhit sabit hui hain.
5-Ab ke Hum Bichrey to shayad kabhi khuwabon mein milen.
6- Ranjish he sahi Dil he dikhane ke liye aae hain.
7-Teri mehfil se yeh dewana chala jaega.
8-Rafta Rafta wo meri hasti ka sama'an ho gae.
9-Aik husun ki devi se mujhe pyar hua tha.
10-Pyar Bhare do Sharmile Nain.
Shehansha ghazal Mehndi Hassan ko in ki fankarana salahiyaton ke aiteraf mein " Tamgha Husn-e-Karkardgi " aur " Hilal Imtiaz " samet qaumi satah ke tamam numayan aezazaat aur award se nawaza gaya. Ghazal. Mehdi hassan was given the opportunity to sing on Radio Pakistan.Hukoomat Nepal ne sab se barha Civilian Award " Gorkhadakshan Bahu " diya aur Bharat mein unhe " Sehgal Award " diya gaya. Dunya Bhar ke barhe barhe gulookar in ki qadardaan the aur bator khas Barr-e-sagher ke gulokar to in ki parastish karte the. Mauseeqi ke usatza ka kehna hai ke fun mauseeqi ki tareekh Mehndi Hassan aur in ke tazkarey ke bina na mukammal rahegi.