Sawar Muhammad Hussain Shaheed Biography in Urdu
Sawar Muhammad Hussain Shaheed was born on 18 June 1949. He joined army in 3 September 1966, the after he specialized in driving. In 1971, he served with Lancers in Pakistan and India War. Sawar Muhammad Shaheed father's was a farmer. Sawar Muhammad Shaheed was got married in 1967. He was the father of one daughter and a son. Sawar Muhammad Shaheed was the royal and honest national hero. In this page, you will read Sawar Muhammad Hussain Shaheed Biography and History In Urdu.
Sawar Muhammad Hussain Shaheed Biography, History In Urdu
Sawar Muhammad Hussain Shaheed 18 June 1949 ko Dhoke Pir Bakhs ke moqam par paida huye 3 September 1966 ko fouj mein bharti huye foj mein bharti hone ke baad app ne driving mein maharat hasil ki. 1971 ki Pak Bharat Jang mein Sarwar Muhammad Shaheed 20 Lancers ke sath khidmat sar anjam de rahey they 5 December 1971 ko Sawar Muhammad Hussain Shaheed Zafar dal, shaker Ghar ke mahaz par jaker foj ke naujawano ko aslaha aur barood pahoncahtey rahey 6 December 1971 ko woh aik laraka ghasti daston ki khatan aur pur khatar mahmat mein unke hamra jatey rahey 10 December 1971 ko Sarwar Muhammad Shaheed ne Dushman ko Harar Khrd Gaon mein morchey khod tey dekh ker Unit Commander ko itla di Sawar Muhammed Hussain Shaheed ki zati koshishon se dushman ke 16 tank tabah huye 10 December ko hi char bajey Sawar Muhammed Hussain apnay aik Re cayel lese Rifle brother dushman ko thekaney lagatey huye golyon ki boochar se shaheed huye. Major Amanullah Muhammed Hussain ki safarish par app ko Nishan e Haider dey nawaza geya.
Sawar Muhammad Hussain ke walid ka naam Roz Ali tha aur woh aik caht kar they 1967 mein app ki shadi Arzan Bi Bi se hue thi jin ke batan se app ke han aik beta aur aik beti huye. Yeh baat qabil e ziker hai ke 1965 ki Pak Bharata jang mein Sawar Muhammad Hussain abhi Devi Hai School mein zere taleem they lakin un ke dil mein watan se bharpoor mohabbat ka jazba maujood tha app ne primery tak taleem Mozu Jhang Phero mein pae. App ke ghar mein shalwar qameez aur tahband pehentey they khaney mein sarson ka sag makkhan aur lassi bahot pasand ker tey the khilon mein cabaddi wali ball app ke pasandeda khail they.
Muhammad Hussain Ki Shahadat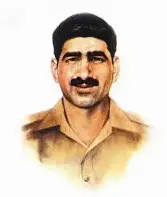 Rawait ke motabiq jang par janey se pehley app ke walid ne app ko safaid kapron ka aik jora diya Sawar Muhammed Hussain aksar waqa e karbala dohraya kerte they aur Hazrat Imam Hussain ki jurrat o shujat mandi par jhoom jhoom jaya kertey they. App Shaheed huye to app ki jaib se 100 ruppey aik maney order aur do khoon alood khatoot baramad huye Sawar Muhamed Hussain ke walid ne jab unki Shahadat ki khabar suni to pehla sawal yahi kiya ke "mere betey ne maidan jang mein buzdili to nahein dekhai?
"Sawar Muhammed Hussain Shaheed Ka Waqiya "Amanat Mein Khayanat"
Sawar Muhammed Hussain Shaheed ka aik emaan bahot mashhoor hai aik dafa aik dost ne ke Sawar Muhammed Hussain Shaheed walid ke pas 200 rupay batour amanat rakhwa Afroz waqaey issi dauran app ke walid ko bhi rupon ki ashad zaroorat par gaye unhon ne Sawar Muhammed Hussain se ziker kiya to app ne kaha "Agarchay merey pas zati taur par 200 rupay maujood haien lakin woh kisi ki amanat haien albatta mere pas zati taur par apnay 50 rupay maujood haien app un se kam chala leien mein un 200 rupon mein se aik rupya bhi na doon ga keon ke iss tara amanat mein khayanat hogi aur jab khuda ke hazoor mujhey jawab da hona parey ga to mein wahan kya jawab doon ga?