Parveen Shakir Biography in Urdu
Parveen Shakir was born 24 November 1952 in Karachi. The unique tone of Urdu poet Parveen Shakir's reputation for being a very short period received. She got married with Doctor Naseer Ali, have taken after the divorce. Her son name is Murad Ali. Parveen Shakir pride by the President of Pakistan in addition to performances literary awards did Adam Jee. The theme of her poetry is love and women. Parveen Shakir great courage through his short life and his sudden and tragic death of his personality is a romantic aura that gave attraction for generations to come will be cause. In this page you will read Perveen Shakir biography in Urdu and Roman Urdu.
Parveen Shakir Biography In Urdu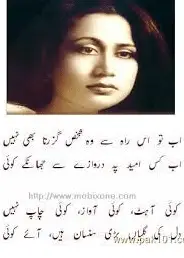 Parveen Shakir 24 November 1952 ko Karachi mein paida huin. App ko Urdu ki munfarid lehjay ki Shayara hone ki wajah se nahayat qaleel arsay mein woh shohrat hasil hui jo bohot hi kam logon ko milti hai. English literature aur zaban dani mein Parveen Shakir ne graduation kia aur bad mein inhin mozameen mein Karachi University se M.A ki degree hasil ki. Parveen Shakir ustad ki hasiyat se dars o tadrees ke shobay se wabastah rahein aur phir bad mein Parveen Shakir ne Govenment job (sarkari molazmat) ikhtaiar ker li. Government Job (Sarkari molazmat) shuru kernay se pehlay 9 sal shoba e tadres se munsalik rahein, aur 1986 mein custom department, CBR Islamabad mein secratary doyem ke tour per apni khidmaat anjam denay lagein. Iss se pehlay app ne America ki Harvard university se MPA (Masters in Public Administration) ka korse mukammal kiya.

Parveen Shakir ki shadi doctor, Naseer Ali se houi jin se bad mein talaq lay li. Parveen Shakir (death) 26 December 1994 ko traffic ke aik hadsay mein Islamabad mein 42 sal ki umar mein apne malik haqeqi se ja milim. Parveen Shakir ke batay ka nam Morad Ali hai.Parveen Sakir ki pehli (Book) ketab shaya hone se pehlay hi adbi jaraid mein chapne wali un ki nazmon aur gazlon ko bepanah maqboiyat hasil hui aur jab Parveen Shakir ka pehla majmua shaya howa to nah sirf usey best seller ka azaz hasil huwa balkay Parveen Shakir ke fikr o fun ki khushbu mulki hadud se nikal ker chahar dang alam mein phail gai. Parveen Shakir ki shayeri noujawan nasal ka krazz ban gai. kachi umar ke romani jazbat ko gheray funkarana shaur aur clasici rachau ke sath pesh kerna Parveen Shakir ke asloob ki pehchan qarar payia.
Khushbu ke bad anay wali ketabon un ke mauzoat hama geer aur fikar ghari pukhtagi ki hamil nazar ati hai. Parveen Shakir ke inteqal se pehlay un ki khuliat Mah e Tamam ke nam se shaya huyi. Parveen Shakir ki zati zindagi ka dukh jo un ki azdwaji zindagi ki nakami per muntahij huwa tha, Parveen Shakir ki shayari aur shakhsiyat mein hazan aur udasi ki kaifiyat ban ker samnay aya. Parveen Shakir ki maqboliyat ka andazah iss baat se bhi hota hai ke unki ketab "khushbu" mangataron aur mahboob chehron ko tohfay ki surat mein di jati rahi. Parveen Shakir ko Sadare Pakisrtan ki taraf se pride of performance ke elawah Adam Jee Adbi award bhi mila. wafat (death) se pehlay woh PhD ke leyeh " 1971 ki jang mein zarae iblag ka kirdar" ke mozu per moqalah mukammal ker chuki thin jo America ki aik University mein pesh kia jana tha. Parveen Shakir Pakistan Television ke kai progeramon mein aur bilkhsoos moshayeron mein aik maqbool mezban motasauwar hoti thin. unki shayari ke terjumay English aur Japani zaban keye gaye hain.
Parveen Shakir ki shayari ka mozu Mohabbat aur Aurat hai. Perveen Shakir ki shayeri mein jo izhar e mohabbat karti hui bay jehjhak Aurat nazar ati hai, usey Purbi aur Hindi ki rawaiti Aurat per girah qarar deya ja sakta hai jo apney geeton mein Mard mehboob ko mokhatib ker ke apne tan man ke rogh biyan kerti hai. Kuch log iss rawaiye ko maghrib ke jaded rawaiyon ka per to qarar detay hain mager Perveen Shakir ki shayari ki asal quwat kahin aur hai aur iss ne apni nazmon mein bar bar khud ko Unan ki saifo aur Hindustan ki Meera ka ham qaflah kaha hai.
Parveen Shakir ki shayari ka munfarid wasf iss ka aurat hotay huwe aik fard aur mukammal insane ki haisiyat mein sochna hai chunan chay uss ke ander ki maa beesween sadi ki aik zahen, taleem yaftah aur ghair mamuli aurat ke pehlu ba pehlu chalti hui nazar ati hai. Magar mardon ke banay huye iss iqdari nezam mein iss tarah zindah rehna waqai baray houslay ka kaam hai. Perveen Shakir ne apni mokhtaser se zindagi baray houslay se guzari aur unn ki achanak aur almanac mout ne unki shakhsiyat ko aik aisa romantic hala bakshah hai jo anay wali tamam naslon ke leyeh bhi kashish ka bayes bana rahay ga.