Hafeez Jullandhuri
Abu Al Asar Hafeez Jullandhuri was born on 14 January 1900 in Jalandhar. He was a great Pakistani Peot. Hafeez Jullandhuri wrote the National Anthem of Pakistan. Hafeez Jullandhuri wrote many patriotic songs. Hafeez Jullundhri was a student of Poet Maulana Ghulam Qadir Bilgrami. Hafeez Jullandhuri poetry generally deals with romantic, religious, patriotic and natural themes. For his literary and patriotic services to Pakistan, Hafeez Jullundhri was awarded the Hilal-e-Imtiaz and Pride of Performance by the Govt.of Pakistan. Hafeez Jullundhri died on 21 December 1982 in Lahore.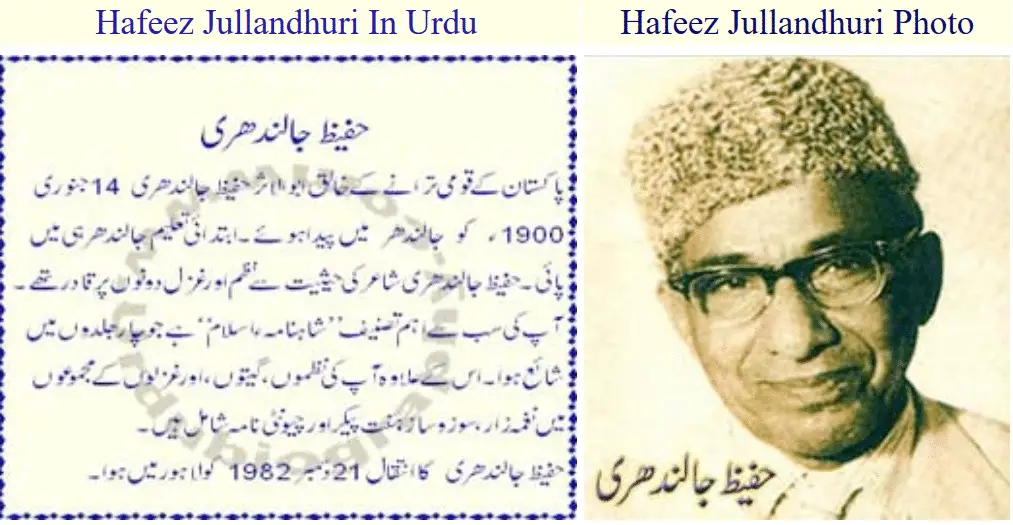 Hafeez Jullandhuri In Roman Urdu
Pakistan ke qaumi tarane ke khaliq Abu Al Asar Hafeez Jullundhuri 14 january 1900 mein jalandhar India mein paida hue. Ibtedai taleem jalandhar he main paye. 1947 mein app India se hijrat kar ke Lahore aye. Hafeez Jalandhari ki pehli shadi unki cousin Zeenat Begum se 1917 mein huye. Zeenat Begum 1954 mein inteqal kar gayein. Hafeez Jullandhuri qadir-ul-kalam shaiyr Maulana Ghulam Qadir Bilgirami ke shagird the. Jang-e-azeem doym ke zamane main ap ko fauj main publicity officer muqarrar kiya gaya. App tehreek e Pakistan ke sar garam rukun rahe. 1948 awaiyl mein ap ne Kashmir ki azaadi ke liye jari sargarmiyon main hissa liya. Qeyam-e-Pakistan ke bad ap afwaj-e-Pakistan mein director general of morals aur amoor-e-Kashmir ke nigran muqarrar hue. Hafee Jullandhury mein Pak, Bharat jung 1965 mein Pakistan ke liye kaye Milli Naghmay likhe.
Hafeez Jullandhuri shaiyr ki hesiyat se nazam aur ghazal dono par qadir thay. Khusoosan Urdu geet nigari mein Azmat ullah Khan ke bad dosra naam Hafeez Jullandhuri ka ata hai. Ap ke bachon ke geeton ke sath majmouy shaey hue. Ap ki sab se aeham tasneef " Shahnama-e-Islam " hai jo chaar jildon mein shaey hua. Is ke ilawa ap ki nazmon, geeton aur ghazlon ke majmou mein naghma zaar, sozosaaz, tulkhaba sheeren, haft-e-peykar aur chiyonti nama shamil hai.
Ap " Hazar dastaan " aur " Mukhzin " jaise adbi rasaiyl ke bhi mudeer rahe. Ap ki khidmat ke aeteraf mein hukoomat-e-Pakistan ki taraf se ap ko Hilal-e-Imtiaz aur Husn-e-Karkardgi ke sadarti award diya gaya. In ki shahkar tasneef " Shahnama-e-Islam " ne inhe maqbooliyat ki bulandi par pohncha diya. Ye Islam ki Nazmi tareekh ka ek record hai. In ki shaiyri amooman Romani, Mazhabi, Mili aur takhliqat-e-qudrat ke mauzoo par hai. In ki shaiyri mein bar-e-sagheer ke manazir ki tasveer hai aur in ki shiayri mein Hindi aur Urdu ki bohat khoobsurat aamesizh paai jati hai jo mushtarka riwayat ki tasveer hai.
Hafeez Jalandhari aik nihayat maqbool shaiyr the aur apne ashaar ke ilawa apni khush tabie ke liye bhi shohrat rakhte the. Wo sarhad ke dono atraf yaksan shohrat rakhte the. Patna, Bharat ke mashoor sahafi Rizwan Ahmed in ke bare mein likhte hai. Hafeez Jalandhari pakistan ke qaumi shaiyr the magar in ki maqbooliyat bharat mein bhi kam nahi thi. Taqseem mulk se qabal he wo apni adbi hesiyat manwa chuke hai.
Hafeez Jullandhuri ki shaiyri ki teesri khobi is ki ghanaiyat hai. Wo khud bhi mutarannum the, is liye inho na aesi lafziyat ka intekhab kiya jo ghanaiyat ke peykar par pore utarte hai. Inho ne dosri jang-e-azeem ke zamane mein fauji geet likhe the aur geet ko bhi inho ne nae peykar ata kiye. Shayad isi liye aj tak Hafeez jullandhuri ki shanakht " Abi Tou Main Jawan Hoon " ke hawale se ki jati hai. Bilashuba ye ek pur asar geet hai, kyun ke is mein jo alfaz istemaal kiye gae hai, wo apni jagah par nageene ki tarha jarhe hue hai aur samaey ke dil par gehra asar chorte hai.
Lekin Haqeeqat ye bhi hai ke in ki ghazlon ka sarmaya kafi hai aur Hafeez Jullandhuri khud ko ghazal go kehalwana pasand karte the. Inho ne ghazal main bohat se nae tajurbaat kiye. Sab se barhe baat ye hai ke silees zuban ka istemaal kiya aur gird-o-pesh ke waqeyat ko apni ghazlon ka mauzoo banaya. Ek tarha se inho ne ghazal ko fitri poshak ata ki. In ke haan rewayat sebaghawat milti hai. In ke kuch ashaar to aaj ke halaat ka ahata kar lete hai, in ki hesiyat mawraey asar hai.
Dekha jo teer kha ke kame'n gaah ki taraf
Apne he doston se mulaqat ho gai

Aakhir koi soorat to bane khana e dil ki
Ka'aba nahi banta hai to but khana bana de

Mujhe Shaad Rakhna Ke Nashade Rakhna
Mere Deeda-e-Dil Ko Aabad Rakhna
Jab Pakistan mein Zulfiqar Ali Bhutto ki hukoomat thi to Hafeez Sahab chand wajohaat se is hukoomat se bohat shaki the. Taqreer mein to is ka izhaar nahi kiya, lekin ashaar mein kafi hadf-e-malamat banaya.
Shad-e-Azeem abaadi ko khiraj-e-aqeedat pesh karte hue unho ne shad ki mashoor ghazal "Khilone De Kar Behlaya Gaya Hoon " ki zameen main bhi ek ghazal sunai thi, jis ka maqtaa tha.
Hafeez Aehl-e-Adab Kab Mante The
Barhe Zoron Se Manwaya Gaya Hoon
Hafeez behraal Urdu ke shairi adab mein qabil-e-zikar hesiyat ke malik hai aur inho ne Urdu shaiyri ko jo kuch diya hai. Us ka Urdu adab mein numaya maqam hai, in ke bohat se ashaar Sehl-e-mumtana ki hesiyat rakhte hai.
Dil Abi Tak Jawan Hai Pyare
Kis Musibat Mein Jaan Hai Pyare
Talkh Kar Di Hai Zindagi Is Ne
Kitni Meethi Zuban Hai Pyare
Hafeez Jalandhari 14 January 1900 ko Jhalandar main paida hue the aur 21 December 1982 ko Lahore mein inteqaal farmaya. Inho ne apni takhliqaat mein chaar jildon mein Shahnama-e-Islam, Naghma zaad, Sozosaaz, Tulkhaba Shereen aur Chiragh Sehar chore. In ki shaeri kainat 6 dehaiyon par muheet hai aur in ka ye dawa durust hai.
Shaiyar-o-Adab Khidmat Mein Jo Bhi Hafeez Ka Hissa Hai
Ye Nisf Sadi Ka Qissa Hai Do Chaar Baras Ki Batein Nahi